Venezuela's Maduro 'Welcomes' Visit by U.N. Human Rights Chief as Countries Call for ICC Investigation
Venezuelan President Nicolas Maduro told reporters on Thursday that he would welcome a visit by the U.N. human rights chief, as six countries called on the International Criminal Court to investigate crimes against humanity in the South American country.
"President [Michelle] Bachelet, the high commissioner, should coordinate with the foreign ministry when she wants to go to Venezuela. She's always welcome," Maduro said while in New York for the United Nations General Assembly, according to Reuters.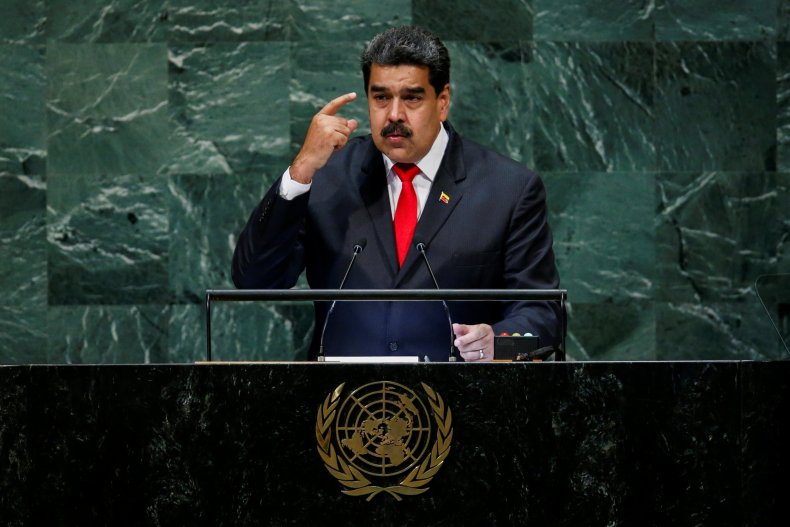 The statement comes after the U.N. Human Rights Council voted on a resolution that urges Venezuela to "accept humanitarian assistance in order to address the scarcity of food, medicine and medical supplies, the rise of malnutrition, especially among children, and the outbreak of diseases that had been previously eradicated or kept under control in South America," Agence France-Presse reported.
Twenty-three of the council's members voted in favor of the resolution and 17 abstained. Seven countries—including China, Venezuela and Cuba—voted against what became the first time in history that the council passed a resolution on Caracas.
Meanwhile, six countries made a request on Wednesday asking the International Criminal Court to investigate alleged crimes against humanity.
Argentina, Canada, Chile, Colombia, Paraguay and Peru made the request to the Hague-based court requesting an investigation on crimes allegedly committed by the Venezuelan government since February 2014, including rape, torture, murder and violations of due process.
"To remain indifferent or speculative in front of this reality could be perceived as being complicit with the regime. We are not going to be complicit," Paraguayan Foreign Minister Andres Rodriguez Pedotti said, according to German broadcaster Deutsche Welle.
Human Rights Watch called the request an "unprecedented step." Venezuelan security forces detained more than 5,400 people between April 2017 and July 2017 and allegedly tortured detainees, based on research done by the NGO.
"This unprecedented step reflects the growing alarm among other countries about the human rights catastrophe that has overtaken Venezuela. With the request to the ICC [the International Criminal Court] prosecutor, these governments are making clear that the total lack of justice for Venezuela's ongoing abuses is unacceptable," said Jose Miguel Vivanco, the Americas director at Human Rights Watch.