Mafia Godfather: Italian Police Arrest 'Boss of All Bosses' Settimo Mineo
Italian police have arrested a man described as the new godfather of the Sicilian Mafia.
Jeweler Settimo Mineo, 80, was seized in a Palermo raid that saw 46 held for offenses including arson and extortion, Italian outlet La Repubblica reported.
Police dismantled the "Cupola," the leadership body of the Cosa Nostra crime syndicate, Italian Minister of the Interior Matteo Salvini tweeted.
The suspects were accused of bringing back the Cupola 25 years after the arrest of former leader Salvatore "Totò" Riina.
"When you try to resurrect the Cupola, it means you are about to do something really serious,'' Palermo's chief prosecutor, Francesco Lo Voi, said in a press conference, according to The Guardian. "We needed to stop them before it was too late.''
Known as the "Beast," Riina led the Corleonesi faction to the top of the Sicilian Mafia. Famed for his brutal regime, Riina is thought to have ordered the deaths of dozens of people, including magistrates Giovanni Falcone and Paolo Borsellino, who died in Mafia car bombings in 1992.
The magistrates directed the so-called Maxi Trial, which saw the indictment of hundreds of mafiosi.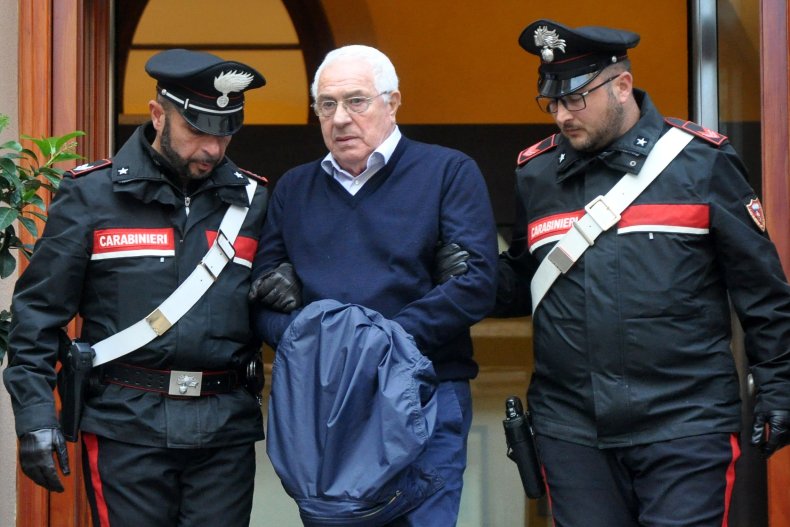 Mineo was elected capo dei capi—"boss of all bosses"—in May after Riina died in prison in 2017, at the age of 87. A long-standing mafioso, Mineo was arrested by Falcone in 1984. He survived the brutal mob violence that killed two of his brothers, Giuseppe and Antonio, La Repubblica reported.
The jewelry shop owner kept a low profile in the hope of avoiding attention. He didn't use a mobile phone and walked instead of driving a car to avoid police surveillance, The Guardian reported.
"The other mobsters chose him because Mineo represented the old Cosa Nostra," said Federico Cafiero de Raho, chief of the anti-Mafia national prosecution office, according to The Guardian. "And by choosing him, they also chose the old methods of intimidation, like sending severed lambs' heads to the businessmen who refused to pay the protection money.''
''The Mafia will never accept defeat,'' said former magistrate Giuseppe Di Lello, according to the newspaper. "But every time the bosses try to raise their heads, the authorities block them before they get up.... Thanks to new technologies, such as telephone tapping and surveillance cameras, it is difficult for the Mafia to move without being noticed.''