Pasquale Parrello ordered his underlings to take care of the bum. The alleged mob boss didn't appreciate that a panhandler was harassing women in the parking lot near his Bronx restaurant, Pasquale's Rigoletto, so he told one of his soldiers, "Break his knees."
When the wiseguys found the panhandler on that day in June 2011, they attacked him with glass jars and steel-toed boots, according to a federal indictment unsealed on Thursday. One of the attackers, Ronald "the Beast" Mastrovincenzo, was later caught on a wiretap speaking in code to describe the incident: "Remember the old days in the neighborhood when we used to play baseball?... A ball game like that was done."
In a 32-page indictment that revealed the Mafia is still hanging around even after decades of arrests and long prison sentences, federal prosecutors charged 46 members and associates of five La Cosa Nostra crime families for a sprawling criminal enterprise with operations from Massachusetts to Florida. The long list of crimes includes assault, gun trafficking, loan-sharking and health care fraud, while the defendants' nicknames—like Tony the Cripple, Rooster and Tugboat—evoke the bygone era of mob movies like The Godfather or Goodfellas.
"The indictment reads like an old-school Mafia novel, where extortion, illegal gambling, arson and threats to 'whack' someone are carried out along with some modern-day crimes of credit card skimming," said Diego Rodriguez, head of the FBI's New York office, in a press release.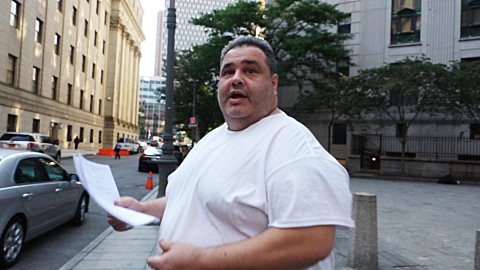 Federal agents arrested alleged gangsters from four out of the five New York crime families, busting members of the Genovese, Gambino, Lucchese and Bonanno clans, plus Joey Merlino, the reputed head of the Philadelphia mob, along with made members and associates in Massachusetts, New Jersey, Florida and Costa Rica, federal prosecutors said.
The organization—dubbed the East Coast LCN Enterprise by the feds— "seemed to use every scheme known to us," New York Police Department Commissioner Bill Bratton said in the press release. In addition to breaking legs, the gangsters allegedly poured gasoline and set fire to a car belonging to the owner of a competing gambling club in Yonkers, sold 17 illegal guns and made millions from untaxed cigarettes and stolen credit card information.
The feds said the organization also made money through a sports gambling business in Costa Rica and a health care fraud scheme in which corrupt doctors wrote bogus prescriptions for expensive creams and billed insurance companies. The alleged mobsters also shook down gamblers who couldn't pay their debts, like when Parrello ordered another mobster to attack a debtor who owed him $30,000, prosecutors said in the press release: "I want Buddy to choke him, choke him, actually choke the motherfucker...and tell him, 'Listen to me...next time I'm not gonna stop choking.... I'm gonna kill you.'"
Richard Mangan, a criminal justice professor at Florida Atlantic University and former Drug Enforcement Administration agent, tells Newsweek he was surprised to see such a large bust targeting La Cosa Nostra, as opposed to more active Russian or Mexican organized crime operations. "It may be twilight, but it's not nighttime," he says of the Italian mob. "There wouldn't be an indictment like this if there wasn't significant crime. I'm going to use this indictment in my course."
All the defendants arraigned Thursday afternoon in Manhattan federal court pleaded not guilty. Bradford Wedra, who has a 1981 murder conviction for killing a man who disrespected him in front of his girlfriend at a bar called Fudgie's, was arrested on racketeering charges. "They pulled me out of my cousin's funeral last night, and I couldn't go to the burial this morning," he tells Newsweek. "Why I'm getting punished is my past."
A woman who waited for one of the alleged wiseguys outside a marble-paneled courtroom Thursday disputed the charges. "You see what my roof looks like?" she said to a friend about needed repairs. "Where's all the fucking money they're talking about?"