Is 'MAFS' Star Keith Dewar Over His Ex-Girlfriend After Her Nude Photos Were Found in His Phone? What Kristine Killingsworth Said About Her Husband
In previews for Tuesday night's Married at First Sight, Kristine Killingsworth discovered new husband Keith Dewar still had explicit photos of her ex-girlfriend on his phone. When she asked for him to remove the images, he seemingly refused.
We assigned the couples the phone swap exercise to our couples," Pastor Cal explains in a preview. "We do this so the couples can be open to talk about trust, boundaries and privacy."
Keith and Kristine agreed to participate in the exercise, but things didn't exactly go well once Kristine starts scrolling through Keith's pictures. She finds naked pictures of a woman. "As I scroll down, I'm starting to see a lot of inappropriate pictures and it's just completely pissing me off," she says. "It especially hurts to find all these naked photos of his ex in his phone."
Keith seems concerned about her feelings, asking her if she's OK, but when Kristine says he can make things better by deleting the images, he seemingly refuses. The clip makes it seem like they could be on the rocks, but during an interview with Newsweek, Kristine praised her new husband.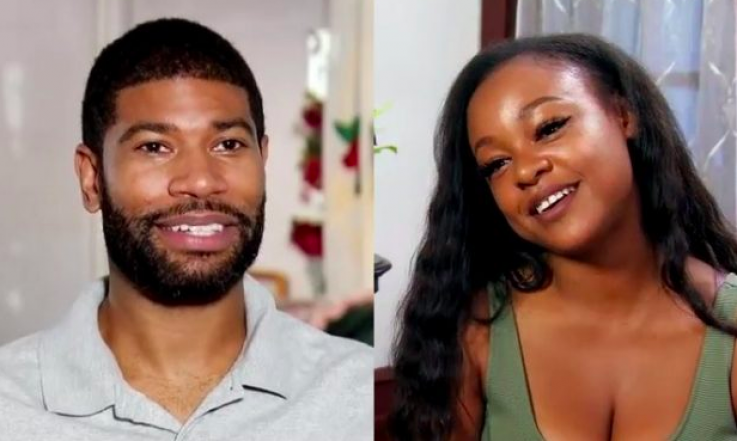 Shared below is her Q&A:
What was your first thought when you saw Keith?
My first reaction when seeing my husband at the altar was "Wow. He's Hot!!" My next thought was, "And soon he'll be all mine!"
Were you afraid you might be marrying someone you might know already?
The thought never really crossed my mind. I was mostly shocked that the experts were able to find me a husband.
What were you thinking right before you walked down the aisle?
The whole experiment really hit me moments before I walked down the aisle. Being in the dress, standing with my dad—it was becoming so real. I was about to walk down the aisle a single woman and minutes (even though it felt like an eternity) later, I would be married to a complete stranger. Some days I still can't believe I did it!
Do you think the experts made the right choice?
The experts took everything I asked for in a husband and brought him to me.
What do your friends and family think of this arrangement?
My friends and family are supportive of me and my crazy ways. As long as I am happy, they are happy.
Is Keith tall enough for you? You were very worried about height.
My husband is just the right height. The experts nailed it.
Don't miss MaFS when it airs Tuesdays at 9 p.m. ET on Lifetime.
Is 'MAFS' Star Keith Dewar Over His Ex-Girlfriend After Her Nude Photos Were Found in His Phone? What Kristine Killingsworth Said About Her Husband | Culture