'Married at First Sight' Season 8 Spoilers: Kristine Tells Keith Their Marriage Resembles Her Past 'Controlling' Relationship
Married at First Sight stars Keith Dewar and Kristine Killingsworth don't have any problems when it comes to intimacy, but figuring out traditional gender roles is becoming an issue for the Season 8 stars. When Kristine started opening up about a previous relationship—where her ex was the breadwinner of the household and expected her to take care of the home—she realized there were similarities to her marriage with Keith. In a confessional, she explained she did not get married so she could take care of a man, just like she did with her ex.
"I was actually engaged before," she says in a clip posted by In Touch Weekly Tuesday. "He made a hell of a lot more than I did so he took care of me but he was very controlling. He just expected someone to cook all the time and clean all the time and have his kids right away. It was the attitude of, 'Well, I'm paying all the bills so you do what I want.' It was like his way or the highway type of thing and I'm a little too strong-willed for that type of personality."
Kristine calmly told Keith about her past, but it was when she talked to the Lifetime cameras in a confessional that she realized she wasn't pleased with the trajectory of their marriage. "As I'm telling Keith about my last relationship, and how I was expected to do all the cooking and cleaning, I'm realizing that our marriage isn't all that different," she says. "I do all the cooking and even though he says he cleans, I end up doing all that too. This is not why I got married."
Kristine arguably felt resentful Keith and asked him about how he thought their arrangements were going. "Do you feel like everything's equal with me cooking and you cleaning?" she asks.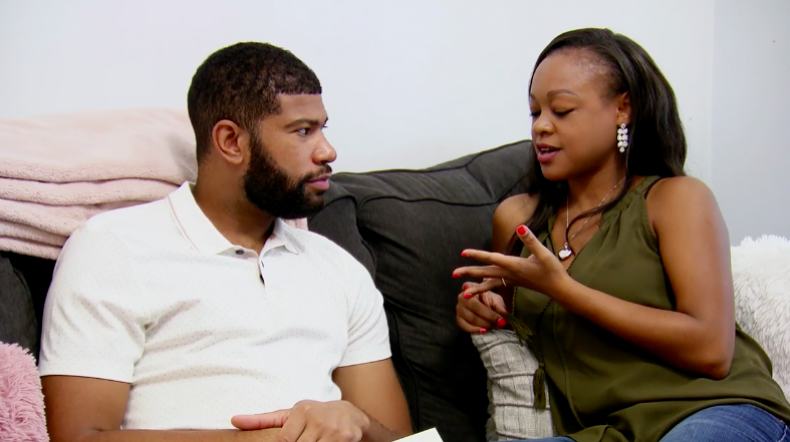 Turns out that Keith isn't that happy, either. "Yes and no," he said. "Yes, because when you cook. No, because it's so many dishes. I was not expecting so many dishes."
While it might seem like their relationship hit a rocky point, Keith is thrilled to have Kristine as his wife. "Kristine immediately blew me away," he told Newsweek about seeing her for the first time on their wedding day. "Her face. Her dress. All I could think was, 'My bride is beautiful!' and 'All these people need to just go home now!'"
Though his friends and family were skeptical about welcoming Kristine into their family at first, they've warmed up to the idea of Keith wedding someone through an arranged marriage. "At first, my friends and family thought this was insane, though my grandma was excited about a wedding!" he said. "But, overall after meeting Kristine, I think they've become more optimistic about welcoming a stranger into the family."
As for Keith, he's happy the experts paired him with Kristine. "All I can really say is, I have no doubt that the experts worked really hard to match us," he said.
To find out what happens next, don't miss Married at First Sight when it airs Tuesday at 9 p.m. ET on Lifetime.