'Married At First Sight' Season 8 Spoilers: Watch Kristine Struggle to Open Up With Keith About Their Relationship
The Season 8 couples of Married at First Sight got a little "homework" that not everyone was comfortable with. When told to share the things they "like" and appreciate about each other, in addition to the things they might need to work on, Kristine had a heart time opening up to her new husband, Keith.
The vacation is literally over for the couples, and it's going to be time to work on their marriages. "The most important thing these couples can do as they prepare to leave paradise and head back to Phili is be open and honest with one another," clinical psychology Dr. Jessica Griffin says in an exclusive clip obtained by Newsweek. "So we've assigned this homework to our couples to help them communicate in an open and safe space. This is an accelerated experience so by opening up the lines of communication this early on it should be able to help them have long-lasting marriages they want."
Keith and Kristine jumped in the hot tub together to chat about how they can improve their communication. Keith explains to his new wife that she has various good qualities, though he is uncertain (and apprehensive) about her culinary skills since he hadn't tried anything she cooked.
"I see a lot of good qualities in you. You're stern. You want things done right. I haven't had your cooking yet so I can't really complain about anything," he tells her.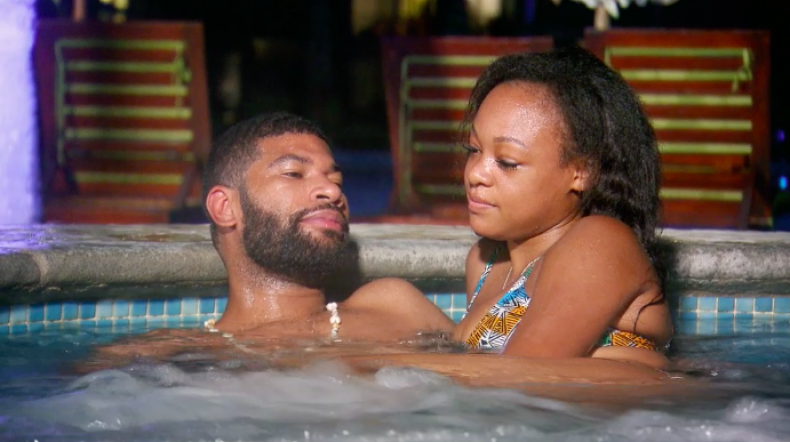 In a confessional to Lifetime cameras, Keith adds that cooking was a big part of his childhood. He watched his mother and grandmother make food for their family and it's something he would like to see his own wife do. The only problem is that Kristine might not have the best skills in the kitchen.
"So growing up for me I only saw women inside the kitchen," he says to the cameras. "My grandmother has been trying to show me how to cook but I'm horrible at cooking. I need my wife to cook. That's what it boils down to. I don't want to say our marriage is gonna be based on her first meal to me but I don't know. We got to wait and see."
While it was easy for Keith to tell Kristine what he likes and doesn't like, she doesn't reciprocate as easily. When he says, "I don't have any complaints, really. Do you have anything?" she remains silent.
To find out how Kristine answers, don't miss Season 8 of Married at First Sight when it airs Tuesdays at 9 p.m. ET on Lifetime.