'MAFS' Spoiler Video Reveals Beth's Overly Possessive Dad Laid a Bomb on Jamie
The day after Married at First Sight participants Jamie Thompson and Beth Bice walked down the aisle, Jaime met with his new in-laws for breakfast. It could have been an opportunity for Jamie to learn more about his new wife, but instead, he discovered Beth and her father, Ronnie, have a very close relationship that could threaten their new marriage.
In a sneak peek clip, Ronnie lays a bombshell on Jamie, asking if he's ready to change his last name. "No, I'm not," he said with a laugh.
But Ronnie wasn't joking. "We talked about her hyphenating and all those other things, but since it's only four letters we were hoping you would be OK with taking our last name," he said.
Still, Jamie wasn't budging. "I mean we've only known each other for 24 hours and we're already at a crossroads in our relationship?" Ronnie quipped.
Drema, Beth's mother, continued the pile on, asking if his first-born could have their first name. That's where Ronnie drew the line on the last name conversation, considering he doesn't even like hearing about Beth "laying with" or kissing Jamie.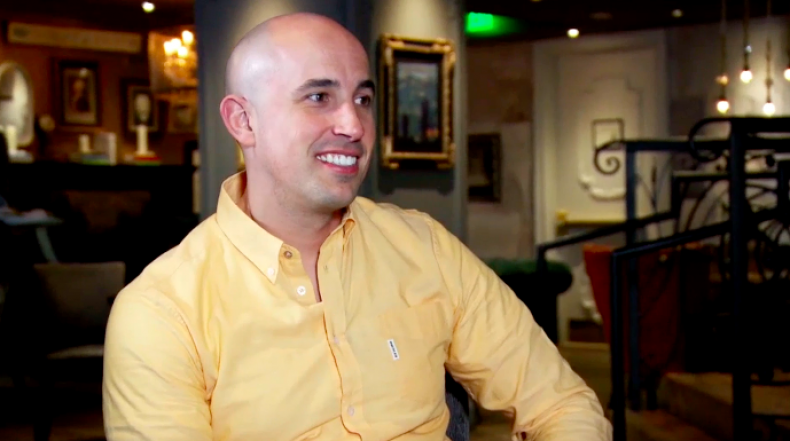 Jamie had been saying what he liked about Beth. "I like her energy. She's got a great sense of humor. We can just lay there and not be doing anything," he said.
Before he could finish, Ronnie cut him off, saying it "burned the inside of my ears" to hear about Beth laying with another man.
Trying to redirect the conversation, Drema says Beth has a heart of gold, but Ronnie wasn't backing down. "That's my heart. He can't have that. If you can't tell already, I take care of her. I couldn't watch you kiss her last night. I'm very protective of my daughter so that whole lips on her face thing got me upset," Ronnie said. "When the garter came I had to turn away. I couldn't even watch it. That's still my little girl. It still makes me a little sad because I know you're going to take a part of her life that I've always had."
The conversation left Jamie wondering if Beth had any room for him in her life: "I can tell her dad has a lot of separation issues with his daughter and I'm frankly just sitting there like, 'where do I fit into this,' because if he's going to be that involved where is there room for me in this?"
Like her parents described, Beth told Lifetime cameras she had an intense personality. "I'm super positive to be around. I think I'm hilarious to be brutally honest with you. I'm not gonna lie. I make myself laugh. I consider myself that fun kind of crazy," she said.
"I have been single now for about two years and it's just really hard to find somebody that can handle my energy because sometimes I can be a bit overwhelming," Beth explained. "I'm looking for a spouse who is gorgeous, very motivated and driven, definitely takes care of himself and is more of a metro kind of guy. I'm so OK with going to get a pedicure. I'm willing to get married at first sight because I want a husband who is going to accept me for who I am."
To find out what happens, don't miss the Kinetic Content-produced Married at First Sight Wednesday nights at 8:30 p.m. ET on Lifetime.
'MAFS' Spoiler Video Reveals Beth's Overly Possessive Dad Laid a Bomb on Jamie | Culture