MAGA Allies Spar Over Republicans Demanding Loyalty to Donald Trump
A pair of fellow travelers in the "Make America great again" movement sparred over Donald Trump's role in the movement's future Wednesday night, with one key figure in the movement concerned other voices were being maligned for questioning whether the former president should continue to lead the Republican Party into the 2024 presidential elections.
In a Wednesday evening Twitter Space titled "Can Trump Win in 2024?" featuring a number of high-profile conservative influencers, Brandon Straka—a former Democrat-turned-conservative organizer who was charged in connection to the January 6, 2021, riot at the U.S. Capitol—expressed dismay over pushback some members of the movement had purportedly received for questioning former President Trump's viability as the future leader of the MAGA movement he'd helped create.
That dynamic, he said, could hold the party back, particularly as it tries to build a winning coalition after two consecutive defeats in the popular vote by a figure considered to be one of the most divisive in American history.
"I feel that this culture has been developed on the right where it's not safe to talk about not supporting Donald Trump," said Straka. "And what's really interesting is that I actually walked away from the Democratic Party, walked away from liberalism, because liberals got into this culture where you couldn't or you weren't allowed to challenge anything.
"You weren't allowed to ask questions," he added. "You weren't allowed to push back on people. Well, I'm seeing that exact same thing happening on the right, right now. There's this huge set of people who are just keeping their mouth shut about the fact that they don't support Donald Trump anymore."
Within the Republican Party, there is a sizeable subset of the party that is beginning to think that way.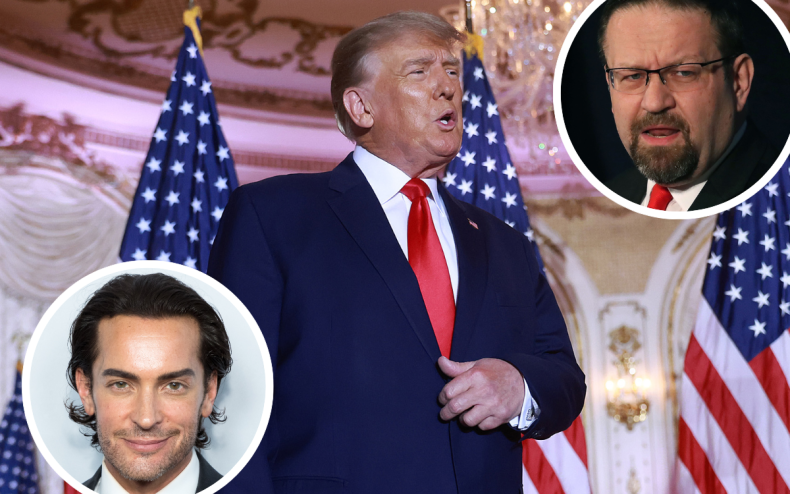 While most polling shows former President Trump is still the clear favorite among a majority of the Republican base, he remains a risky prospect in a reelection battle against incumbent President Joe Biden.
Enthusiasm for a third presidential run has begun to decline in recent months, according to recent polling by Marquette University's School of Law, with Republican willingness for another run falling from 60 percent in November to 52 percent today.
Meanwhile, figures like Florida Governor Ron DeSantis—Trump's most likely opponent—are beginning to gain on him.
Though he still lags behind Trump in most polls, the Marquette University poll showed 64 percent of GOP voters prefer DeSantis as their party's nominee, compared to just 36 percent for Trump.
Meanwhile, DeSantis has remained true to issues crucial to the base around concerns like vaccine skepticism, the content of school curriculum and other issues where Trump has shown more inconsistency.
But even bringing that up, Straka said, has resulted in figures on the right being maligned by Trump supporters.
Other polling from CBS News and YouGov published earlier this month found that 65 percent of registered Republican respondents said that it's "important" for the Republican party to show some degree of loyalty to Trump, compared to just over one-third who don't.
Stepping away from that paradigm, Straka claimed, has led to pushback.
One example Straka named was a recent post by South Carolina resident and conservative influencer Tracy Beanz, who made a post on Telegram saying that she "wasn't feeling Donald Trump's position on the vaccines."
Shortly after, Straka said she posted again saying she "couldn't believe" the amount of backlash that she was getting from Trump supporters simply because she was questioning Donald Trump.
There has been some tangible silence around the 2024 race. While few are rushing to preemptively endorse Trump ahead of 2024, few major figures are vocally supporting other candidates either as the primary field continues to take shape behind the scenes.
Still some—like onetime Trump adviser and radio show host Sebastian Gorka—disputed Straka's characterization of the attitude of the base.
"It's just weird because I'm seeing a lot of people that were hardcore [Trump supporters] who are like totally, totally DeSantis now, and rabidly anti-Trump," said Gorka. "And I don't see them getting any crap saying 'no, you're not allowed to say that,' or that you're excluded from conservativism. So where is this happening? Who's suffering? And who's saying you can't do that?"
"I'm still not convinced," he added later. "I'd love to hear some concrete examples of somebody important, significant, not a troll, saying, 'How dare you?'"
Newsweek has reached out to Gorka for additional comment.