MAGA Hat Wearing Pupils From Covington Catholic School Who Taunted Native American Elder Could Face Expulsion
Pupils from a Catholic boys school in Kentucky could face disciplinary action after they were filmed surrounding and taunting a group of Native American protesters in Washington DC on Saturday.
The Diocese of Covington in a statement on Saturday issued an apology for the behaviour of the students from Covington Catholic High School in Park Hills, who were filmed attending Saturday's anti-abortion Right to Life march in Washington—which coincided with the Indigenous Peoples March.
In the video, one youth wearing a red baseball cap emblazoned with President Donald Trump's "Make America Great Again" slogan stands close to and tries to stare down an elderly Native American man singing the American Indian Movement song. The man has been identified as Nathan Phillips, a Vietnam veteran and Omaha elder.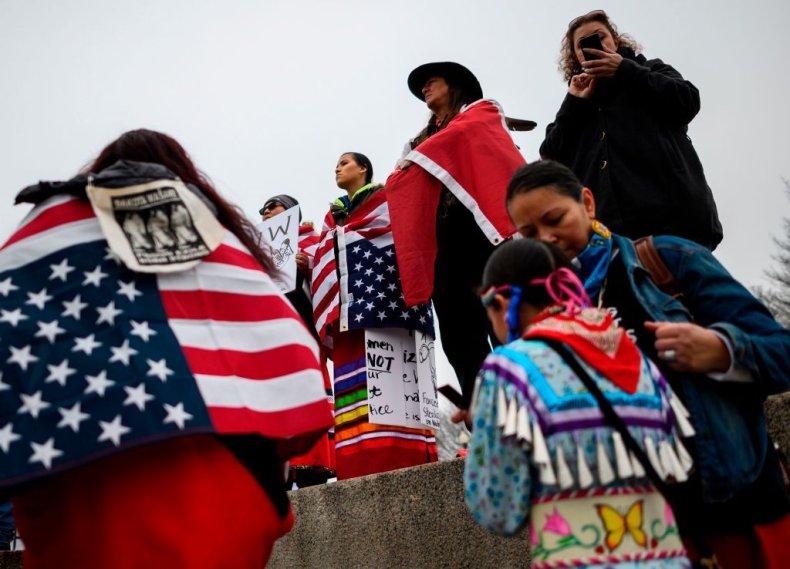 Other students surround them—many wearing clothing with MAGA slogans—jeering and laughing.
In their statement to the Cincinatti Inquirer, the diocese and the high school expressed their "deepest apologies to Mr. Phillips."
"This behavior is opposed to the Church's teachings on the dignity and respect of the human person."
The diocese said the incident is under investigation, and the students could face disciplinary action, including expulsion.
Later Sunday, new footage of the confrontation emerged showing Phillips approaching the group of students.
In comments to the New York Times, Phillips said that he approached the students to diffuse tensions between them and a group of African American protesters from the Hebrew Israelite group who were hurling insults.
"I stepped in between to pray," Phillips said.
In a statement Sunday, the student filmed staring at Phillips identified himself as Nick Sandmann, and said he was also seeking to calm tensions.
"I never interacted with this protestor," he said of Phillips. "I did not speak to him. I did not make any hand gestures or other aggressive moves. To be honest, I was startled and confused as to why he had approached me. We had already been yelled at by another group of protestors, and when the second group approached I was worried that a situation was getting out of control where adults were attempting to provoke teenagers," he wrote.
Philips told NBC News that some of the youths who surrounded him had chanted slogans in favour of President Trump's border wall.
"Chants of 'Build the wall' and other things that were even worse," he said. "They were brought up to believe I'm less than human."
"I'm still trying to process it," Phillips said. "Who they were, who those young folks were, where they came from and who's bringing them up. Where were the chaperones? How did this come to take this point ... ?"
"It's gonna take us all to come together," he added. "I'm about prayer, but then you have to have some action to go with it."
Sandmann in his statement also denied Phillips' claim the students were shouting slogans in support of Trump's wall.
Congresswoman Deb Haaland, one of the first Native American women to be elected to Congress, condemned the behavior of the youths.
"This Veteran put his life on the line for our country. The students' display of blatant hate, disrespect, and intolerance is a signal of how common decency has decayed under this administration. Heartbreaking," she tweeted on Saturday.
Trump has in recent weeks faced criticism for using racially derogatory terms to refer to Senator Elizabeth Warren, who claims Native American ancestry.
* This story has been updated on Monday January 21 to reflect newly released footage and the statement from student Nick Sandmann.