Diocese Report Sides With MAGA Hat-Wearing Covington Catholic Students After Standoff With Native American Man
An investigation into last month's Lincoln Memorial standoff between Covington Catholic High school students and Native American activists found no wrongdoing on behalf of the "MAGA" hat-wearing students.
A report published this week by the Greater Cincinnati Investigation, Inc. largely took the side of the Trump-supporting Catholic schoolboys, including smiling student Nick Sandmann, as they engaged in a highly controversial standoff with Native Americans including Nathan Phillips. Four licensed investigators reviewed third-party witness statements and more than 50 hours of videos before coming to the conclusion the nearby Black Hebrew Israelites who were adjacent to the Washington rally were at fault for any offensive interaction on January 18.
Testimony in the report found the students were simply "confused" by Phillips' approach and the use of the drum. Investigators said there was no evidence of "racist or offensive statements by students to Mr. Phillips," although it acknowledges several students engaged in a "tomahawk chop."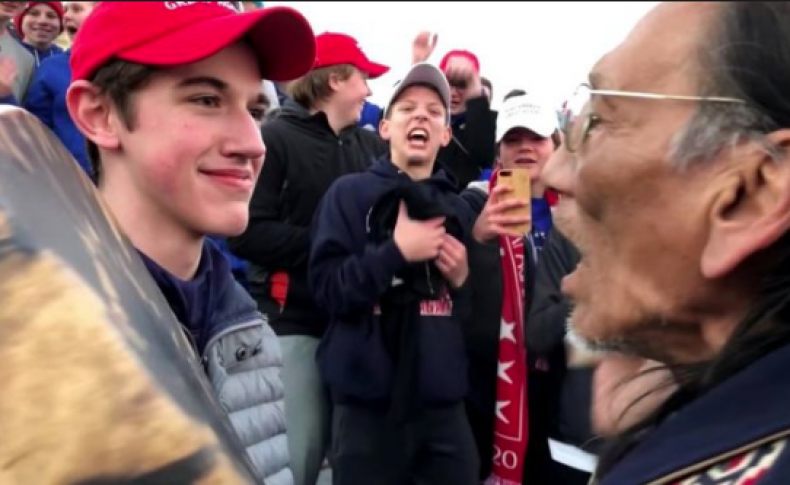 The Diocese of Covington and Covington Catholic High School, a private Kentucky school, were widely condemned when the encounter went viral on social media and came under the national news spotlight.
Investigators said the students had not chanted "Build the Wall" and that they only engaged in a school cheer at the request of school chaperones in order to drown out nasty comments from the Black Hebrew Israelites who were also present at the Lincoln Memorial, The Washington Post reported Wednesday. The report says one of the chaperones present that day told students if "they engaged in a verbal exchange with the Black Hebrew Israelites they would receive detention" upon returning to school.
The report says most boys who bought the red trucker hats reading, "Make America Great Again," part of President Donald Trump's successful 2016 campaign, were purchased on the day of the March for Life. The report cites that some students bought "Hope" hats in support of former President Barack Obama.
The Bishop of Covington, Roger Foys, commended the report, writing on the diocese website, "that my hope and expectation expressed in my letter to you of 25 January that the results of our inquiry...would 'exonerate our students so that they can move forward with their lives' has been realized."
The Diocese retracted it's condemnation of the Catholic students the day after the incident, with Foys writing he was "bullied and pressured into making a statement prematurely" and that it is "important for us to gather the facts that will allow us to determine what corrective actions, if any, are appropriate."