The teenager at the center of controversy regarding a viral video some are calling racist has condemned "misinformation and outright lies" regarding media reports in a statement released Sunday.
Nick Sandmann's lengthy statement includes a recount of the events leading up to his interaction with activist Nathan Phillips, as well as his belief that he was merely trying to diffuse tension in an escalating situation.
Sandmann references a second group of protestors, identified by Phillips as Black Hebrew Israelites, who called Sandmann and his classmates from Covington Catholic High School various names.
"The protestors said hateful things. They called us "racists," "bigots," "white crackers," "faggots," and "incest kids." They also taunted an African American student from my school by telling him that we would "harvest his organs." I have no idea what that insult means, but it was startling to hear," Sandmann said.
Sandmann's words corroborate with a lengthy video posted to YouTube of the Israelites interactions with several people, including the teenagers from Covington Catholic, in front of the Lincoln Memorial, as well as comments made by Phillips to the Detroit Free Press that the Israelites were "saying some harsh things."
However, while Phillips said the students were beginning to verbally attack the Israelites, Sandmann said that was not the case.
Instead, Sandmann said another student asked a chaperone for permission to begin school chants "to counter the hateful things that were being shouted at our group." According to Sandmann's statement, the chants are largely used at sporting events and are all positive.
"At no time did I hear any student chant anything other than the school spirit chants. I did not witness or hear any students chant "build that wall" or anything hateful or racist at any time. Assertions to the contrary are simply false. Our chants were loud because we wanted to drown out the hateful comments that were being shouted at us by the protestors," Sandmann said.
Sandmann added that he never interacted with the Native Americans, who were in the area for the Indigenous Peoples March, and that he was confused as to why Phillips approached him.
"I was worried that a situation was getting out of control where adults were attempting to provoke teenagers," Sandmann said. "I believed that by remaining motionless and calm, I was helping to diffuse the situation... I said a silent prayer that the situation would not get out of hand."
Sandmann also said he thought that the adults were trying to provoke the teenagers into a "larger conflict."
Phillips stated that he placed himself between the teenagers and the Israelites in the hope of turning the teens' anger towards him.
"There was that moment when I realized I've put myself between beast and prey. These young men were beastly and these old black individuals was their prey, and I stood in between them and so they needed their pounds of flesh and they were looking at me for that," Phillips told the Detroit Free Press.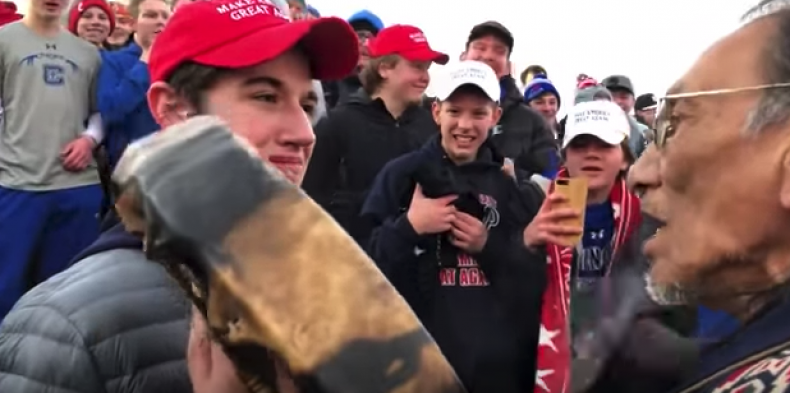 While Phillips stated that the students chanted "build the wall," a reference to President Donald Trump's campaign promise to build a border wall to separate the United States and Mexico, Sandmann denied any chants of that nature occurred.
Instead, Sandmann said that the protestors began yelling at him and the other students.
"During the period of the drumming, a member of the protestor's entourage began yelling at a fellow student that we "stole our land" and that we should "go back to Europe." I heard one of my fellow students begin to respond. I motioned to my classmate and tried to get him to stop engaging with the protestor, as I was still in the mindset that we needed to calm down tensions," Sandmann said. "I never felt like I was blocking the Native American protestor. He did not make any attempt to go around me. It was clear to me that he had singled me out for a confrontation, although I am not sure why."
Sandmann stated that the smile that can be seen in the video was to let Phillips know that he had no intention of becoming confrontational.
"I am a faithful Christian and practicing Catholic, and I always try to live up to the ideals my faith teaches me—to remain respectful of others, and to take no action that would lead to conflict or violence," Sandmann said.
Sandmann said that he harbors "no ill will" for Phillips and respects his right to protest. He also thanked Phillips for his service as a U.S. Marine.
"I love my school, my teachers and my classmates. I work hard to achieve good grades and to participate in several extracurricular activities. I am mortified that so many people have come to believe something that did not happen — that students from my school were chanting or acting in a racist fashion toward African Americans or Native Americans. I did not do that, do not have hateful feelings in my heart, and did not witness any of my classmates doing that," Sandmann said.
On Saturday, the Diocese of Covington and the Covington Catholic announced they would open an investigation into the confrontation and condemned the actions of the students. The statement also included an apology to Phillips and Native Americans.
Sandmann said that he will cooperate with the ongoing investigation. According to the Diocese, students could be expelled if it is deemed appropriate.