Couple Holds MAGA-themed Wedding, Allow Guests to Sign Anti-abortion 'Heartbeat' Bill Petition
Michigan couple Audra and Jeff Johnson took their love of President Donald Trump to a whole new level last week, tying the knot in a "Make America Great Again"-themed wedding.
The couple made sure every detail of their 4th July nuptials in Kalamazoo matched the theme: from the date to the flowers, the bride's nail polish and the bridal party's clothes.
Audra Johnson told WXMI on Wednesday: "It looked like America threw up all over my wedding and I'm not sorry."
After the ceremony, the bride donned a reception dress fashioned out of a MAGA flag by designer Andre Soriano. The dress was emblazoned with the words "Make America Great Again" down the front and "Trump" across the train. She later shared an Instagram photo of herself wearing the garment while holding a gun.
During the reception, friends and family—dressed in red, white and blue and wearing MAGA hats—were invited to sign a petition for the anti-abortion "heartbeat bill." According to her social media accounts, Audra Johnson is Kent County Captain at the Michigan Heartbeat Coalition.
So-called "heartbeat bills" are intended to prevent abortions after a developed a "fetal heartbeat" is detected. These signals can usually be found around six weeks into a pregnancy.
But as Jennifer Kerns, an associate professor of obstetrics and gynecology at the University of California San Francisco previously told Newsweek, the term "fetal heartbeat" is misleading.
At six weeks, the pregnancy is not a fetus at all, but an embryo measuring "approximately seven to eight millimeters in size," she said.
"What that represents is not what we think about when we think of the word heartbeat... What it is is a group of cells that are programmed to eventually become the heart, and so they have some electrical activity," she continued.
Audra Johnson told WXMI the couple wanted to combat the view that Trump supporters are racist. "I really feel like because we are such a mixed family—he's African American, I'm Filipino...we both thought it was really important to show people that that's wrong," she said.
Although many guests seemed to enjoy the theme, the couple had to make some adjustments. The Democratic maid of honor, for example, preferred to wear a plain red hat instead of a MAGA cap.
But some close family members refused to attend the event. Audra Johnson said her now-father-in-law told the couple: "As long as you support that racist in the White House, I won't be attending your wedding."
Johnson did not immediately respond to Newsweek's request for comment.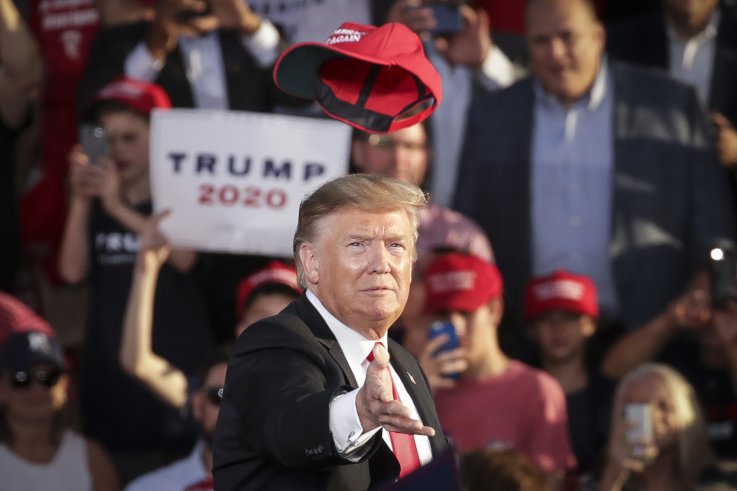 Couple Holds MAGA-themed Wedding, Allow Guests to Sign Anti-abortion 'Heartbeat' Bill Petition | U.S.