Maggie Gyllenhaal on Balancing Motherhood and Filming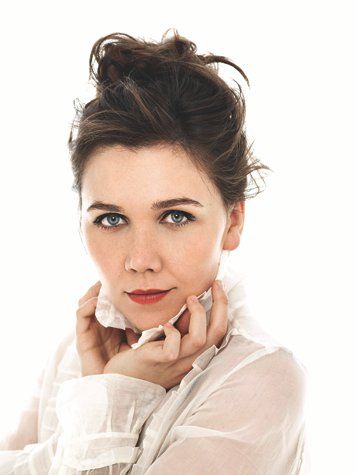 I've made so many mistakes that have been helpful in my life. I make them all the time in trying to do everything. It's impossible not to. I'm not perfect at all—as a wife, as a mother, as an actress.
When I made Crazy Heart in 2008, that was the first time I really went back to work after having my first child, and that movie was so intense that I lost touch with some motherly stuff and was just in the world of the movie. Even trying to figure out what was for dinner was tough. My husband, Peter, was going to work in London a lot of the time, and Crazy Heart was the type of movie that you'd shoot in three weeks and be out drinking tequila with the director and Jeff Bridges till three in the morning. We had to make a real relationship together in order for that one to work. Peter said to me, "You go and do whatever you need to do." But my daughter wasn't cool with that: she was still going to wake up at 6:30 a.m.
Within the same year, I made Nanny McPhee in London. I went and rehearsed for a week, got married, went on a two-day honeymoon, and we started shooting. It was a long, four-month shoot. I had a 2-year-old, too. But I was and am in love with Emma Thompson, who wrote and starred in the film. I wanted to please her and be friends.
One day, we went over to her house for brunch, and afterward I was going to see Ornette Coleman, who's a big jazz musician. I wasn't that into Coleman, but he's one of my husband's favorites. Emma was so shocked that I was going out that night on a date with my husband, but Peter really wanted to go. The concert was awesome, and I hadn't been out that late.
I went to work the next day, and it was a huge day: acting with children, animals, tons of props, and a long scene with lots of talking. I thought it went fine. But at the end of the day, the producer came up to me and said, "Would you like me to get someone to help you with your lines?" I said, "No, I'm OK," and then went into the makeup trailer and burst into tears. I couldn't stop crying.
Emma comes in and says, "What's the matter?" I told her what happened. She said to me, "You're a new wife, you have a 2-year-old, you've been shooting this movie for four months. You're going to f--k up! It's OK. And you didn't know your lines that well today." That was the first time that I realized that being good at everything at the same time isn't possible. Hearing Emma, someone who is so incredibly talented and wise, say that really stuck with me. Something has to give, you know? I can't break down and get horribly defensive when someone is telling me I need a little help. I just try to do my best.
But now that we had another child in April, I don't know how I'm going to do it. Peter turned to me the other day and said, "How are either of us going to work now?" I have no idea.
Interview By Marlow Stern
Career Arc
2003
Receives a Golden Globe nod for her role in Secretary as a sadomasochist.
2006
Appears in The Dark Knight and welcomes her first daughter, Ramona.
2008
Finds it difficult to juggle motherhood and filming two movies.
2009
Acts alongside husband Peter Sarsgaard in Chekov's Uncle Vanya.
2012
Stars in Hysteria, about the invention of the vibrator, in theaters now.