After over a year of unemployment, Maggie Mundwiller's job search had been filled with obstacles in the form of child care. Until now.
Mundwiller was laid off in April 2020 due to the pandemic, and has been hunting for a job since, while looking after her 1-year-old. Her husband works and so child care became an issue when it came to interviews. She even had to cancel Zoom interviews, being unable to match up Mylo's nap times with the calls.
The 38-year-old's recent experience however had gone viral, after she finally found a "child-friendly" company. "Laid off due to COVID. Invited for a second interview...but no child care," she wrote in a TikTok video. "They say 'we are child friendly' and invite me to bring my son!"
Mundwiller's video had gained over eight million views since its upload six days ago, with viewers celebrating the mom-and-son effort to bag her a job. In the video, Mylo is captured getting all dressed up for the interview—suit and all.
He even brings his own resume to the office, listing "destroying a clean space in 30 seconds," and "spotting a dog a mile away," as some of his employment-worthy skills. According to the video, Mylo ate the boss' sandwich and drooled on him, which might not come off too well should anyone else try, but an exception was made for Mylo. In fact, Mundwiller was offered the job by the company.
"My husband was at work and my other family members were busy. I explained my predicament to the potential employer and they simply responded 'we are child-friendly,'" Mundwiller told Newsweek. "I was grateful for the non-traditional opportunity. I decided to have some fun with it, called my husband and we brainstormed Mylo's skill set for his resume. I was excited to showcase my fun and creative side, while being a modern working woman."
"The struggles I have faced, I am finding are common, but not often discussed. It could be lack of childcare, cost of child care, lack of sleep, missing important family functions, missing interviews, struggles with care when there is illness, discrimination. I am glad the conversation has begun in such an authentic way as I find that it is hard to be authentic and honest with workplaces about the realities of parenting," she said.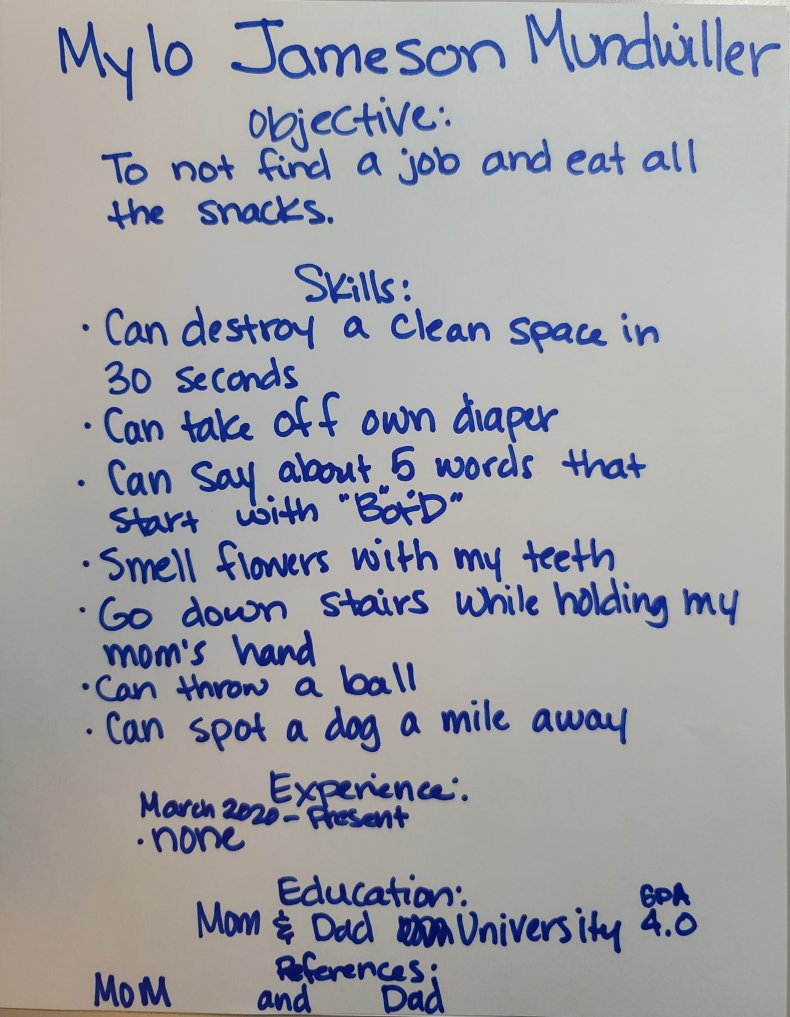 Her experience certainly isn't a unique one either, with more than two million women leaving the workforce since the pandemic began, according to the National Women's Law Center. Women's employment reportedly fell below 50 percent in the U.S. for the first time since the '80s too.
Treasury Secretary Janet Yellen actually pointed to child care as one of the reasons for people across the country not returning to work in a May press briefing, saying that "caregiving responsibilities and the absence of child care are still important reasons why people are unable to work."
The TikTok video may have started as simply an adorable clip, but has sparked conversation surrounding the place of mothers in the working world, and how companies can better aid them.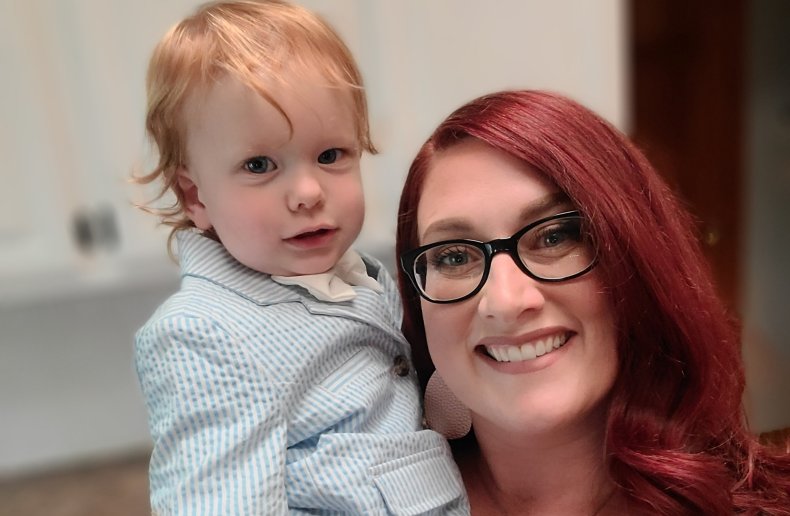 "I would like employers to begin to have conversations to consider how they can make space for a family friendly culture. It will look different for every company. It may not be realistic to bring your children to work, but taking the stigma out of having children and professionalism is imperative. It absolutely must start at the top of an organization. Parental leave...for more than six weeks (my doctor ordered 12 weeks for maternity leave and my insurance only allowed for six weeks)," Mundwiller told Newsweek.
"ALL genders should be in this conversation and considered when it comes to caring for a child (even though women have been most directly impacted). Flexible schedules. Child care options at or through work if it is realistic for the employers budget or space. Child friendly interviews for those in transition (like my husband and I). Just to name a few."
In March, President Joe Biden signed into law the American Families Plan, offering universal pre-K to 3 and 4-year-olds, along with a cap on how much low and middle-income families pay for child care, and up to 12 weeks of paid family and medical leave.
On the effect of her viral video, Mundwiller said she hopes that, "people will see that women and parents of all genders can do more, if given the trust space. I hope it will spark conversation for change in organizations. I am hopeful that my video helps other parents feel that they are not alone. I relate in stories and I hope mine will inspire more parents to be their authentic self when navigating interviews and life in general."
Mundwiller added to Newsweek that she is encouraging child-friendly employers to email her at myloslist@gmail.com, to compile a list for parents who are job hunting.