'MTG' and 'MTG Arena' Part of $10 Million Esports Push For Wizards of the Coast
Wizards of the Coast took to the stage at The Game Awards to reveal a huge $10 million push into the world of esports with MTG Arena and Magic: The Gathering. The Magic Pro League, or MPL, incorporates both the digital and physical, with players spending time on MTG Arena in between big events.
The MPL features 32 of the top-ranked Magic players, with members offered play and streaming contracts worth $75,000. Weekly MPL match-ups will be streamed with MTG Arena, which lead to the newly-minted Mythic Championship events.
"Our new program embraces each of these principles and doubles down on the opportunity for players, pros and partners alike with a $10 million prize pool and a Mythic Championship system that spans Magic tabletop and MTG Arena with multiple paths to qualify via in-game play on Arena and our 50-city Grand Prix system in 2019," Chris Cocks, President and CEO of Wizards of the Coast told Newsweek. "We also have reserved significant prize money support for partner funded events that will extend opportunities to compete and play at more events throughout the year."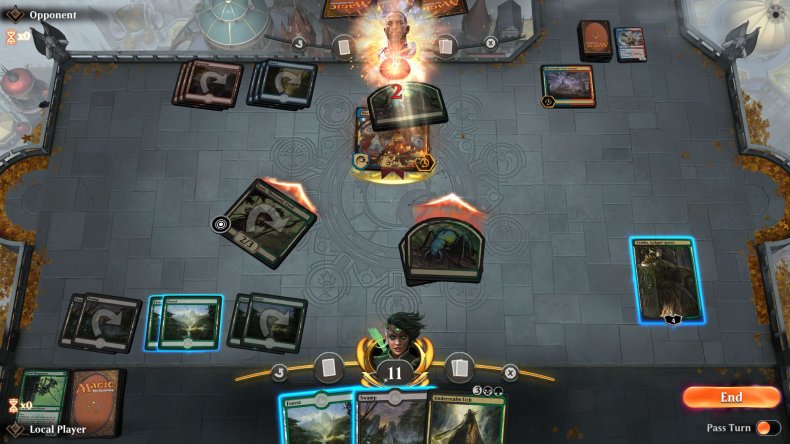 These Mythic Championship events are the big competitions for the MPL. They feature the 32 players in the MPL, but other major Magic players can participate. More details about how to participate in these Mythic Championships will be announced in the coming months, but we do know the first Mythic Championship event takes place during PAX East 2019 in Boston.
Cocks says esports is a major focus for Wizards moving forward, and feels 2019 will be a huge year for Magic and all its players. " We have a very dedicated pro player base, and we want to be able to offer them a strong prize pool right out of the gates with MTG Arena, while boosting the amount of cash prizes for Magic tabletop," he said. "We think a $10 million prize pool will encourage pro gamers, partners and players to really embrace Magic and MTG Arena and help us take the game to the next level."
MTG Arena is now in open beta on PC, and is free to download. More details on the MPL and Mythic Championship events will be released in early 2019.
So what do you think? Are you excited to see Magic make a big push towards professional esports? Will you try to earn yourself a spot at a Mythic Championship event? Let us know your thoughts in the comments section below.