Magic: The Gathering Gets New and Reissued Planeswalkers In Core Set 2021
Powerful new Planeswalker cards are coming to Magic: The Gathering in the upcoming Core Set 2021 and Wizards of the Coast has begun revealing what's new.
The new cards were introduced in a 40 minute Magic: The Gathering stream hosted by actor Jimmy Wong (Video Game High School, John Dies at the End), which opened on a message of solidarity with "those fighting racial injustice."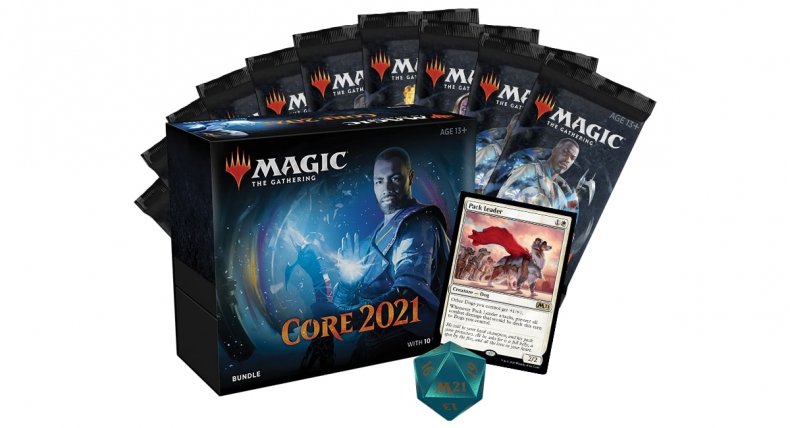 "This core set is unlike any other, because we've got powerful reprints, some awesome new cards, a sick Planeswalker lineup and not to mention borderless arts, showcase arts—things that will make you the envy of all your friends," Wong said, before introducing Core Set 2021.
"We set out to make an amazing core set," Magic head designer Mark Rosewater said during the stream, before introducing the new artifact creature card Sparkhunter Manticore. "We just juiced the whole thing, to make one of the best core sets of all time."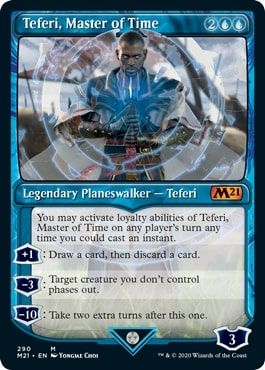 The Teferi showcase variant.
Wizards of the Coast
Featuring fan-favorite throwbacks, the Core Set 2021 has been "summoned" from multiple timelines by an ancient planeswalker, the "chronarch" (or time wizard) Teferi. Teferi himself appears in Core Set 2021 too, with four variants of the card Teferi, Master of Time, plus two associated enchantments and a new creature card, Teferi's Protege.
But Teferi is just the start. Magic reissues coming in Core Set 2021 begin with the planeswalker Ugin, the Spirit Dragon, which will become part of the standard set, along with Showcase and Borderless variants. Other reprint cards include Azusa, Lost But Seeking and Grim Tutor, which was only previously released in the Starter 1999 set (originals are valued at around $200). One recurring theme with Core Set 2021 is bringing expensive and rare cards to a wider range of players.
New and expanded planeswalkers are also a major draw for Core Set 2021. Introduced in the 2007 expansion set Lorwyn, planeswalkers are powerful beings who can be summoned with temporary allegiance to the player (who, in the mythology of Magic: The Gathering,are themselves planeswalkers). They can wield powerful atacks and abilities, but have a set number of "loyalty counters" which are used up (or lost in attacks) until the planeswalker no longer wishes to team with you.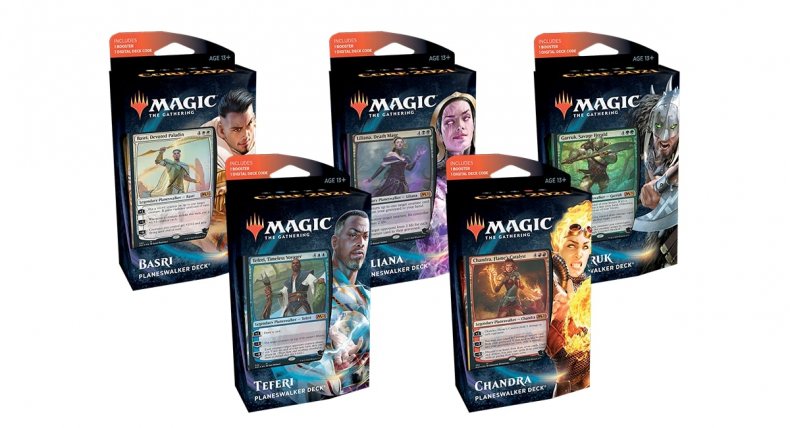 Core Set 2021 will include new cards for existing planeswalkers Chandra and Garruk, while also introducing the planeswalker Basri Ket, a human sand-mage from the ancient Egypt-inspired plane of Amonkhet.
Previews from Core Set 2021 are ongoing, with more announcements and previews from Wizards of the Coast happening through June 20. The new cards coming in Core Set 2021 will be released to the online Magic: The Gathering Arena on June 25, with a wide release following on July 3.