Why Did Magic Johnson Resign as Lakers President? 'I've Been Handcuffed and I Don't like That'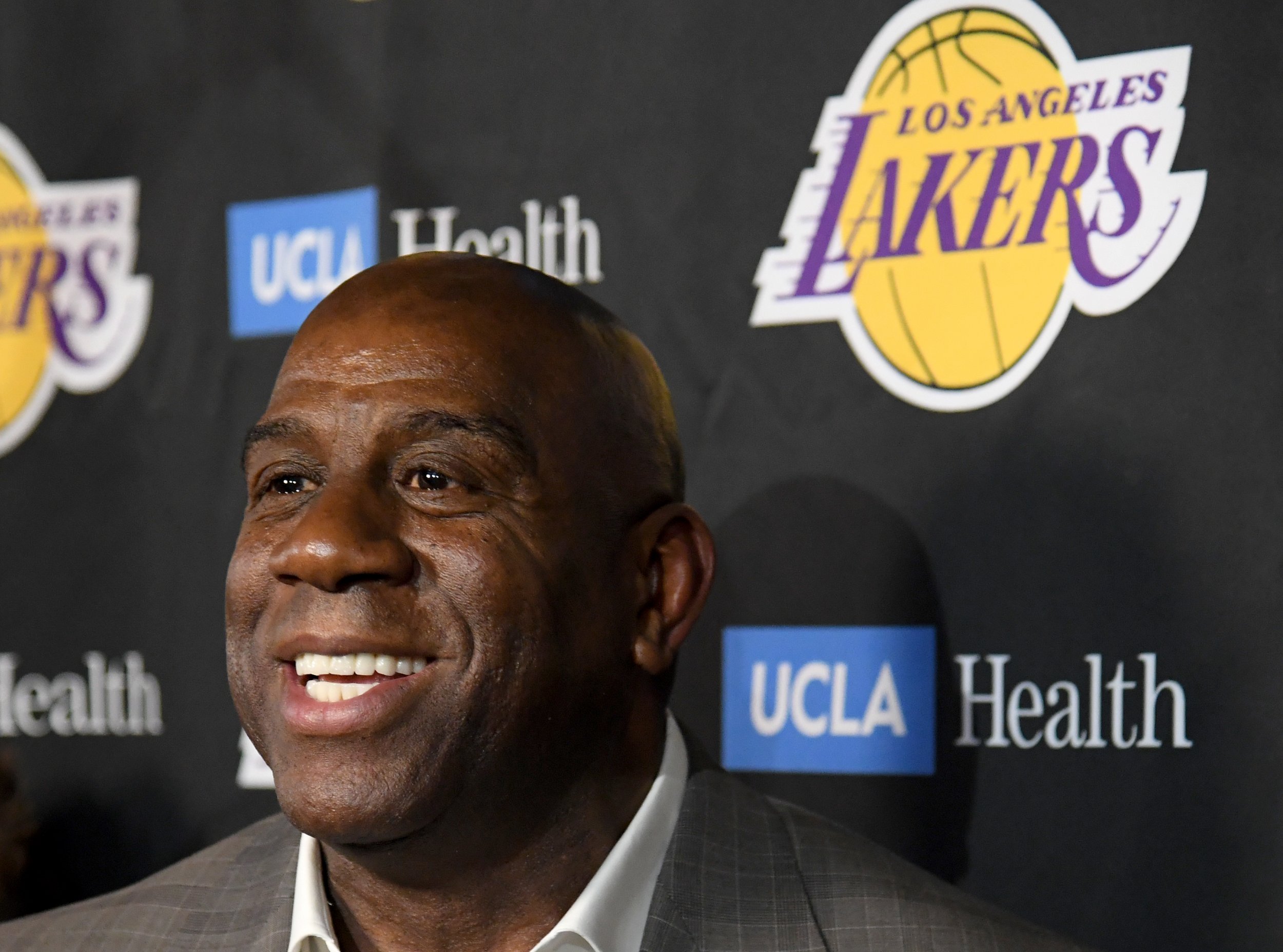 Magic Johnson has said he feels free and is looking forward to returning to a "beautiful life" after stepping down from his role as Los Angeles Lakers president of basketball operations.
The five-time NBA champion spent just two years in the role but said he had felt "handcuffed" in the position throughout his tenure.
"I'm a free bird and I've been handcuffed and I don't like that," the 59-year-old said during a press conference on Tuesday.
"This is the right time. The right move. The right decision. I'm so happy. I'm a guy who always knows when things are right, and this is right. It feels good."
Johnson's decision to leave his role sent shockwaves throughout the franchise and the NBA as a world, particularly as the Lakers face a potentially future-defining summer.
However, while the three-time MVP admitted parting ways with the Lakers was extremely difficult to do, he conceded the decision would leave him happier than he has been for a long time.
"I want to go back to having fun,'' he said. "I want to go back to being who I was before taking on this job."
Asked by ESPN reporter Rachel Nichols whether the prospect of a life outside basketball worried him, Johnson again suggested leaving the Lakers was the right thing to do.
"Damn, I got a great life outside of this," he explained.
"I got a beautiful life. I'm going back to that beautiful life. I'm looking forward to it. So today, Rachel, I'm free."
The Lakers were arguably the biggest disappointment of the season, finishing 37-45 and only marginally improving from the 35-47 record of a year ago. If missing out on the playoffs for a sixth straight year was hard to take, the fact the Lakers fell short during LeBron James' first season in Los Angeles made it even worse.
Johnson played a big role in convincing the four-time MVP to sign for the Lakers in July, but LeBron's first season in purple and gold saw expectations and reality travel two very different paths.
A serious groin injury on Christmas Day sidelined James for 17 straight games and derailed the Lakers' season. He returned in February, but the team never recovered and Luke Walton's job has been in jeopardy ever since.
Johnson admitted he was considering firing Walton, even though the head coach has still two years left on his contract.
"Yeah, I was preparing to make that decision," he said.
"But you know [...] it was going to be tough for her [Lakers owner Jeanie Buss] because she loves him, loves me,"
The 12-time All-Star then added that he could not face the prospect of informing Buss of his decision.
"Somebody going to have to tell my boss," he added. "I know she's going to be sick, but I knew I couldn't face her face-to-face and tell her, even though I was just with her yesterday."
Buss responded on Twitter by saying she "loved" working with Johnson, while the Lakers released a statement to thank the number one overall pick of the 1979 draft.
"There is no greater Los Angeles Laker than Earvin Johnson," the team said.
"He will always be not only a Lakers icon, but our family."