A former Los Angeles Lakers great threw praise to a current Lakers great on Wednesday, and the assist was made on social media. Magic Johnson, the former Lakers guard who guided them to multiple world championships, said LeBron James should win the NBA MVP award this year if James continues his current statistical pace.
Johnson, a three-time MVP and former team president with the Lakers, said no one is playing better in the league right now than James, who himself is a four-time MVP. In a tweet Wednesday afternoon, Magic lofted this alley oop toward the King.
"LeBron this season is averaging 25 points & 11.1 assists making him #1 in assists. If he continues at this pace he will definitely be the league MVP this season! No one is playing better than him & what's scary is his story is still being written!," Johnson wrote.
This is the second season James has been with the Lakers after two stints with the Cleveland Cavaliers sandwiched around four years with the Miami Heat. Although James had good stats in the 2018-19 season, he only played in 67 percent of the team's games last season after suffering a groin injury in December.
The Lakers had not made the playoffs the previous five years to signing James, and the team missed out again last year as James missed 27 of the team's 82 games. James still averaged 27.4 points, 8.5 rebounds and 8.3 assists in the games he did play, good enough for third-team All-NBA last season.
This year, James and the Lakers are in first place in the NBA's Western Conference with a 12-2 record, one game ahead of the Houston Rockets and three games ahead of the Los Angeles Clippers for city supremacy.
James has played in all 14 Lakers games so far this season. His 25.4 points a game are slightly under his career average of 27.1, but he has never had an assist rate quite like this year. His 11.1 this season are far ahead of any of his past seasons as he has never averaged 10 in any one season—regular season or playoffs.
James won the league's MVP award four times in a five-year stretch, but hasn't won the award since the 2012-13 season.
He won it back-to-back following the 2009 and 2010 seasons with the Cavaliers, and he won it following the 2012 and 2013 seasons with the Heat.
On Tuesday night this week against the Oklahoma City Thunder, he knocked down 25 points, brought down 11 rebounds and had 10 assists, which gave him a lifetime triple double against every team in the league.
Should James continue his torrid pace this season, and he guides the Lakers back to the playoffs, he would certainly be a solid choice for MVP.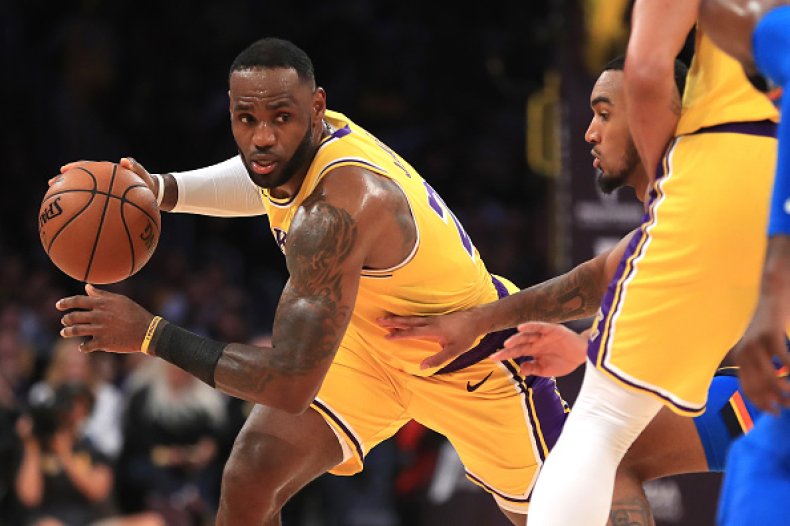 About the writer
Scott McDonald is a Newsweek deputy night editor based in Cape Coral, Florida. His focus is assigning and writing stories across all topics, from news to politics, business, weather, sports and international news. Scott joined Newsweek in 2018 after a lengthy career of print journalism in Texas, including The Dallas Morning News, where he was a sportswriter, and he's a voter for the Heisman Trophy. He has been a newspaper editor-in-chief and also a newspaper publisher. He is a graduate of The University of Texas at Austin. You can get in touch with Scott by emailing s.mcdonald@newsweek.com. Languages: English