Who Are the Dancers in 'Magic Mike's Last Dance'? Everything to Know
Channing Tatum's Mike Lane is back, and this time, he has a whole new troupe of dancers to work with.
Magic Mike's Last Dance, the third film in the franchise, sees Tatum's titular character come out of retirement from stripping after meeting socialite Maxandra Mendoza (Salma Hayek Pinault).
Maxandra tasks him with putting on a live show at the London theater she received in the ongoing divorce proceedings from her soon-to-be ex-husband. She's keen to turn an antiquated play into a feminist performance, with strippers.
In a new environment and out of his comfort zone, Mike has to find new talent to take on stage. Here is everything that you need to know about the dancers featured in the film.
Who Are the Dancers in 'Magic Mike's Last Dance'? Everything to Know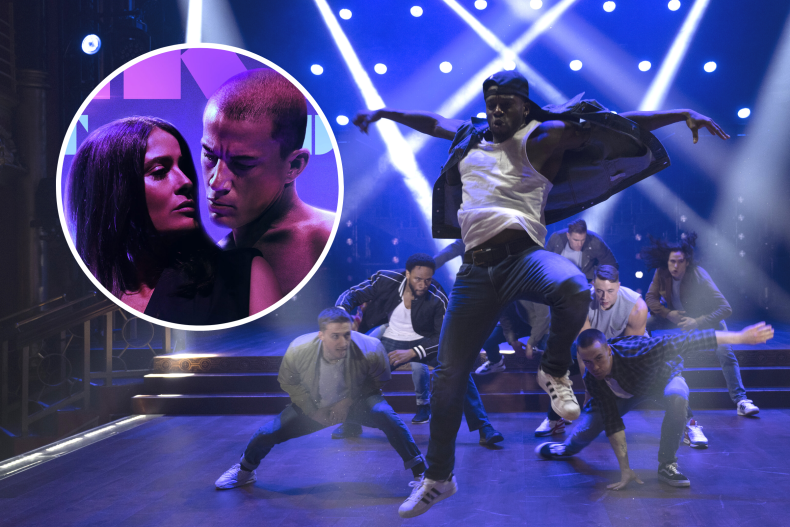 In the first two Magic Mike films, Tatum's titular character performed alongside dancers like Ken (Matt Bomer), Big Dick Richie (Joe Manganiello), Tito (Adam Rodriguez) and Tarzan (Kevin Nash), but now Mike is directing a show, he scouts for local talent.
Given the film's setting in London some viewers might wonder if Magic Mike's Last Dance has any connection to Tatum's Magic Mike Live show. This has been a fixture at London's Hippodrome Casino since 2018, and those wondering wouldn't be far off the money.
The dancers who appear in the film have starred in the stage show in London or in Tatum's original spectacular in Las Vegas, and many of them are still performing there.
For example, the film features dancers Harry Carter, Joel Ekperigin, Theophilus O. Bailey and Manny Tsakanika. They are all performing in the London Magic Mike Live show. Sebastian Melo Taveira and Jack Manley also appeared in the show in 2019.
Anton Lanzelot Engel, J.D. Rainey, Patrick "Pat" Packing, Jackson Williams, and Sebastian González Molina are performing in Magic Mike Live Las Vegas. Ryan Michael Carlson has featured in the show as Mike, and is the show's resident choreographer.
Here Are the Dancers in 'Magic Mike's Last Dance':
Harry Carter
Manny Tsakanika
Anton Lanzelot Engel
J.D. Rainey
Sebastian González Molina
Theophilus O. Bailey
Jack Manley
Ryan Michael Carlson
Joel Ekperigin
Patrick Packing
Sebastian Melo Taveira
Jackson Williams
Where Was 'Magic Mike's Last Dance' Filmed?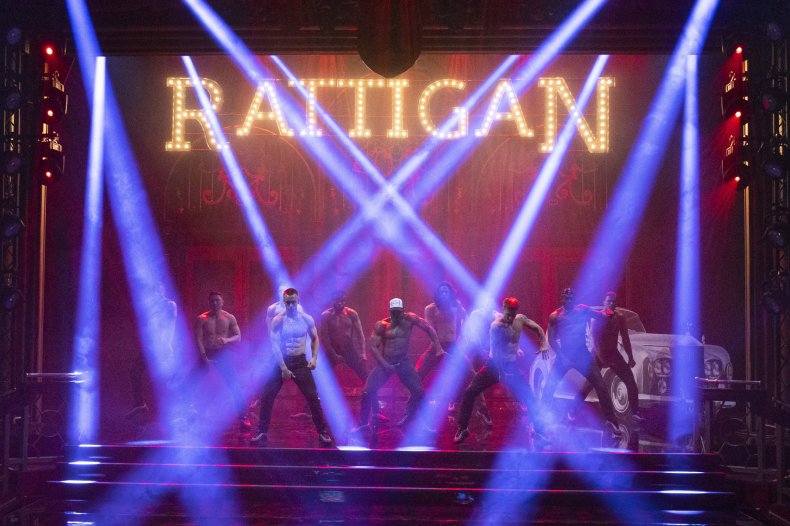 Magic Mike's Last Dance sees Mike and his troupe of dancers put on a show in a theater named The Rattigan. Those wondering if the location is place that they can visit the answer is yes, and no.
The Rattigan is not a real theater. However, the location is real, and it is The Clapham Grand in London.
Owners of the music hall posted a statement on social media about the film, sharing their excitement over being the theater where Mike puts on his big show.
On Instagram, the @theclaphamgrand account wrote: "You remember when we were closed early last year and weren't allowed to tell you the super secret showbiz reason why? Well, cat's out the bag now - MAGIC MIKE 3 was being filmed here!
"Yes that's right, a certain Mr Channing Tatum and the Magic Mike boys spent two hot sweaty, near naked months on our stage, accompanied by the legendary Salma Hayek and the Oscar award winning director Steve Soderbergh.
"There were hot tubs, rain machines, more lighting fx [effects] and testosterone than you could shake a six pack at, and we even got a mini face lift in the process. Yes our brand spanking new stage, bar, lovely sofas, tables and chairs are all courtesy of Warner Brothers!"
The Clapham Grand has kept the look it was given in the film, and so those interested will be able to visit the filming location, should they wish.
Magic Mike's Last Dance is out in theaters now.