The Magic of Mugler Comes to Montreal
The superstar of '80s and '90s outré couture has a new exhibition at the Montreal Museum of Fine Arts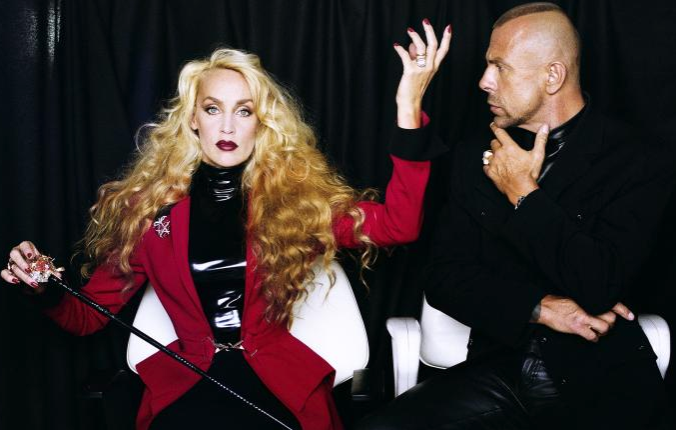 The world of fashion designer, photographer and director Thierry Mugler is populated with phantasmagorical creatures: Metallic mutants sprouting turquoise plumes and scales; Sports cars transformed into beautiful women; Slinky silver insectoid sirens; Sexy cyborgs; '80s power bitches in bright neons and big shoulders.
For the uninitiated into Mugler's cabinet of couture curiosities, his creations were given a recent boost in the public eye early in 2019, first by Cardi B at the Grammy Awards, strutting the red carpet and performing in pieces from his A/W '95/'96 couture collection, then by Kim Kardashian at the Hollywood Beauty Awards in a bondage-esque dress from his S/S '98 collection. Now, poised to breathe new life into Mugler's oeuvre, the Montreal Museum of Fine Arts just opened the first exhibition dedicated to his designs with "Thierry Mugler Couturissime."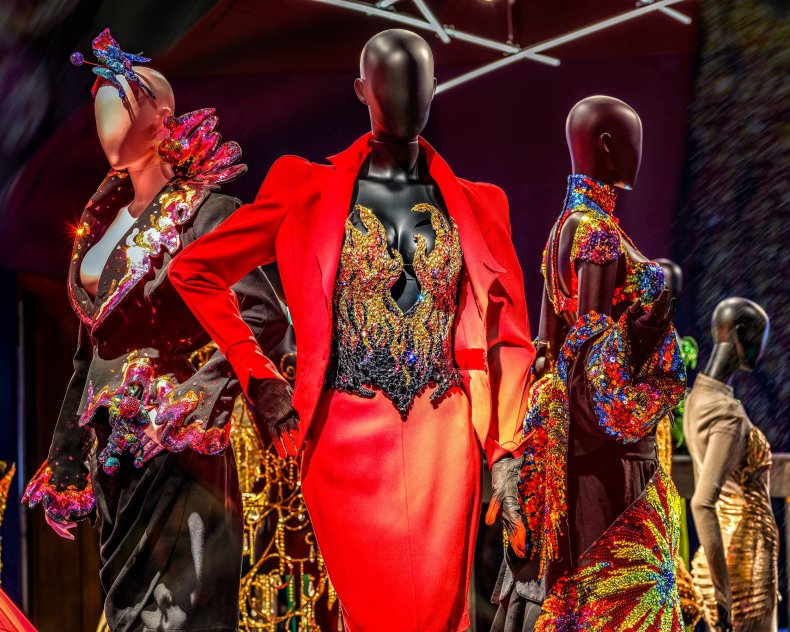 This isn't a retrospective in the proper sense of the word, however. "He didn't want it to be a funeral exhibition," says curator Thierry-Maxime Loriot, "He knew we would do it as a celebration of his work, rather than a nostalgic look to the past."
If you happened to catch the Loriot-curated retrospective of Jean-Paul Gaultier that toured the world, with its hologram heads and thematic galleries, you'll have a taste of what to expect from "Couturissime."
"It's going to be like Gaultier on steroids," Loriot promises. "We worked with a lot of collaborators, like Michel Lemieux [of Lemieux Pilon 4D Art], who created all of the holograms for the Macbeth room, in reference to the Shakespeare play, which Mugler did the costumes for in 1985. This is the first time that these costumes will be exhibited all together since then."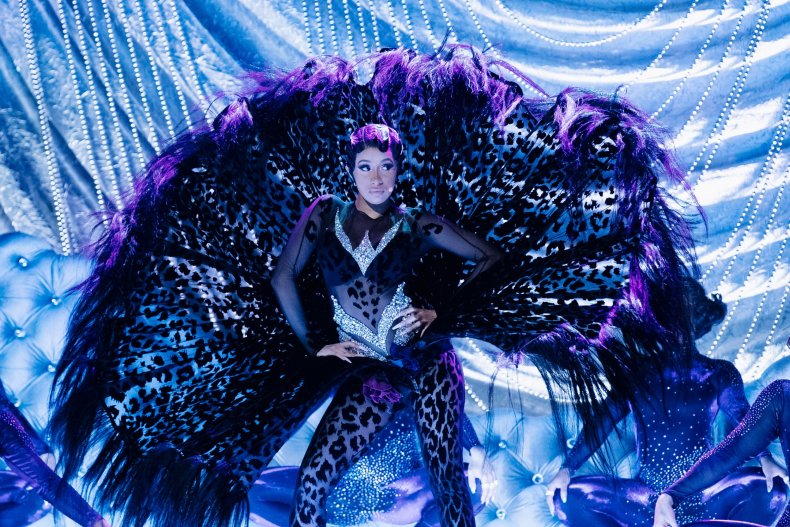 In addition to the costumes, the show will amass nearly 200 different creations designed between 1973 and 2001, as well as photographs, sketches and videos of his work, including the Mugler-directed 1992 music video for George Michael's "Too Funky," and galleries dedicated to his collaborations with infamous fashion photographers Guy Bourdin and Helmut Newton.
Those familiar with Newton and Bourdin, a well as Mugler, may wince because all three of these artists were lobbed sexist barbs throughout their careers, Bourdin and Newton because their photographs objectified and sexualized women (sometimes dissecting women only to their body parts), and Mugler for creating simultaneously revealing-yet-constricting clothing that appeared to fetishize the female form.
"Mugler is a world without men," Loriot says of these criticisms. "It was a world inspired by women in comic books, inspired by ideas of empowerment. It was completely the opposite of being constrictive or sexist." He also invoked a 1994 New York Times Magazine conversation between Mugler and noted feminist art historian Linda Nochlin on this subject, which yielded a surprising bond between two seemingly disparate personalities, as evidenced by exchanges like these:
NOCHLIN [Your version of femininity is] so extreme that these women aren't sex objects, they're sex subjects. Also, we know that this is a kind of artifice—it's a performance.

MUGLER It's not artifice; it's a help—a trick. Because what we're showing exists already; we didn't invent it. We're just presenting it in another way, in a better package.

NOCHLIN Right. But it's not a cute little secretary looking like this every day in the office so she'll get a raise. I mean, what you're doing is on a completely different scale. This is like some archetype.

MUGLER And you put yourself in it.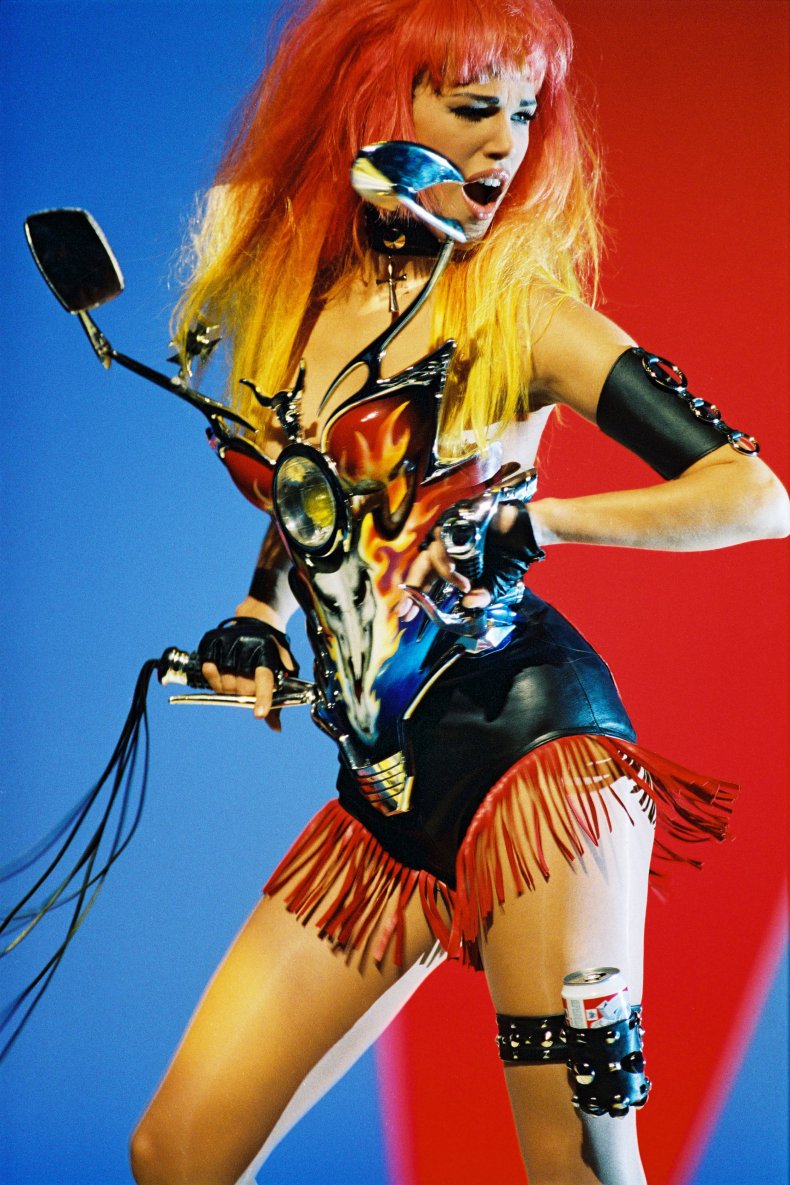 Indeed, Mugler's couture shows in the '90s were decadent displays of theatricality: Regularly cast with the supermodels of the time like Naomi Campbell, Christie Brinkley and Linda Evangelista, lasting nearly an hour with grandiose sets (that while more common today, were a novelty twenty-five years ago), each model evoking a character from a outfit, making them more akin to performance art than mere trade show presentation.
This level of excess, collections created at couture standards with and lavish set design, weren't much of a surprise considering his skill at creating perfumes, a frequent funder fashion houses use to stage extravagant couture shows. His 1992 scent Angel catapulted a new genre of fragrance, the gourmand, signified by sweet, tasty notes like vanilla, chocolate and caramel. "It was the perfume that was able to knock Chanel No. 5 from the top spot in sales," Loriot says of the fragrance, exemplifying Mugler's creative as well as business genius.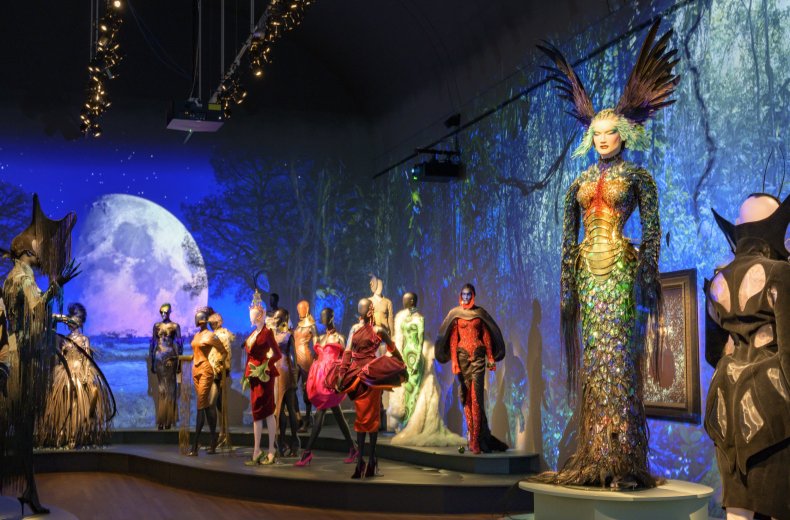 But in the early years of the new millennium, Mugler left his booming fashion empire. Aside from collaborations with Beyoncé on her "I Am…" world tour in 2009, he focused on other creative pursuits like directing. Most apparent during this time was his recreation of himself: going publicly by his birth name, Manfred, and transforming his frame with extreme bodybuilding and cosmetic procedures, Mugler continued his creative evolution in new and surprising ways.
Even with a short revival of the brand in 2010 under the creative direction of Lady Gaga's former stylist, Nicola Formichetti, and current smaller collections helmed by Casey Cadwallader, the brand never catapulted to the same heights it reached in the '80s or '90s, when the inverted triangle silhouette created by broad shoulders and nipped-in waists reigned supreme. Nobody drew the inverted triangle quite like Mugler, with everyone from Madonna to the French minister of culture donning his soignée suits at his peak.
"Thierry Mugler Couturissime" proves that a funeral dirge need not underscore a retrospective; the designer was able to reach into his archives with the MMFA and create something new and exciting with the glistening artifacts of his past.