A Magical, Musical Arabian Night in Oman's Muscat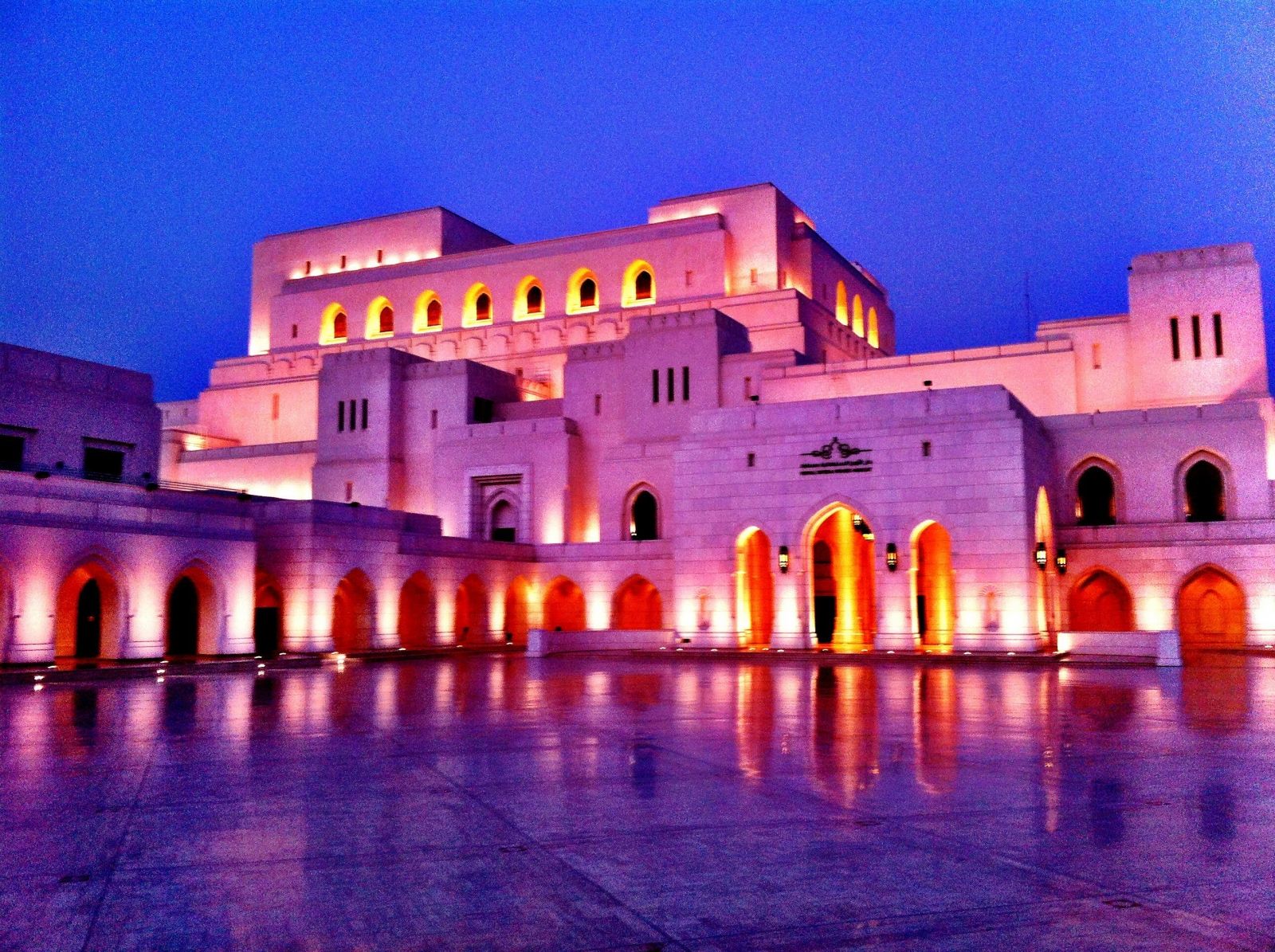 Oman's opera house is a dazzling sight at night. I'm standing on one side of a spotless expanse of white marble. Across the plaza is a building straight out of a modern Arabian Nights, all illuminated arches and tiers of bright white limestone and stucco. Blossom scents the air, the moon is bright – the scene, all this seems to be saying, is set for a magical evening. I join the crowds heading to the invitingly lit entrances; one for men, one for women, but we mix once inside. Omanis, the men dressed in the traditional white dishdasha tunic and massar turban, and women in black abayas with opulent decoration, mingle with opera-goers in Western clothing: "suits or dinner jackets for men and conservative dresses below the knee for women", as the dress code demands. On the bill tonight is Rossini's La Cenerentola, a fairytale rags-to-riches opera, performed by the prestigious Bavarian State Opera. The 1,100-seater auditorium is nearly full.
The Royal Opera House, Muscat opened in 2011, the first such venue in the Gulf region. Commissioned by Sultan Qaboos bin Said, the popular absolute ruler of Oman, it was in some ways a pet project – the Sultan is known to love classical music. But it's also a status symbol that marks the emergence of modern Oman, a once deprived society transformed in recent decades by investment of oil revenues, and one looking to welcome ever more visitors to its shores.
"When we first drove past it, I thought it was a palace," says Angela Brower, the American mezzo-soprano who starred in the Bavarian production. "Isn't it so random that it's here? But the building is a piece of art in itself, and it acts as a beautiful bridge between cultures."
Historically a trading nation, Oman has always been outward-looking. In many ways it stands apart from its neighbours: peaceful, leaving extremists to Yemen; tolerant, turning away from the strict religious laws of Saudi Arabia; and quietly confident, feeling no need to follow the biggest, tallest, flashiest ethos of Dubai. Hospitality is one of Oman's strengths: everywhere I go, I'm offered strong coffee and sweet dates, or a thirst-quenching lemon and mint drink. People are eager to share their country's history and culture, to advise me to visit the rocky coastline and the lush green desert wadis, or explore the many historic forts. My driver points out all the capital's sites, including the Grand Mosque of 2001, a beautiful white sandstone building, with room for 20,000 worshippers.
The Bavarian State Opera production is a classic; the performances are first-rate, and as a flick through the season brochure reveals, the venue is attracting top dancers and musicians, including singer Joyce DiDonato and conductor Gustavo Dudamel.
"The Omanis are rightly very proud of it," explains Scott Armstrong, editor of The Times of Oman. "It's viewed as one of His Majesty the Sultan's great contributions to culture in the region." Even Dubai is playing catch-up: its Zaha Hadid-designed opera house is only due to open in 2016. Meanwhile Muscat has a new National Museum, the Gulf's first aquarium, a botanic garden, and, in the desert, the Omani Renaissance Museum all in the offing.
Oman might be a "humble, quiet" country, as one resident told me, but it's certainly not short on personality or ambition. A Cinderella who has made it to the ball, perhaps.
Field Guide
Where to stay: Barr Al Jissah resort is near Old Muscat and offers spectacular views.
What to wear: Oman is hot; November-April is the peak, cool season. Long sleeves and trousers show respect to local custom; wear a headscarf at the Grand Mosque.
What to eat: Shuwa is lamb, beef or goat slow cooked in an underground sand-oven, but is only served on special occasions. Otherwise, fish is often fresh, local and tasty.