'The Magicians' Season 4 Casts Lord of All Fillorian Fresh Waters
There's a new character coming to The Magicians Season 4, expected to air on SyFy in early 2019. Anthony Ingram has signed on to play Manphibian, also known as Lord Fresh. He's half man, half amphibian and Lord of All Fillorian Fresh Waters. "Ever-dignified, Lord Fresh is loyal but never servile to the High Kings of Fillory and encounters one of the show's unsuspecting, and now magicless, characters in Season 4," Entertainment Weekly reports, along with an exclusive photo.
The main cast restored magic to the world in the Season 3 finale, but the deal involved drinking a potion to erase their memories, giving Quentin, Julia, Margo, Josh and Kady entirely new personalities. (Alice, with her memory intact, is imprisoned in the Library.) They don't even know magic anymore. But that's not going to stop impending danger. The ancient monster that Eliot thought he killed has actually taken over his body, and he's after Quentin (now known as Brian).
At San Diego Comic-Con, Jason Ralph, who plays Quentin, teased the monster can actually take over anyone's body and anything. "There's an episode where he spends most of the episode as a tree," Ralph told TVLine. "And then there's an episode where the monster goes into my slippers. I'm trying to get ready for bed, and he's tickling my feet."
Not much is known about the intentions of Ingram's new character, but Executive Producer John McNamara told EW, "Lord Fresh is exactly the kind of royal courtier I'd be in Fillory — loyal, hard-working, web-footed, and able to hold my breath for two hours."
As for Lord Fresh's costume, designer Magali Guidasci talked about how he nailed the frog-look."Lord Fresh for me is a man frog, but a lord, hence his beautifully detailed coat. So even if he lives in a swampy environment, he still has elegance and takes pride in his appearance," he said (see behind-the-scenes photos at EW). "The attention in the design is in the details, such as the lily pads he wears on his lapel. He is the lotus flower of the swamp."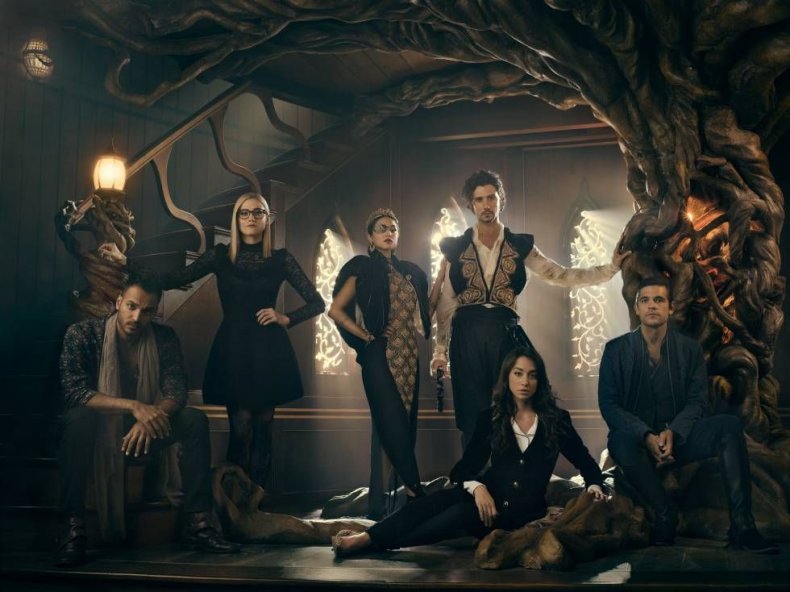 Any predictions for The Magicians Season 4? Let us know in the comments.
'The Magicians' Season 4 Casts Lord of All Fillorian Fresh Waters | Culture