Judge in Trump Raid Should Explain Recusal in Clinton Case: Ex-Prosecutors
Magistrate Judge Bruce Reinhart's recusal from former President Donald Trump's RICO lawsuit against Hillary Clinton, the Democratic National Committee and others has become a major talking point among Trump's attorneys and supporters, who have cast doubt over Reinhart's ability to sign off on the search warrant for Trump's Mar-a-Lago home.
Former federal prosecutors who spoke to Newsweek said that the recusal does raise questions about Reinhart's impartiality regarding Mar-a-Lago and argued that it would benefit the public interest for the judge to disclose what grounds prevented him from presiding over the Clinton suit.
In the civil case, Trump is accusing dozens of actors of conspiring with Clinton to topple his presidency.
In a June 22 filing, Reinhart recused himself from the case and asked that it be reassigned pursuant to subsection 455 under Title 28 of the U.S. Code, which states that any justice, judge or magistrate shall disqualify themselves from "any proceeding in which his impartiality might reasonably be questioned."
Reasons for recusal based on impartiality can range from personal bias concerning a party to financial interests in the litigation to having served in private practice on the matter in the case. However, the code does not require judges to specify exactly why they believe their impartiality could be questioned. So, Reinhart's recusal does not provide any information as to why he disqualified himself in Trump v. Clinton et. al.
"There's a tremendous lack of transparency about the reasons [for recusal]," former federal prosecutor Shanlon Wu told Newsweek. "It's opaque, it's a black box."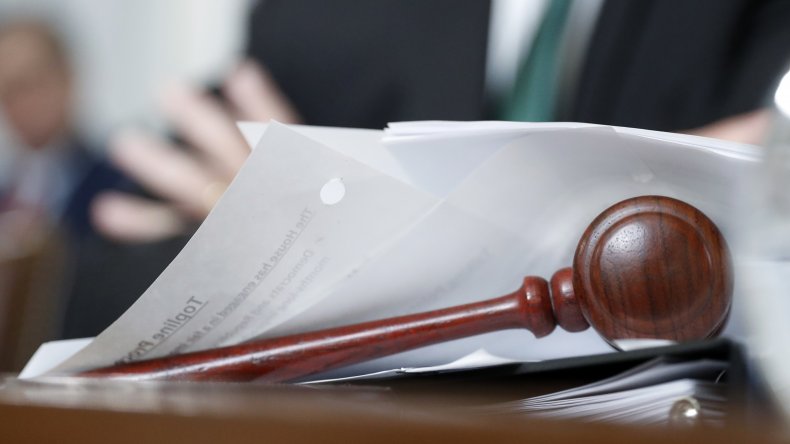 Wu explained that while the code "pretty much leaves it up to the judge when to recuse," it's the appearance of impartiality that judges are supposed to be concerned with. He said that if the American public doesn't believe the judicial system is impartial, it essentially loses its effectiveness in society.
"So a lot of the reason for that lack of stating-all-the-reasons-out is to put a bigger burden on the judiciary to police itself," he said. "It's not just your financial disclosures that somebody's overseeing. Instead, you need to oversee it."
Neama Rahmini, a former federal prosecutor, said that from some of Reinhart's previous statements, it seems like the perception of bias caused him to recuse himself. If the bias was against Trump, Rahmini said, "logic would suggest that he should recuse himself in both cases."
"It is surprising that a judge was recused themselves in a case involving one party, but not a second case involving the same party," he said. "The only logical way it would make sense is if he has some pro-Hillary Clinton bias, but he's neutral when it comes to Trump."
Wu said if Reinhart were to be more detailed and specific about why he recused himself in the Clinton suit, it would stop a lot of speculations, but he noted that it is very uncommon for judges to offer additional reasoning for a recusal from a case.
Wu added that while it would be better for the country as a whole if judges were more transparent in their dealings regardless of politics, Trump's lawyers don't have basis to claim that Reinhart needs to disclose why he recused himself based on impartiality.
He said it was important to note that the legal proceeding surrounding the FBI search of Mar-a-Lago is not a case yet. Because there is only a search warrant and no criminal charges, Reinhart's role as a magistrate reviewing the warrant is "much more administrative."
"Something like reviewing a search warrant, even though this was a very high-profile search warrant, is very matter of fact. You look at this probable cause then 'yay' or 'nay' on it," Wu said. "So, it makes sense that as a judge, you'd be more concerned about possible appearances of impartiality or actual bias if it's the case where you're really presiding over it, versus simply reviewing a search warrant."
Should prosecutors move forward and file charges against the former president, and create a case, Rahmini said Trump's lawyers would be able to file a motion to disqualify Reinhart from the potential case, which would force more of a response from the judge.
"Only when the disqualification motion is filed will all that be explained, because there has to be a ruling," Rahmini said.
Wu said if the motion is filed, the judge would have to respond on the record, but would basically acknowledge the concerns and argue that those factors do not affect their impartiality. He added those motions rarely succeed and that such filings run up against their own hurdles, like running the risk of upsetting a judge.