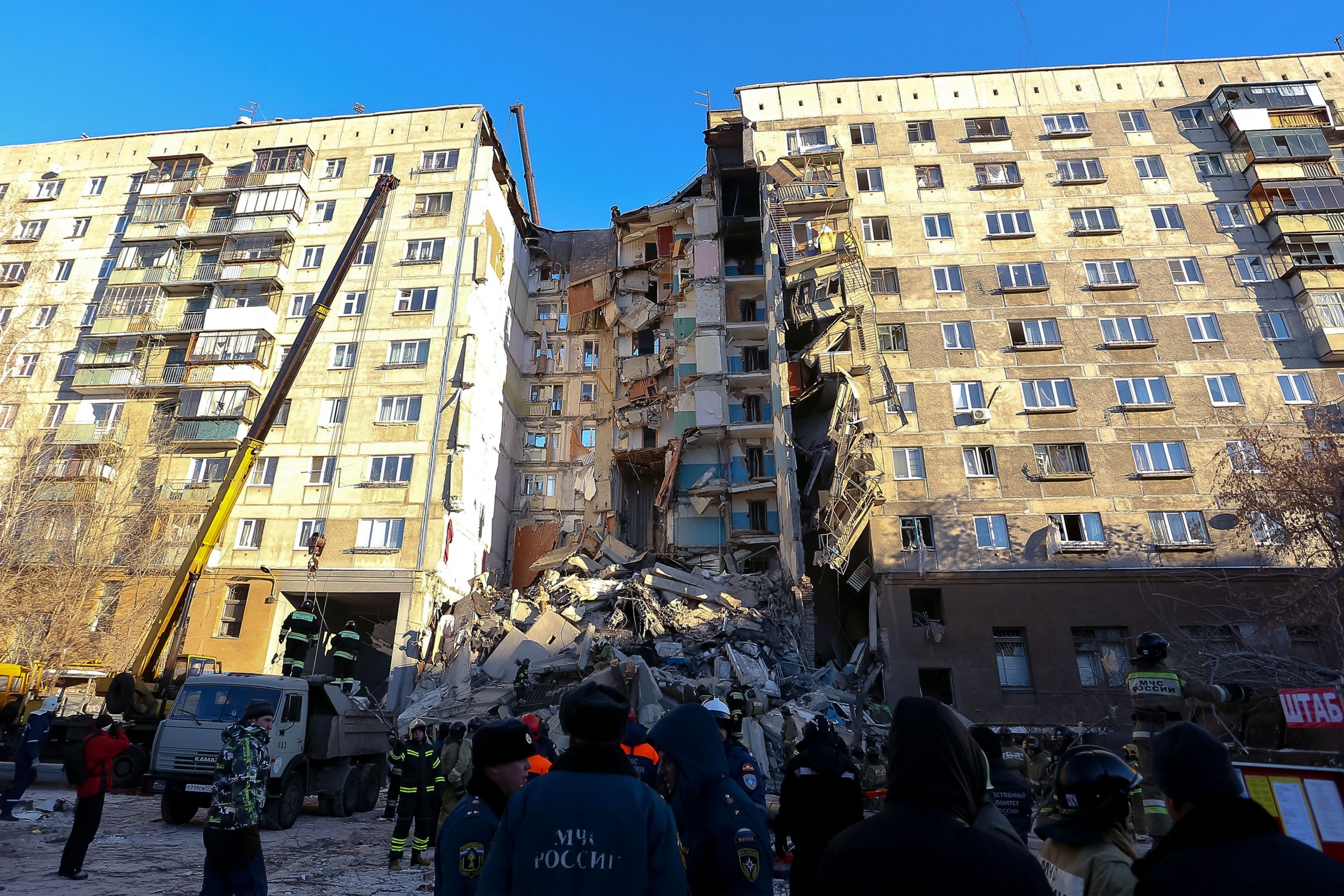 A baby was rescued from the rubble of a 10-story building in Magnitogorsk, Russia, after a portion of it collapsed in a huge explosion on Monday.
The 11-month-old boy was found by rescuers working at the site and is currently in the hospital in critical condition, the BBC reported. According to Russian government news agency Sputnik, statements issued by the Chelyabinsk Region's governor said the boy had spent more than 24 hours trapped beneath the debris.
"The 11-month-old boy, who was found while clearing the debris in Magnitogorsk, was sent to the third children's city hospital," a statement from the Russian Healthcare Ministry said. "Doctors are examining [the baby] in an intensive care unit. Doctors are assessing his condition as critical."
Temperatures in Magnitogorsk, which is more than 1,000 miles east of Moscow, dropped to around -23 C at night at this time of year. The baby had suffered from freeze burns and a brain injury, the statement said.
The 10-story apartment building was home to about 120 people. The blast, believed to have been caused by a gas leak, caused a section of the block to collapse.
So far eight people have been confirmed dead and 37 people are still unaccounted for. According to Russia's Tass news agency, the operation to remove rubble to find anyone still trapped there has been suspended over fears that more parts of the building could fall down.
Boris Dubrovsky, governor of the Chelyabinsk region, said seven children may be under the debris. Authorities are currently working with lists of tenants to find those missing. "We are now giving all the information on this issue through the media of the city in the hope that people will respond and say that they are still on the list formally, that they are safe," he told Tass.
Following the explosion, Russian President Vladimir Putin created a government commission to help residents affected. Putin flew to Magnitogorsk and held an operational meeting at the headquarters of the Chelyabinsk emergency ministry. Families of the victims are expected to be given 100,000 rubles ($1,500) each, while tenants would be given 50,000 rubles ($750.)
"First of all, I want to express my words of condolences to the families of those who died in the tragedy, to assure all the victims that we will do everything to help and support them," Putin was quoted by Tass as saying. "I want to address to our citizens…in spite of the holiday, today it will not be redundant, but quite contrary—we need to remember those who died and suffered, in our hearts, because this is in the nature of our people."
Officials in the Chelyabinsk Region have declared January 2 a day of mourning.