Earthquake off Coast of Mexico Measured 6.3 and Struck Near Popular Tourist Town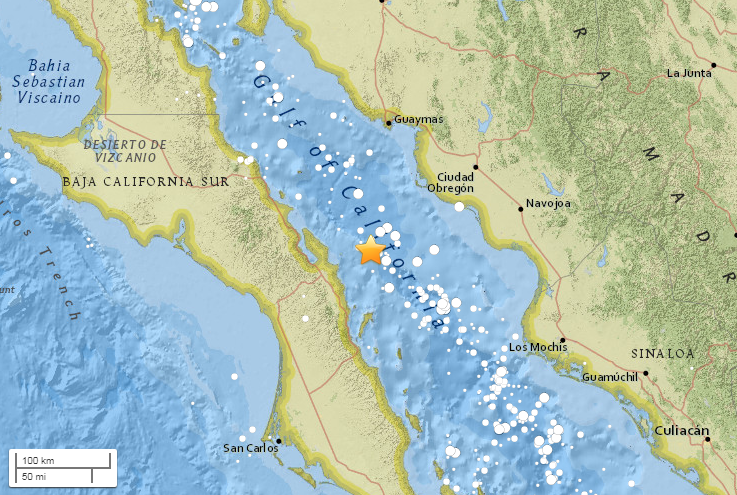 Updated | A magnitude-6.3 earthquake struck the Gulf of California Friday morning. No immediate damage was reported, according to the Associated Press.
The earthquake struck the waters between Baja California Sur and Sonora, Mexico, about 48 miles off the coast of Loreto, Mexico, according to the U.S. Geological Survey (USGS). The earthquake shook at a depth of about 6 miles. Loreto, which has a population of about 11,000, was the town closest to the quake. It is known for attracting American tourists, who often camp in recreational vehicles along the coastline.
Yolanda Vallejo, the owner of Rivera del Mar RV Park in Loreto, told the Associated Press, "We've felt similar earthquakes.... No damage. My plates didn't even fall over."
Other towns around the same size—Pueblo Yaqui, Villa Juárez and Santa Rosalia—were about 80 miles away from the quake. The city of Hermosillo, which has a population of nearly 600,000, was 167 miles away from the center of the earthquake.
An aftershock struck nearby about half an hour later with a magnitude of 4.5. The National Oceanic and Atmospheric Administration's tsunami warning system reported no warning, advisory, watch or threat of a tsunami as of Friday at around 11 a.m. local time.
Generally, earthquakes less than a magnitude-7.0 rarely spark a tsunami, according to John Bellini, a geophysicist at the USGS. The earthquake on Friday occurred along a strike-slip fault; Bellini explained that it was similar to two blocks of wood sliding left and right alongside each other rather than up and down.
Since the quake occurred off the coast, it was not expected to produce much damage. Bellini said he had not heard any reports of damage so far. This area of Mexico is sparsely populated, and the quake followed what is expected of seismicity in the region.
"This is not something we would consider out of the ordinary," Bellini told Newsweek.
Mexico is situated on top of three tectonic plates and is one of the world's most active regions for earthquakes. The country has a history of devastating earthquakes; one in September 1985 killed more than 9,000 people in Mexico City. Last September, a magnitude-8.2 earthquake struck Juchitán de Zaragoza, Mexico, killing dozens of people, as reported by The New York Times at the time.
As of Friday morning local time, according to the U.S. Geological Survey, residents in the coastal cities reported feeling mostly weak to light shaking, with a few areas reporting strong shaking.
This article has been updated with additional information about the earthquake.