Magnitude 7.5 and 6.1 Earthquakes Hit Indonesia, Cause Widespread Damage
Indonesia was hit by two powerful earthquakes on Friday, causing widespread damage and claiming the life of at least one person.
The first, a magnitude 6.1 earthquake, hit Donggala on the Sulawesi Island on Friday afternoon around 2 p.m. local time, according to The Jakarta Post. At least 10 others were injured when a building collapsed during the quake, which National and Disaster Mitigation Agency (BNPB) spokesman Sutopo Purwo Nugroho said lasted 10 seconds.
"Officials are currently carrying out evacuation and emergency measures and collecting data," Sutopo said. He added that there is no tsunami risk, but that there were several aftershocks. During a magnitude 6.1 earthquake, even well-built buildings are damaged and chimneys are broken.
Then, around 6 p.m. local time, a second earthquake, a magnitude 7.5, hit the area, according to the United States Geological Survey (USGS). It hit at a depth of about 10 kilometers, equal to about six miles. The earthquake struck Minahasa, also on the Sulawesi Island, which is located about 550 miles from Donggala.
Shortly afterward, a Tsunami followed. Meteorology, Climatology and Geophysics Agency (BMKG) public relations head Hary Tirto Djatmiko confirmed to the Associated Press that a powerful wave hit Palu, the provincial capital. A video posted on Twitter showed the wave flowing towards land, overtaking homes and flooding streets.
Magnitude seven earthquakes are in the highest category of earthquakes and according to the USGS, slight damage will be experienced in specially designed structures and great damage is expected in poorly built structures.
The USGS said the earthquake was a result of a strike-slip fault within the interior of the Molucca Sea microplate and the broader Sunda tectonic plate. It is possible that aftershocks could continue to rock the area and Sutopo urged residents to not get complacent just yet.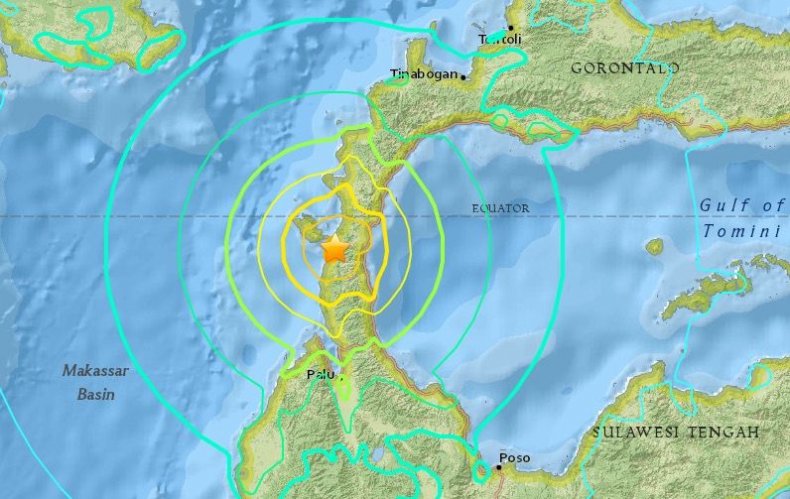 He estimated that the earthquakes caused widespread damage. Donggala resident Mohammad Fikri said everything in his house was swaying during the earthquake. Photos posted on social media showed collapsed buildings and the Associated Press reported local television coverage showed people running into the street, panic-stricken.
"The [second] quake was felt very strongly, we expect more damage and more victims," Sutopo told Reuters.
Indonesia is especially prone to earthquakes because it's located in the Ring of Fire. The Ring of Fire is a zone in the Pacific Ocean where about 90 percent of earthquakes occur.
In December 2004, a magnitude 9.1 earthquake occurred off the coast of Sumatra, Indonesia. The earthquake generated a tsunami and killed almost 230,000 people, according to the National Oceanic and Atmospheric Administration. It was the third largest earthquake in the world since 1900. In July and August, about 500 people were killed when an earthquake hit the Indonesian island of Lombok.