Man Dies While Trying to Escape from a Swooping Magpie
An elderly man who was cycling in New South Wales, Australia, died after he crashed into a fence as he tried to avoid an aggressive magpie that was swooping on him.
The unnamed man was riding his bicycle on an off-road path near Nicholson Park, Woolongong on Sunday morning, when he tried to dodge the bird.
Witnesses described how he crashed into a fence and was then thrown to the ground.
Emergency services arrived at the scene to find him suffering from serious head injuries and he was airlifted to hospital in a critical condition, where he later died.
According to a website that records magpie incidents, called Magpie Alert, there were six attacks on cyclists by the birds in the same park so far this year but they were described as only minor incidents.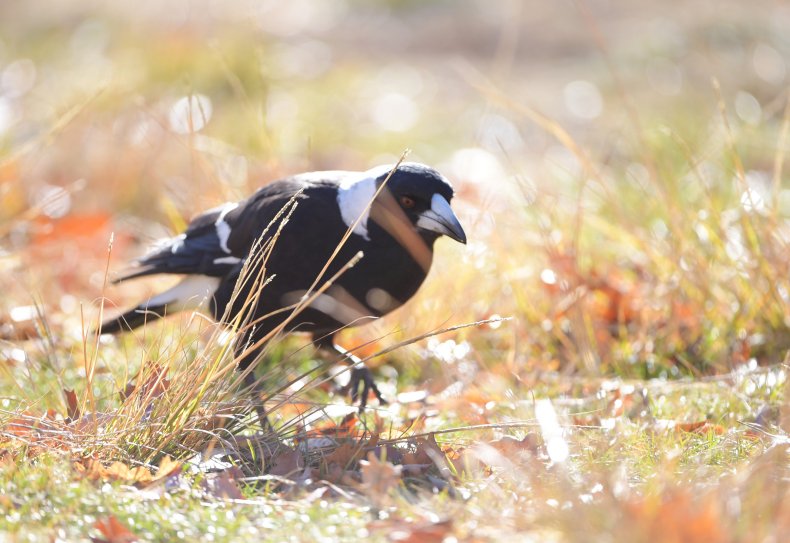 Jenny Norman posted on the website how one of the birds had swooped on her while she was cycling and even though she continued on the road, "The magpie chased me. A very determined bird."
Another posted on September 1, "It is amazing how far it will roam from the nest to chase a chosen victim. Fortunately, it seems to do no worse than swoops and helmet strikes."
The website noted that across the country there had been 1,570 swoopings nationwide, and 189 people have been injured.
The Australian magpie is a different species to the Eurasian magpie, the BBC noted, and the black-billed magpie and yellow-billed magpie found in America. It is more likely to become aggressive during mating season when it often attacks humans who encroach on its territory.
In Australia's spring, magpies often swoop on people in September and October but fatal incidents are rare.
University of New England emeritus Professor Gisela Kaplan told Australia's Daily Telegraph the male magpie often swoops aggressively to defend its eggs.
"Birds only swoop when they're protective, when they have established a risk. If you look at the bird and show you are not a threat it will remember your face and not attack you," Kaplan said.
In Australia, magpies are a protected native species. Earlier in September, a local council in Sydney shot dead a magpie that had terrorized passers-by in the Hills Shire area of the city.
Council officials said it took the action following 40 complaints from people, some of whom had been hospitalized.
The unusually aggressive bird was deemed a "significant risk to public safety" and even sometimes swooped underneath helmets to attack people's faces, Australia's ABC news reported.
Nicknamed the 'Windsor Road Monster', one resident, Peter Danieluk said the bird gave him a heart attack last year.
"I had my first heart attack in 2014 which reduced my heart function ... so while trying to defend myself as it would strike, the adrenaline rush caused my heart and lungs to fill with blood and cause another heart attack," he said.
"It just did not stop, even as I was losing consciousness on the ground," he told ABC. The killing of the magpie sparked anger among some bird lovers.
Last year, a toddler in Perth, Western Australia, had a narrow escape after a magpie swooped down and attacked his face as he sat in his pram, according to CNN.