Palestinian Leader Mahmoud Abbas Admits Meeting with Trump was 'Uncomfortable'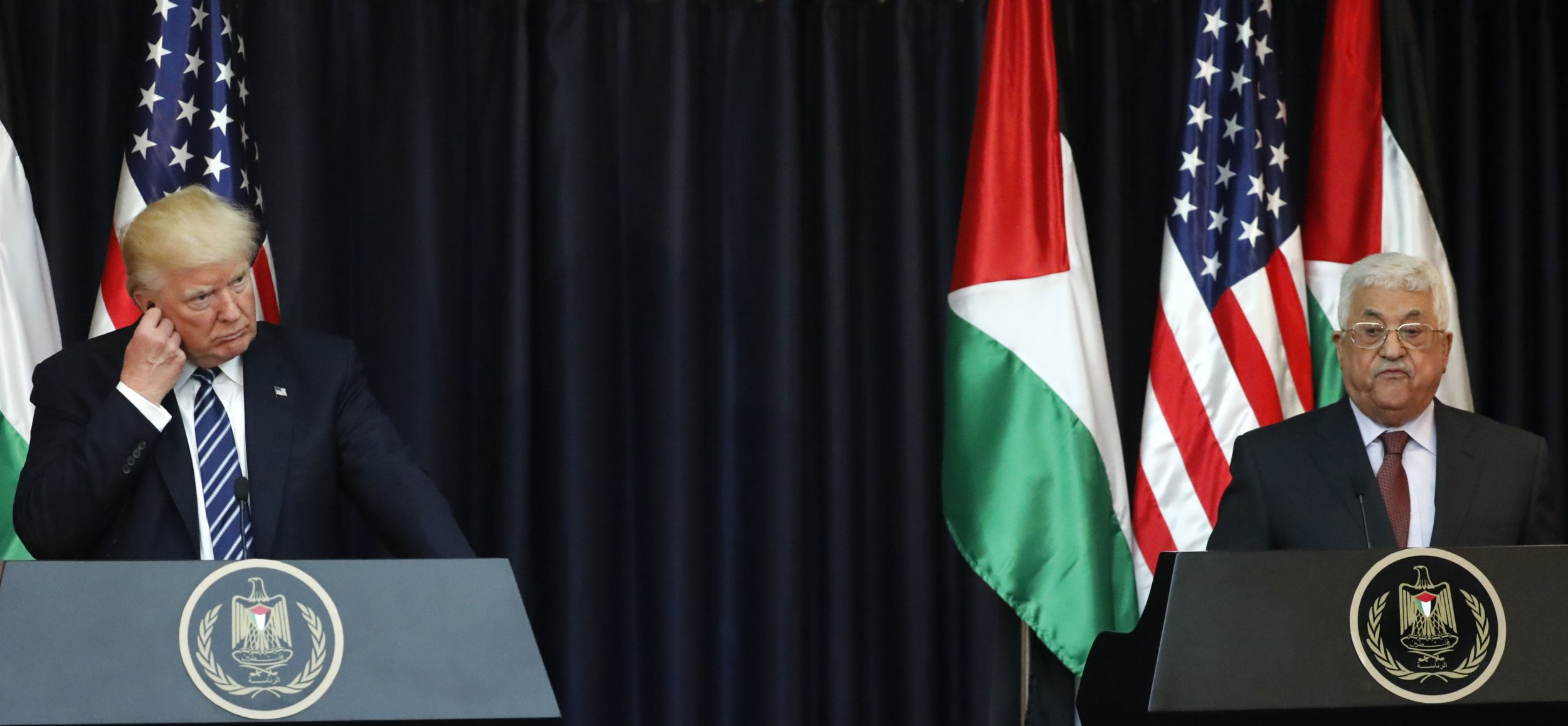 Palestinian President Mahmoud Abbas has conceded to colleagues in his Fatah party that he had a tense meeting with Donald Trump, after reports emerged of the U.S. president shouting at him in their Bethlehem meeting.
In a meeting this week of the Palestine Liberation Organization (PLO) executive committee, Abbas told members that the meeting a week before was "uncomfortable," Palestinian sources told the Qatari-owned, London-based news outlet Al-Araby.
Trump reportedly became angry with Abbas, accusing him of involvement in incitement against Israel, a charge the Israeli government regularly directs at Abbas and other Palestinians leaders. Israeli media reports cited a U.S. official present at the meeting.
"You tricked me in D.C.! You talked there about your commitment to peace, but the Israelis showed me your involvement in incitement [against Israel]," he allegedly said to Abbas, according to Israel's Channel 2 broadcaster. It said the Palestinian delegation was shocked at the outburst.
A PLO source, speaking on condition of anonymity, told Newsweek that the earlier reports were lies made up by the Israeli press to slander Abbas. On the new reports, the source said: "Trump raised the issue, but overall the meeting went very well."
The Palestinian official said Trump showed video clips to Abbas of him "inciting against Israel," footage that the Palestinian leader said were taken out of context. "You have the CIA, ask them to examine the videos and to find out how they were taken or fabricated for the purpose of incriminating Palestinians," Abbas reportedly told Trump.
Read more: Trump raged at Abbas in Bethlehem meeting, telling Palestinian leader "you lied to me"
Trump arrived in Bethlehem on Tuesday for a whistlestop meeting with Abbas with security at its highest level in the West Bank city. He had met with Netanyahu a day earlier. He said that with "determination, compromise, and the belief that peace is possible," Israelis and Palestinians could make a deal.
At a joint press conference in the West Bank city, Trump was more positive about Abbas's role in a possible peace deal with Israel. "I truly believe if Israel and the Palestinians can make peace, it will begin a process for peace in the Middle East," Trump said during the conference. "Abbas assures me he is ready to work toward that goal in good faith, and Netanyahu has promised the same. I look forward to working with these leaders toward a lasting peace."
Abbas said the Palestinians would work for peace but their "fundamental problem is with the occupation and settlements and the failure of Israel to recognize the state of Palestine as we recognize it." He said their problem was not with "Judaism."
At their meeting in Washington on May 3, Trump told Abbas to end incitement and "resolve" a Palestinian policy of paying the families of Palestinians convicted of terror offenses under Israeli law. Abbas said "we are raising our youth, our children, our grandchildren on a culture of peace." Israeli Prime Minister Benjamin Netanyahu said Abbas's remarks were "not true" because his Palestinian Authority names "schools after mass murderers of Israelis."
The Israeli government blames Palestinian leadership and Abbas's Fatah faction for inciting violence among young Palestinians, who from September 2015 onward launched a series of violent and deadly attacks with knives, guns and vehicles in Jerusalem and the West Bank. The Palestinians say it is Israel's military occupation of East Jerusalem and the West Bank that pushed them to violence. The violence slowed in mid-2016.