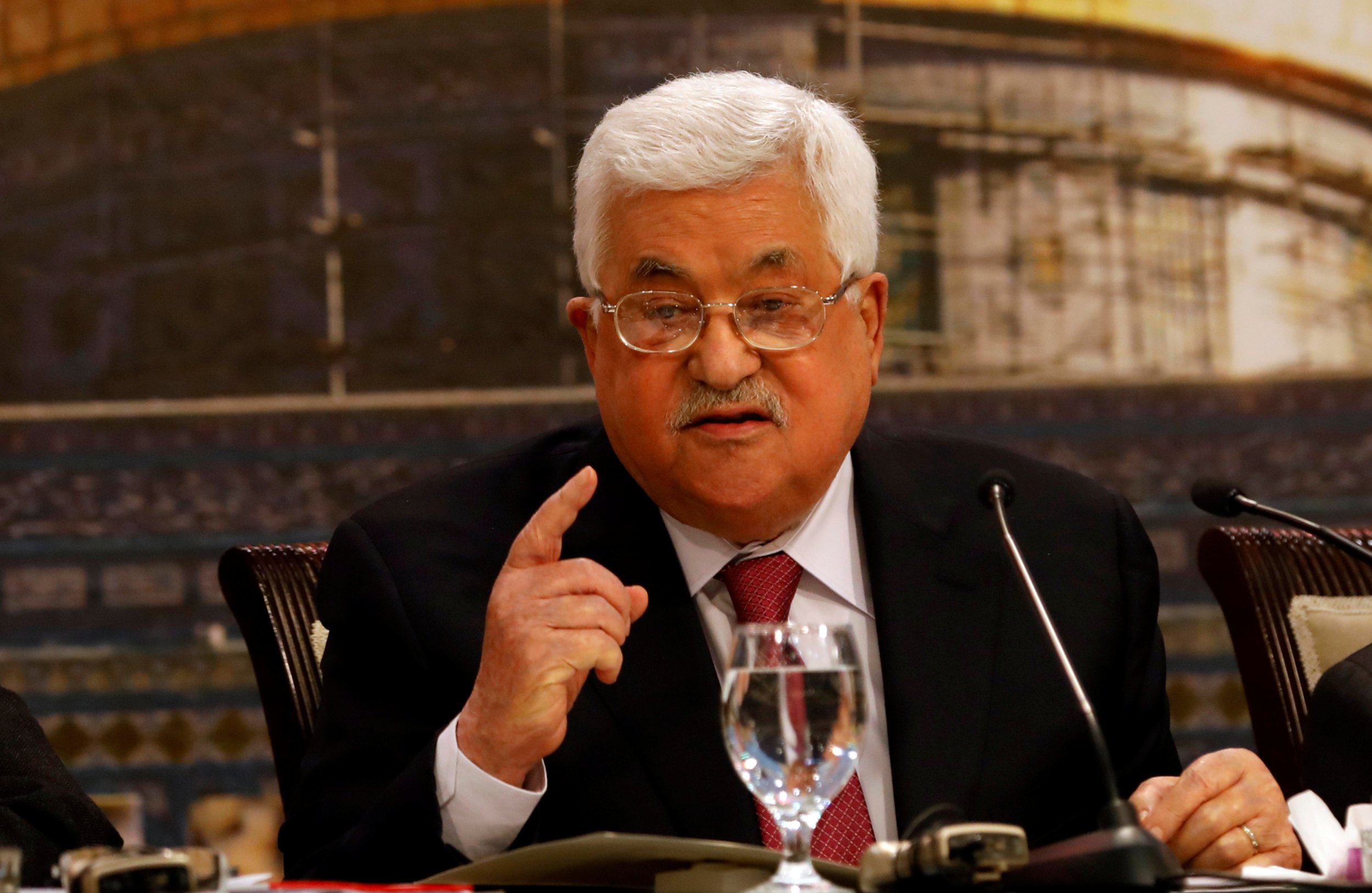 Updated | The leader of the Palestinian Authority, Mahmoud Abbas, delivered a conspiracy theory-laden speech on Monday, claiming that the Holocaust was a result of the "social behavior" of Jews.
Speaking at the first session of the Palestinian National Council since 1998 in the West Bank city of Ramallah, Abbas delivered what he called a "history lesson," claiming Israel was established as a European "colonial project" and has "nothing to do with Judaism," the Times of Israel reported.
Abbas also alleged that the Holocaust—in which more than 6 million Jews were murdered by Nazi Germany and its allies—was caused by Jewish "social behavior, [charging interest] and financial matters."
The leader has long been accused of Holocaust denial. In 1982, he published his doctoral dissertation that claimed the death toll of the Holocaust was exaggerated and alleged that Zionist leaders worked with the Nazis. The dissertation formed the basis for a 1984 book titled, The Other Side: The Secret Relationship Between Nazism and Zionism.
In the mid-1990s, Abbas tried to excuse his allegations, explaining that Palestinians were at war with Israel when the book was written. "Today I would not have made such remarks," he said.
Abbas cited a common conspiracy theory that Ashkenazi European Jews are in fact descended from Turkic people, not ancient Israelites. Abbas claimed this means European Jews have "no historical ties" to the land of Israel. He added that the creation of Israel was simply a colonial project to safeguard European interests. "Those who sought a Jewish state weren't Jews," he told the audience, thus Israel "has nothing to do with Judaism."
However, he did say that "this does not mean we should uproot them. We should co-exist with them on the basis of a two-state solution." Abbas was one of the first Palestinian political leaders to recognize Israel in 1995.
Edy Cohen, author of the book The Holocaust in the Eyes of Mahmoud Abbas, told reporters that he was "not surprised at all" at Abbas's comments, who he said is "fascinated" with Nazi propaganda. "He has always been a Holocaust denier and will always remain a Holocaust denier," Cohen said.
The National Council is meeting to elect a new 18-person Executive Committee. According to The Times of Israel, in recent years the committee has simply served to rubber stamp decisions made by Abbas. A new set of loyalists will likely be elected this week, cementing the president's control of the executive.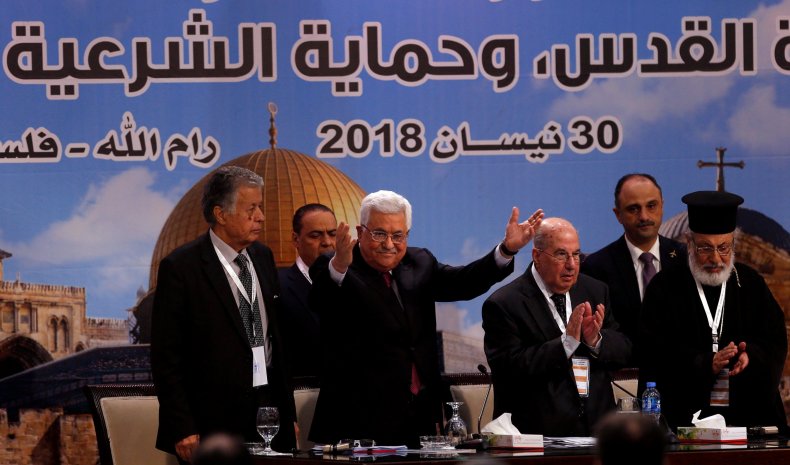 The 82-year-old, who has led the Palestinian Authority since 2005, also preemptively rejected any peace deal proposed by U.S. President Donald Trump. U.S.-Palestinian relations are at a low ebb as a result of Trump's decision to move the U.S. Embassy from Tel Aviv to Jerusalem, breaking with decades of unwritten diplomatic protocol. "We will not accept this deal, and we will not accept the U.S. as the sole broker," Abbas said.
He told the council he plans to take "tough steps in the near future" against Israel and the U.S., though he did not specify what this meant. His speech comes amid ongoing protests in the Hamas-controlled Gaza Strip, where Palestinians are calling for the right to return to the lands their families left or were forced to flee from upon the creation of Israel in 1948.
Forty Palestinians have been killed and over five thousand wounded in the protests since they began on March 30, according to U.N. figures released on April 25, Haaretz reported. Abbas lauded the "brothers in Hamas" who he claimed had been engaging in peaceful resistance. Israel has alleged that Hamas is using the protests as a cover for attacks on its positions, and some protestors have reportedly launched kite-delivered fire bombs into Israel and attempted to breach the border fence.
Abbas urged protest organizers to keep children away from the border fence. Israeli forces say Hamas has been using children in its attacks as soldiers are more hesitant to shoot at them. "Keep the young men from the border, move the children away, we do not want to become handicapped people," he warned.
This article has been updated to include comments from Edy Cohen.