Who is Mahmoud Abbas? Palestinian Authority President Taken to Hospital Following Surgery
The Palestinian Authority president Mahmoud Abbas has been hospitalized with a fever, the Associated Press has reported.
The news comes just days after Abbas underwent ear surgery. He returned to hospital for a follow-up appointment this weekend, during which he underwent several tests at the Istishari Hospital in the West Bank city of Ramallah, Palestinian news agency WAFA reported.
Hospital medical director Said Sarahneh told WAFA that Abbas' test results were "good." But now, the president's health is back in the spotlight.
A heavy smoker, the leader has a history of health problems. According to the AP, he has previously suffered from heart trouble and even battled prostate cancer.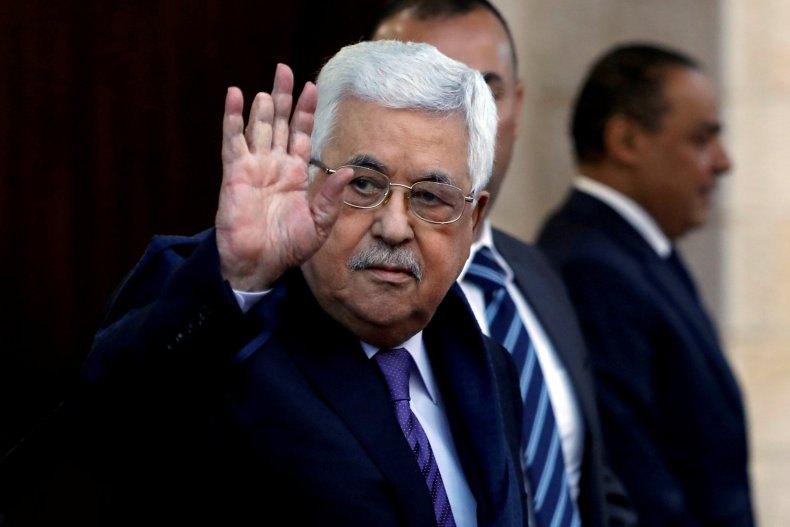 Born in 1935 in Zefat, now in northern Israel, Abbas fled to Syria with his family to escape the 1948 Arab-Israeli war. After studying law, he joined the Palestinian Fatah organization, a political and military group that became the largest faction in the Palestine Liberation Organization (PLO).
After years of military conflict with Israel—incuding the 1987-93 intifada, meaning "tremor" in Arabic—the PLO signed a peace agreement known as the Oslo Accords in 1993. The Palestinian National Authority—which emerged in 1994—governs the Gaza Strip and areas of the West Bank.
Further military conflict and peace negotiations ensued in the years to come. Abbas rejected a 2000 Israeli peace offer while serving as a Palestinian delegate, but also condemned a subsequent Palestinian intifada uprising.
He became prime minister in 2003, but resigned shortly after. In 2005, the year after the death of former leader Yasser Arafat, Abbas became Palestinian Authority president. The PLO Central Council made his term indefinite in 2009. Fatah rival Hamas rejected the extension, but eventually agreed to take part in a unity government in 2014.
A series of controversial cabinet re-shufflings in 2015 effectively ended this consensus, and Hamas refused to recognize the new ministers.
Abbas and his sons have been accused of corruption during his time in office. In 2009, Reuters revealed firms linked to his sons had received some $2 million in U.S. contracts. The U.S. Agency for International Development claimed it awarded the contracts legitimately, and the son's familial links were not considered in the decision-making process. Corruption and favouritism allegations, Reuters reported, had seen support for Hamas swell in the preceding years.
No stranger to controversy, he made anti-Semitic comments at the first session of the Palestinian National Council since 1998. He subsequently apologized for his statements at the event in Ramallah.
Abbas has no political successor at present, the AP reported.
Who is Mahmoud Abbas? Palestinian Authority President Taken to Hospital Following Surgery | World