Whatever Happened to Palestinian Democracy? | Opinion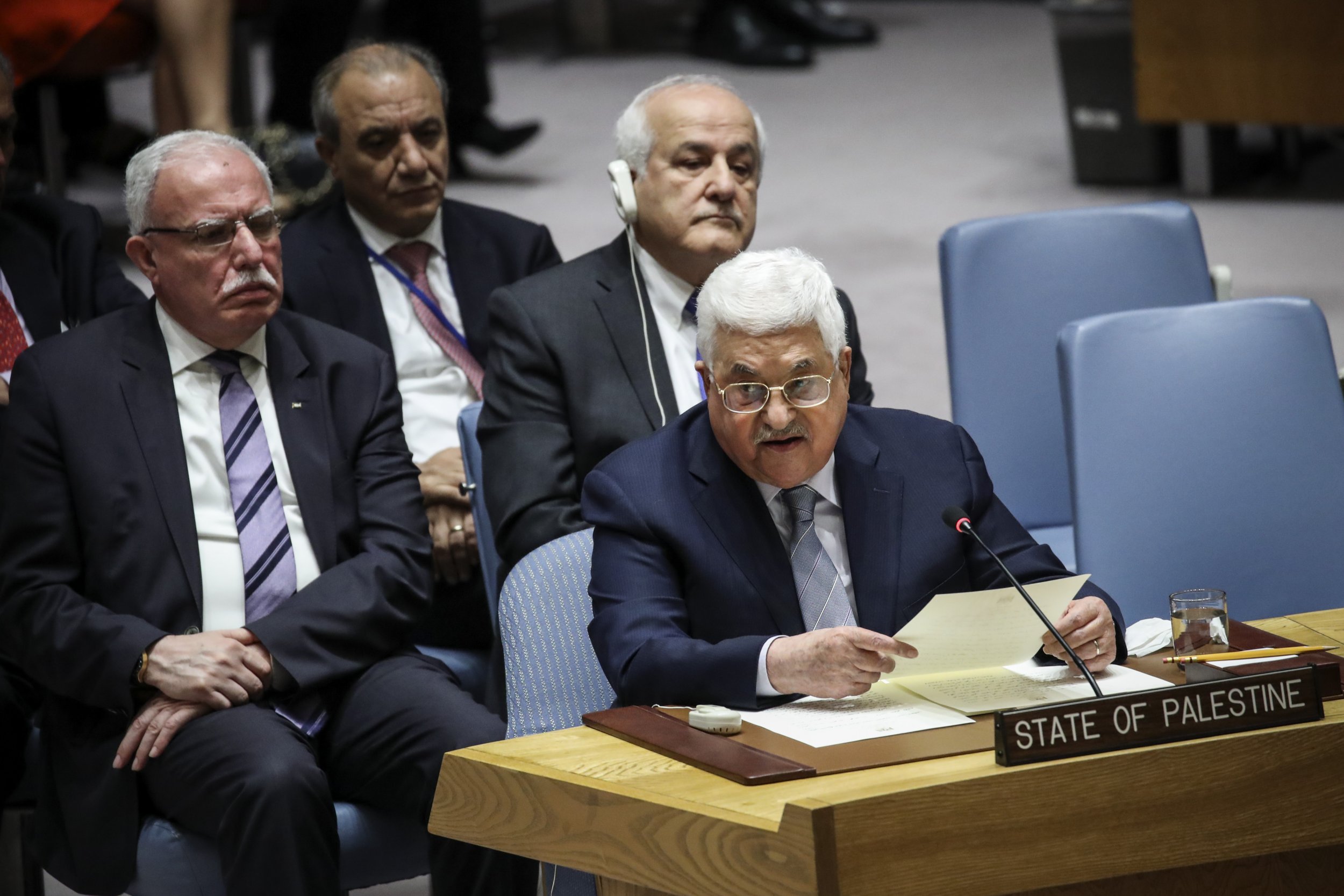 Palestine is moving closer to a new government and new prime minster. But elections still seem a distant prospect. Despite a pledge made by President Mahmoud Abbas, together with a decree by the Palestinian Constitutional Court that polls would be held by May, the atmosphere in Palestine could hardly be more different to the election fever gripping next-door Israel.
No one in Palestine seems to believe that elections will actually happen. Besides a belated visit this week by the Palestinian Central Elections Committee (CEC) to Gaza, there is little else to indicate that the Palestinian Authority (PA) is actively preparing for fresh legislative elections—the first since 2006. Nor has there yet been any campaigning by Palestinian parties.
There are also still many unanswered questions. We do not know whether elections will be for the Palestinian Legislative Council (PLC) following its dissolution by the Constitutional Court in December. This comes amidst speculation within Ramallah that the Palestinian Liberation Organization (PLO) could move to replace it with an alternative and as-of-yet-undefined body. Such a move has been described as a step in transforming the institutions of the PA into those of the State of Palestine while putting pressure on Hamas over their perceived refusal to advance intra-Palestinian talks.
There is also a question mark about which territories and which factions will be included. The 2006 legislative elections, considered the high point of Palestinian democracy, were supported by most PLO factions and Hamas. Just as crucially, they also included all Palestinian territories—the West Bank (including East Jerusalem) and Gaza. In contrast, the more recent 2017 municipal elections were held amidst low turnout in only in the West Bank,without Gaza and East Jerusalem, and without the participation Hamas, the PFLP, and Fatah-aligned supporters of Mohammed Dahlan.
Perhaps this lack of action and clarity from President Abbas is not surprising given what is happening has less to do with reviving Palestinian national representation, and more to do with consolidating his hold on power, shutting out Hamas from future decision-making processes, and potentially preparing the way for a future successor. It is within this optic of intra-Palestinian competition that the dissolution of the Hamas-dominated PLC and forced resignation of the technocratic government of Prime Minister Rami Hamdallah should be interpreted.
Against this backdrop, the vague prospect of future elections masks what is in essence a naked power grab by the Abbas leadership.
To be sure, the Hamdallah government has come under much criticism and is widely seen as underperforming. This was most recently highlighted by the popular backlash over its efforts to advance a new Palestinian social security system. But by moving to replace Hamdallah and jumping the gun on elections, the senior leadership based in Ramallah has created a problematic perception. Namely that they would rather pre-cook a Fatah-led government dominated by political allies, rather than await the formation of a new government based on the results of national elections – no doubt given Fatah's low popularity and the potential for another Hamas victory.
The manner in which this new government is being created risks removing any vestiges of popular legitimacy that the PA leadership has left. Attempts to isolate and pressure Hamas -- by dissolving the PLC and undoing the small step achieved in 2014 through the creation of a Palestinian government of national consensus under Hamdallah's leadership—will also likely backfire.
The elimination of Palestine's legislative organ and the formation of a new government through a series of back-room deals, without the participation of significant components of Palestine's politics and territory, represents a severe blow to the prospects for democracy and national re-unification.
The sad irony is that Palestine was the earliest and most successful experiment in Arab democracy, long before the advent of the Arab Spring. But more than a decade after the last legislative and presidential elections, Palestine's democratic fabric has withered. The now dissolved PLC had not been able to meet in a regular session since the intra-Palestinian split in 2007, with seven of its members currently in Israeli prisons. Its mandate has also long since expired, together with that of President Abbas. Palestinians in both Gaza and the West Bank also continue to suffer human rights abuses and attacks on freedom of expression at the hands of both Hamas and the PA.
Needless to say, a serious step by Abbas towards inclusive elections and move forward political reconciliation would be extremely welcome, and long overdue. This would offer an important means of reviving mechanisms for popular representation at both PA and PLO levels, while potentially reversing deepening political and geographic divisions in Palestine – steps that are crucial to the future of the Palestinian state-building project. A democratic revival would also set down an important marker for determining President Abbas's successor, and challenge Hamas over its own commitment to the political track.
But for all the good they can produce, elections can make things worse if mishandled. Holding elections only in the West Bank, without the participation of key Palestinian factions such as Hamas and the PLFP, will further fragment Palestine, pushing Gaza and its Hamas rulers further adrift from the PA-controlled West Bank. For future elections to act as a stepping stone towards Palestinian re-unification, they should be inclusive of Gaza, and of all Palestinian factions willing to participate in the democratic process.
Off course, the blame does not lie with Palestinians alone. Western policies (as well as those of Israel) have stoked internal Palestinian divisions and at times stymied Palestinian democracy. But they now have chance to correct their past mistakes.
An easy starting point is to respond positively to Abbas' recent request for European support in helping to organize and observe elections in the West Bank, East Jerusalem and Gaza Strip. As part of this, Europe should indicate a willingness to apply political pressure on Israel to allow Palestinian residents of East Jerusalem to participate in elections, as happened in the 2006.
At a time in which the Middle East Peace Process has ceased to exist, and the prospects of a two-state solution have all but vanished, the need to reform the Palestinian national movement is becoming ever more urgent. Elections are not a silver bullet. But if done wisely, elections can contribute to the re-activation of Palestinian decision-making processes and popular representation mechanisms – both of which are crucial elements in elaborating a new Palestinian liberation strategy that can effectively respond to today's challenges and help heal Palestine's internal divisions.
Hugh Lovatt is a policy fellow at the European Council on Foreign Relations (ECFR.)
The views expressed in this article are the author's own.​​​​​