Is 'Maid' Based On a True Story? The Heartbreaking Inspiration For the Netflix Series
Netflix's heartbreaking new series Maid not only stars Margaret Qualley, it takes inspiration from real life events.
Qualley (known for her roles in Once Upon a Time...In Hollywood and Kenzo) stars as single mother Alex, who escapes her abusive partner Sean (Nick Robinson) and gets a job as a maid in order to make a better life for her daughter Maddy (Rylea Nevaeh Whittet).
Although it was only released on October 1, the series has already won over viewers and critics, with its depiction of a tough-to-watch but all too real scenario of domestic violence and emotional abuse.
The story has been pulled from the pages of a memoir from an American author and single mother, who was living in poverty.
Here, we take a look at the inspirational true story behind Maid.
The true story behind Netflix series Maid
The ten-part Netflix series is adapted from Stephanie Land's memoir, Maid: Hard Work, Low Pay and a Mother's Will to Survive.
After working as a maid for six years, Land moved to Montana and used student loans and grants to start an English degree. During that time she first started writing about her experience in blog posts. She later had her work published in The Huffington Post and Vox in 2015.
She later elaborated on her experience in the book, which was released in 2019 to much acclaim, the memoir scored the number 3 spot on the New York Times Best Seller List.
Many scenes from the book are included within the Netflix series: Living below the poverty line and relying on welfare programs to get by, escaping an abusive boyfriend, taking her daughter to a homeless shelter, not being able to afford lunch when her mother refuses to pay.
In 2019 Land told The Telegraph that she was "overwhelmed by how much work it took to prove I was poor."
She continued: "America lives by the myth that if you work hard enough, you'll make it," she said. "For me, I felt like if I wasn't making it, I wasn't working hard enough."
Land later wrote an open piece for the publication and spoke about her intention of publishing her memoir. "I want those invisible, forgotten people, and their stories, to come into the light. I want them to feel seen. I want people to see them," she wrote.
Maid: Hard Work, Low Pay and a Mother's Will to Survive received widespread praise from the likes of The Washington Post, Forbes and Time but perhaps most impressively, from President Barack Obama. He included the book in his 2019 Summer Reading List and described the book as, "A single mother's personal, unflinching look at America's class divide, a description of the tightrope many families walk just to get by, and a reminder of the dignity of all work."
Land wrote about her own situation whilst also describing the lives of the rich people she worked for. She'd protect their identities by giving them pseudonyms like Cigarette Lady, Sad House and Farm House.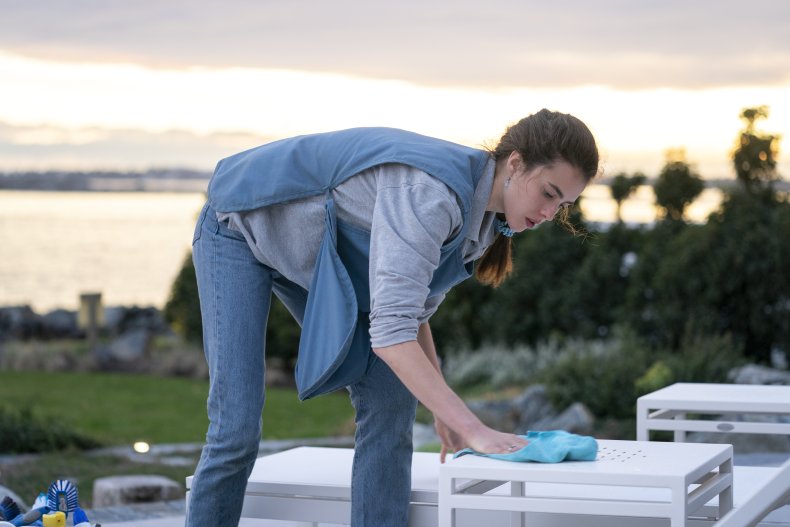 The team behind the Netflix series Maid
After Netflix fought off competition to win the right to Land's story, Qualley was cast to play her—for the adaptation, Stephanie's name was changed to Alex.
Qualley's real-life mother Andie MacDowell was also cast as her on-screen mother, Paula, while Billy Burke plays Alex's absent father Hank.
Other cast members include Anika Noni Rose, Raymond Ablack and Tracy Vilar.
Behind the camera, Margot Robbie is listed as an executive producer through her company LuckyChap Productions. Maid was created by Molly Smith Metzler, who is also credited as the writer of three episodes as well as an executive producer.
Anyone seeking help should call The National Domestic Violence Hotline, a free and confidential hotline available 24/7 that can be reached on 1-800-799-7233 or TTY 1-800-787-3224. The Hotline also provides information on local resources. For more information visit https://www.thehotline.org/.
All ten episodes of Maid are available to watch on Netflix now.