Mail Carrier's Intuition Saved Elderly Woman's Life After Wellness Check
A postal worker in Newmarket, New Hampshire had a gut feeling that something was wrong when she noticed one of the residents was not collecting her mail.
Kayla Berridge told ABC-affiliate station WMUR she was walking her route when she noticed the resident, a woman in her 80s, did not pick up her mail for a few days.
"I just had a gut feeling and wanted to make sure," Berridge told the outlet. "Most people put a hold in if they're not there, so when people pick up their mail every day, you start to notice their habits."
That intuition led to a request to the police to perform a wellness check.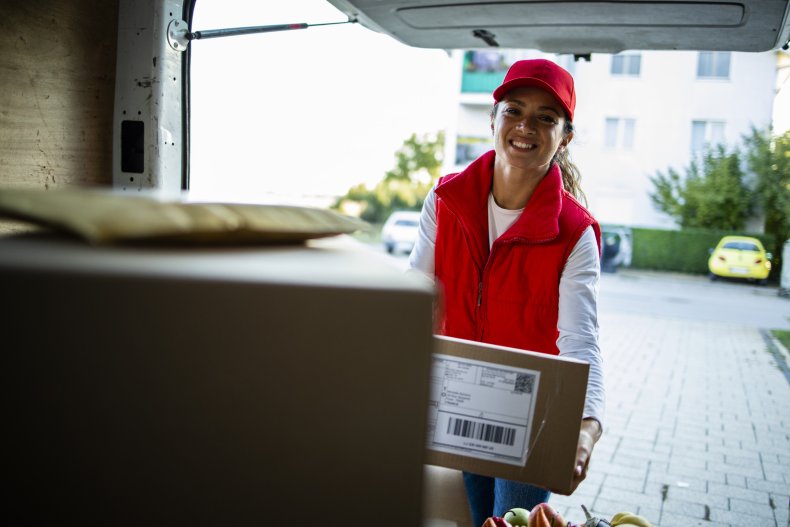 According to The Law Dictionary, wellness checks, which can also be known as welfare checks, occur when a police officer stops by a person's home to ensure they are OK.
"Requests for welfare checks are made by friends, family and neighbors, typically after someone unexpectedly stops [answering] their phone or getting in touch with others," the article states.
Although these check-ins are generally associated with elderly people, wellness checks can also apply to young people.
"With the rise in suicide rates among adolescents and young adults, people are doing welfare checks more and more often for those who are at risk of taking their own lives," the piece states.
Lieutenant Wayne Stevens of the Newmarket Police Department told Newsweek he encourages people to tell the police if they are concerned about a neighbor.
"If they see something, they should say something," Stevens said. "A lot of people think they may be bothering the police, but it's our job."
He said officers would prefer to err on the side of caution to check in on residents.
In this case, Stevens said Berridge, who was familiar with the woman, asked the postmaster to request a wellness check.
When police arrived at the house, an officer heard the woman faintly calling for help. They called for medical personnel to respond.
Stevens and two other officers were able to get into the house and found the woman on the floor with a few items on top of her. Stevens said he does not believe the items were pinning her down, rather she may have been injured as a result of the fall.
Berridge told Newsweek it's typical for mail carriers to be attentive and pick up on their customers' habits. She said she's seen this woman around town and they would frequently chat.
When she noticed the mail hadn't been collected for days, Berridge said she listened to her intuition.
"It's something so simple, but it could've been so tragic," she said.
Officers estimate the woman may have been on the floor for at least three days, but potentially longer. When speaking with her, the woman was very weak and had a difficult time communicating.
WMUR reported the woman was taken to the hospital where she was treated for dehydration and hypothermia, and is expected to make a full recovery.
"[Berridge] saved her life and that's a matter of her knowing her customers and her community," Stevens said.
Berridge said she hopes people will take the time to think of others.
The community she serves is an example of that, she said. When it snows, for example, Berridge said the residents ensure she has a clear walking path to safely deliver the mail.
"We all just help each other out," she said.
Updated 02/01/2022, 2:28 p.m. ET: This story has been updated with comments from Kayla Berridge.