Tabloid's Appeal Over Meghan Markle's Private Letter 'Could Really Happen,' Lawyers Say
Meghan Markle could be dragged into a Court of Appeal battle to stop her tabloid privacy victory from being overturned, lawyers tell Newsweek.
The Duchess of Sussex sued the Mail on Sunday for printing extensive extracts from a letter she sent her father in August 2018, months after her wedding to Prince Harry.
The story ran in early 2019 alongside an interview in which Thomas Markle claimed her handwritten note was a "dagger to the heart."
In February a judge ruled emphatically in Meghan's favor, stating the newspaper infringed both her privacy and copyright and a trial would only be needed to determine the level of damages, not to prove the factual basis of her case.
The move spared Meghan the need to testify about the deeply personal saga under hostile questioning from the Mail on Sunday's lawyers.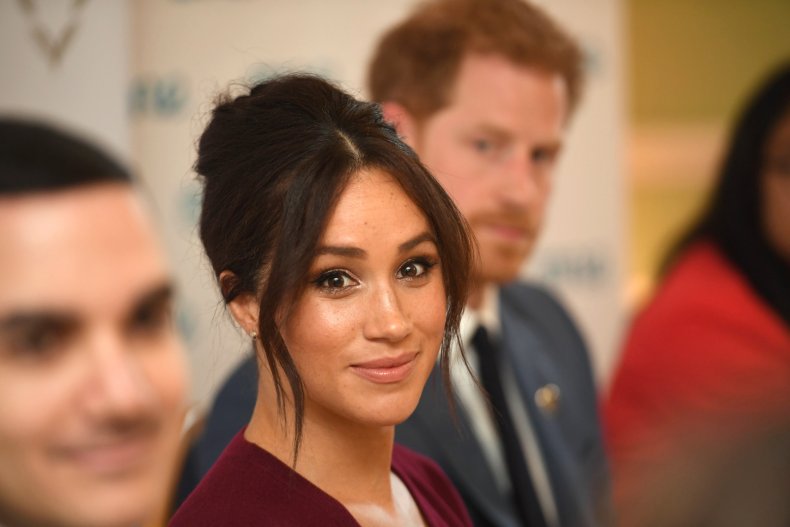 However, the newspaper's publisher, Associated Newspapers Ltd (ANL), have indicated they will apply for permission to appeal.
A spokesperson told Newsweek earlier this month: "We will be applying to the Court of Appeal for permission to appeal in relation to his decisions on both the privacy and copyright claims."
The Court of Appeal has not so far received notification, but the company has until April 6 to file the paperwork.
A judge will first have to grant permission before the appeal can then be heard, but if the newspaper is successful Meghan may be forced into a trial after all.
Amber Melville-Brown, of international law firm Withers, told Newsweek: "I wage a constant battle for clients against excessive, disproportionate intrusion by some elements of the media, and I applaud privacy protection and those who are brave enough to take on the might of media institutions to prevent the incursion of the tide of invasive and intrusive publications under the guise of free speech.
"But given the importance of the balance between the rights at play, I do think that the Court of Appeal may well be prepared to hear an appeal on whether the right tests were applied in the lower court.
"At least to listen to these arguments on appeal and grant permission."
She said the Mail on Sunday's lawyers are arguing Judge Mark Warby viewed privacy as "a light turned on or off, rather than one on a dimmer switch."
Instead, Melville-Brown said they are arguing Meghan's own conduct in relation to the letter "could serve to dim the bright light of privacy, which should then be balanced against the right to free speech."
She added: "Frankly, I'd have been surprised had ANL not appealed. Don't appeal—they leave unchallenged a decision which hits at the very heart of their business model.
"Do appeal and lose—they risk making bad law at the Court of Appeal.
"But do appeal and win—not only do they win against an important claimant for them, given that she and Harry are likely to be in the headlines for some time to come, but more importantly and with wider implications, they hope to reaffirm a principle regarding the balance between the right to privacy and the right to free speech."
Meghan won through a process called "summary judgment," where one side argues their case is so strong that the other side has no realistic prospect of success at trial.
However, the ruling was made at a time when four of Meghan's former staff had hired lawyers, which indicated at least some had relevant evidence to offer the case.
Their testimony has not yet come to light but since then, it has emerged one of the four, Jason Knauf, lodged a formal bullying complaint against Meghan in October 2018.
If the case were reopened and a full trial ordered, Meghan's former aides could be given a platform to speak openly about their experiences of working for her.
The Mail on Sunday had also asked for permission to seek the release of private emails and messages relevant to the case from five of Meghan's close friends.
Mark Stephens, a U.K.-based attorney of Howard Kennedy, told Newsweek: "I think the appeal could really happen. It was a very early point to kill the case.
"Lord Justice Warby needed to give every benefit of the doubt and assume all of the evidence for the Mail on Sunday was true and still decide that the Mail lost.
"I think that there are a number of grounds on which that's got to be contested.
"Not all the evidence had come out and not all the evidence had been tested, so it's quite difficult to see how you would get to that point.
"I think there's a bit of a challenge for Meghan at this particular point in moving forward.
"The question that the judge asked himself was 'did the duchess have a reasonable expectation of privacy in the letter to her father, yes or no?'
"The problem is with whether it was a letter that was intended to be used as a proxy open letter which was going to be used for briefings."
Meghan has repeatedly denied she intended the letter to become public, though she did concede last year she authorized a person to discuss the letter with the authors of biography Finding Freedom.
Lawyers for the duchess said in a court filing: "[Meghan] was concerned that her father's narrative in the media that she had abandoned him and had not even tried to contact him (which was false) would be repeated, when in fact she had tried to call him, and text him, and had even written a letter to him to try to persuade him to stop dealing with the media; and he had written back to her.
"Accordingly, she indicated to a person whom she knew had already been approached by the authors that the true position as above (which that person and several others who knew the Claimant already knew) could be communicated to the authors to prevent any further misrepresentation.
"She does not know to what extent or in what terms this one item of information concerning her communications with her father was shared with the authors."