Texans hoping to vote by mail face a "game designed to trick them," the top elected official in the state's most populous county has warned, reporting that two in five mail ballots and mail applications have been rejected in the state's most populous county.
Harris County Judge Lina Hidalgo said 40 percent of mail ballots and 40 percent of mail ballot applications had been flagged for rejection in the county—far higher than the typical rejection rate. Absentee ballot rejection rate in Texas in the 2020 presidential election was less than 1 percent.
It comes as voters navigate the requirements under sweeping changes to Texas' elections rules.
Early voting for the March 1 primary began on Monday, in the first election since the changes were signed into law by Republican Governor Greg Abbott last September.
In Harris County—home to Houston—election officials received 6,548 mail-in ballots as of Saturday, and had returned almost 2,500 (about 38%) for correction.
Many of ballots were rejected because voters did not provide an identification number inside the return envelope that is required under the new law, Hidalgo said.
"We're informing voters to hopefully cure ballots but voters are under assault in Texas," Hidalgo posted on Twitter Monday.
In a thread posted later on Monday, Hidalgo said the "mass rejection of law-abiding voters isn't a glitch" of the new legislation,"it's a feature."
"It's a game designed to trick you at every turn, starting with the application," she added.
She explained that voters must use an identification number—typically from their driver's license or the last four digits of their Social Security number—on mail ballot applications that matched the number on file with their voter registration record.
"If you registered 10 years ago, that's a coin-toss. If you guess wrong, guess what? Flagged for rejection," she wrote.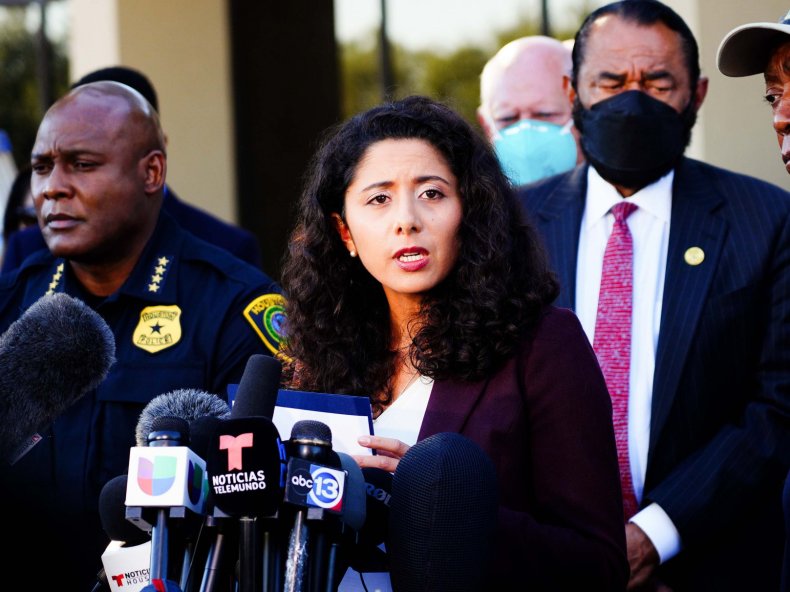 Those who make it to voting "get to play the same guessing game all over again," she added. "Another 4 in 10 mail ballots are failing at that stage by missing the new box *once again* asking for ID, hiding under the envelope flap."
Voting in the state is now "a tricky game of luck and skill," she said. "We cannot accept a system where 4 out of every 10 mail ballots need to be flagged for rejection. We're examining all options we have to push back."
That's a far higher rejection rate than is typical
Secretary of State John Scott, who was appointed to serve as the state's chief election officer by Abbott in October, told the Associated Press that the issues were the result of voters adapting to new rules and does not think they amount to a failure by the state.
"I don't know how more time—I don't want to say it wouldn't have been helpful, because it would have been helpful," Scott said.
"But I don't know that more time fixes that issue, because it's a new process. And I think new processes, especially to those voters who were used to the old process, that absolutely is a friction point."
Hidalgo and Scott have been contacted for additional comment.