Voting rights advocates are calling for all postage charges on mail-in ballots to be canceled, saying the cost could see many Americans, particularly people of color, disenfranchised.
Numerous lawsuits have been filed by groups, including Black Voters Matter and Democratic super PAC Priorities USA, arguing that voters having to pay for stamps in order to cast their ballots is tantamount to an illegal poll tax.
Some states, including California, Virginia and Wisconsin, provide paid postage for election mail but in most of the country, it is up to the voter to cover the cost.
Cliff Albright, the co-founder of Black Voters Matter, told Newsweek that having to pay for postage in order to cast a ballot is just another impediment to voting that will impact communities of color the most.
"It's like a poll tax, whether it's a 55 cent poll tax or a $2 poll tax or a $100 poll tax... a poll tax is a poll tax, especially in the midst of this coronavirus pandemic," he said.
The American Civil Liberties Union in Georgia earlier this year filed a lawsuit on behalf of the group, arguing that requiring voters to pay for postage when submitting mail ballots and applications for ballots is an unconstitutional barrier to their right to vote.
"Many lower-income voters do not have postage stamps. They no longer need to use them or have never needed to use them," the lawsuit stated.
"They cannot be expected to needlessly expose themselves to the pandemic just to get stamps in order to vote. That assumes they can even get there, when many do not have cars and ride-sharing and public transportation is non-existent in rural parts of the state.
"Voters without Internet access or a credit card cannot buy stamps online, and if they do, they must unnecessarily purchase an unaffordable book of stamps (about $10) because they aren't allowed to buy just one.
"Making matters worse, voters are left guessing about how much postage to use because ballots vary in size and weight. So they must add potentially unnecessary extra postage just to be safe from the risk of being disenfranchised."
The lawsuit, citing legal precedent, added that a poll tax remains illegal even if a free alternative, such as voting in person, is available, noting also that in-person voting "does not really exist because of the pandemic."
A federal judge in Atlanta last week denied the request. U.S. District Judge Amy Totenberg acknowledged the difficulties of in-person voting this November due to the pandemic, but said its availability means the postage requirement is not an unconstitutional poll tax.
"The fact that any registered voter may vote in Georgia on election day without purchasing a stamp, and without undertaking any 'extra steps' besides showing up at the voting precinct and complying with generally applicable election regulations, necessitates a conclusion that stamps are not poll taxes," she wrote in her decision.
However, Aneesa McMillan, the director of strategic communications and voting rights at Priorities USA, told Newsweek that voters of color are set to be disenfranchised through a number of ways ahead of an election where an unprecedented number of Americans will vote by mail due to the coronavirus pandemic.
"The same barriers that voters of color and marginalized voters face to voting in person are the same barriers you can face in the restrictive laws when it comes to vote by mail," she said.
"So there's a dichotomy of things that are happening. Black and Brown voters are more likely to have their ballots rejected. They're more likely to have an overall distrust of the system. And then there are also, particularly low income voters across the board, less likely to have stamps."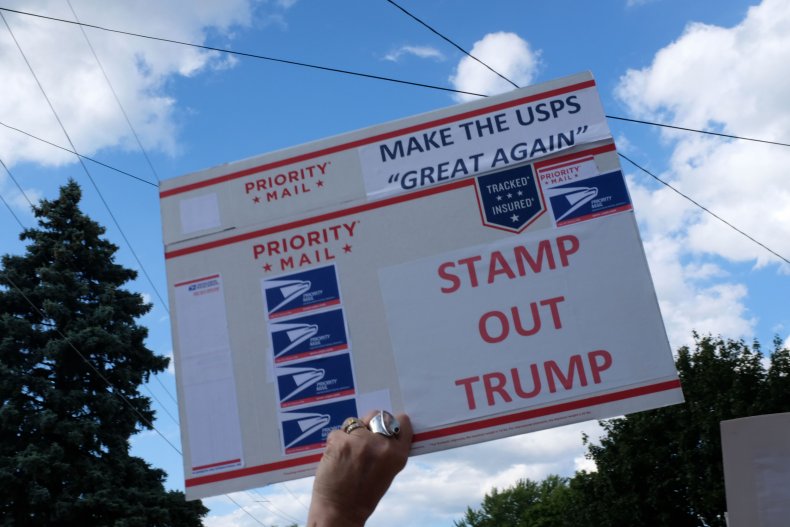 McMillan said Priorities USA has filed several lawsuits arguing that the cost of paying for postage on mail ballots is akin to a poll tax.
"No one should have to incur any costs associated with casting their ballot," she said. "With most barriers to voting, there is an element of suppressing votes because depending on your situation, you just might not be able to meet all the requirements that are placed before you."
One of those lawsuits was rejected by U.S. District Judge Robert Hinkle, who likened paying for stamps to the costs voters incur when driving or riding the bus to a polling place.
"Postage charged by the United States Postal Service—like the fee charged by any courier or the bus fare for getting to the polls to vote in person—is not a tax prohibited by the Twenty-Fourth Amendment," Hinkle wrote in his ruling, according to Fox Wilmington.
But Albright says it should "be a no-brainer that postage ought to be covered," and adds that the issue is placing an extra burden on organizations like his that work to increase voter turnout.
"It's clear that it should be something that the government ought to be able to cover and the excuse of "we don't know where to find the money"... I mean, we've seen on too many occasions, including the recent coronavirus bailouts for big businesses, that when they want to find the money for something, that they find it
"Well, what's what's more critical, what's more fundamental, to this society than people being able to participate across the board?"
A spokeswoman for the United States Postal Service (USPS) recently told The Associated Press that the post office delivers every piece of election mail to its destination, regardless of whether or not it has adequate postage.
"We are proactively working with state and local election officials on mailing requirements, including postage payment," she said.
But voters may not realize that, according to advocates, or may doubt their ballot will reach their destination in time to be counted, if at all.
Albright also warns that not canceling postage charges could mean more people risk their lives to vote in person amid the coronavirus pandemic, which is also affecting communities of color disproportionately.
"This policy that they have and other policies around either postage or other types of requirements, they put us at greater risk," he said.
"If we're not able to vote by mail, the very people that are disproportionately impacted by these policies are also the communities that are most vulnerable to the health crisis."
McMillan adds that those risking their lives to continue working during the pandemic may think twice about voting in November's election because of obstacles in place.
"If you're an essential worker or if you're someone that is already risking their lives and their health to work every day, that barrier may cause you to think twice about showing up and voting in person or incurring the costs associated with getting an envelope and stamps or whatever you might need to vote by mail," she said.
Albright says it's difficult to estimate how many people could be disenfranchised because of the cost of postage, but fears it could be enough to affect turnout significantly and tilt the results.
"What we know is that for each of these obstacles that they put in our path... we know every for every polling place that you close, it decreases turnout. For every extra mile that somebody has to travel, it decreases turnout," he said.
"So, similarly with this, we know for every restriction that you add to the vote by mail process, whether it's the postage or the signature, for every impediment that they put up, it decreases turnout by 1 per cent, 2 per cent, 3 per cent. And in some of these states, that can be the difference."
He added: "You could see enough voters being suppressed that it could tilt the scale of these election outcomes. We know we know where the votes are right? We know that Trump does not have enough support to win this election."
Albright also noted that the president himself and Republican Party officials have indicated that they don't wish to make the vote by mail process easier because it will negatively affect them.
"They're not even trying to hide what the impact will be, right? They say the part that's supposed to be a secret, they say it out loud. So we know what the impact is going to be and we know on which communities it is going to have the biggest impact," he added.
"The only question is how many voters are actually going to be able to show up at the polling place and be counted?" Albright said. "The results of all this could be that you see an election stolen by the most unpopular president ever."