Mail-In Voting Concerns Prompt House to Ask Postmaster General to Hearing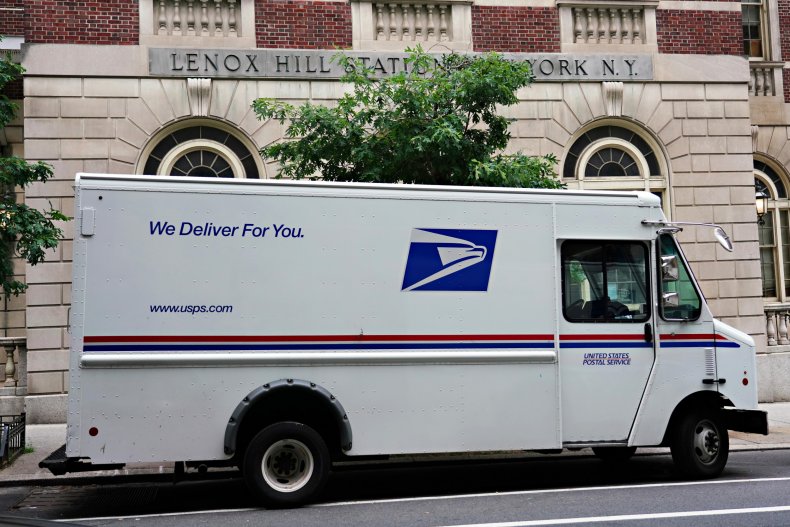 Postmaster General Louis DeJoy has been called to testify at a House Oversight and Reform Committee hearing about policies that could impact mail-in voting.
Democrats have raised alarm bells that new cost-cutting measures adopted by the United States Postal Service (USPS) could delay or block the delivery of mail, potentially sabotaging November's election, which is expected to include increased voting by mail due to the COVID-19 pandemic. DeJoy, a wealthy Republican donor and supporter of President Donald Trump with no prior USPS experience, was appointed to the position in May.
"The Committee on Oversight and Reform requests your testimony at a hearing to examine recent changes to U.S. Postal Service operations and standards and the need for on-time mail delivery during the ongoing pandemic and upcoming election, which as you know may be held largely by mail-in ballot," Rep. Carolyn Maloney (D-N.Y.), who chairs the committee, wrote Monday in a letter addressed to DeJoy.
The hearing is scheduled to take place on September 17. Maloney's letter indicates that DeJoy was unable to attend a meeting this week, while noting that committee staff had contacted DeJoy's office and confirmed that he is available for the September date.
The new policies are aimed at combating financial difficulties that have left the USPS billions of dollars in debt. Officials have warned that the service could run out of money within months without proper funding, although the Treasury Department reached an agreement last week that could provide a $10 billion loan.
"The Postal Service is in a financially unsustainable position, stemming from substantial declines in mail volume and a broken business model," DeJoy said in a statement issued last week. "We are currently unable to balance our costs with available funding sources to fulfill both our universal service mission and other legal obligations."
"Because of this, the Postal Service has experienced over a decade of financial losses, with no end in sight, and we face an impending liquidity crisis," he added.
Last week, a group of four senators sent DeJoy a letter asking that he address concerns over both the upcoming election and widespread complaints from their constituents about mail delivery being significantly slowed down recently.
"It is essential that the Postal Service not slow down mail or in any way compromise service for veterans, small businesses, rural communities, seniors, and millions of Americans who rely on the mail – including significant numbers who will be relying on the Postal Service to exercise their right to vote," wrote the senators.
Two weeks ago, Maloney and three House colleagues sent DeJoy a different letter, demanding an explanation for USPS documents that appeared to indicate policies aimed at improving finances would dictate "the mail will not go out" if the service is understaffed and "cannot deliver all mail."
"While these changes in a normal year would be drastic, in a presidential election year when many states are relying heavily on absentee mail-in ballots, increases in mail delivery timing would impair the ability of ballots to be received and counted in a timely manner—an unacceptable outcome for a free and fair election," the representatives wrote.
USPS General Council and Executive Vice President Thomas Marshall responded to the letter by noting that the cited documents had been prepared by regional leadership and were therefore not "official statements" on USPS policies, without clarifying details of the official policies. However, Marshall did insist that the USPS was "committed to delivering election mail in a timely manner."