Maine Activists Throw Sen. Collins 'Retirement Party' as Polls Show Toss-up
Maine activists threw a "retirement party" for Republican Sen. Susan Collins on Sunday after polls showed the race for her seat was a toss-up with a little less than four months to go until polling day.
Residents in the city of Bangor demonstrated at Pierce Memorial Park, News Center Maine reported at the weekend, noting that the "retirement party" event had been organized by the local Indivisible chapter and Mainers for Accountable Leadership.
Attendees at the small demonstration against Sen. Collins manned a voter registration table and were required to wear face masks.
A video of the demonstration showed one man holding up a sign that read, "Bye Bye Susan, Gideon 2020" while another banner simply said, "Happy Retirement!"
Speaking to News Center Maine, organizer Melissa Berky said the group was holding a retirement party for Sen. Collins because the GOP had "taken a wrecking ball" to the U.S.
"Trump and all of the enablers including Susan Collins have denigrated our democracy, have trashed our economy, have ruined people's health," the Bangor resident added.
Sen. Collins' campaign spokesman Kevin Kelley criticized the "partisan political group" of activists who hosted the "retirement party" demonstration.
"Our campaign isn't focused on gimmicks, instead Senator Collins spent the day working on places to provide additional assistance to local cities, towns, schools, small businesses, and workers who have lost their jobs as a result of the pandemic," said Kelley.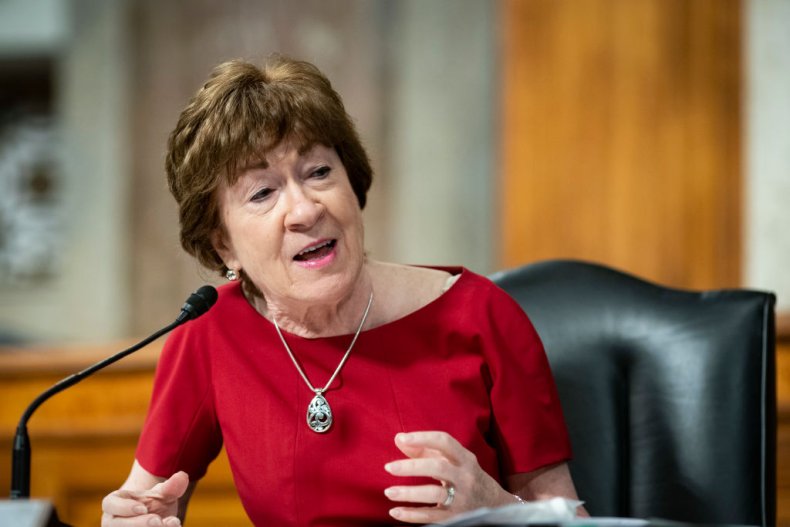 Maine's Democratic primary selecting a challenger for the senator's seat is set to go ahead today, with The New York Times reporting that State House Speaker Sara Gideon is the frontrunner heading into the contest.
According to one survey conducted by the Democratic firm Public Policy Polling between July 2 and July 3, Gideon was polling four points ahead of Collins with 46 percent support among Maine voters.
Another poll from Moore Information Group, a Republican firm that has worked with Collin's team, put the incumbent eight points ahead of her Democratic challenger. The GOP senator was backed by 45 percent of state voters in that poll, while 37 percent said they supported Gideon.
But fundraising reports released at the start of this month showed Gideon had managed to outraise Collins by roughly $6 million in this election cycle.
At the time of writing, Federal Election Commission data shows that Gideon has a little more than $5.4 million on hand. By comparison, the Collins for Senator campaign has just over $5 million cash on hand.
Analysts at The Cook Political Report rate the race for Sen. Collins seat as a "toss-up" contest.
Maine Activists Throw Sen. Collins 'Retirement Party' as Polls Show Toss-up | U.S.