Video: Maine Man Films High-speed Police Chase As Car Crashes Into Him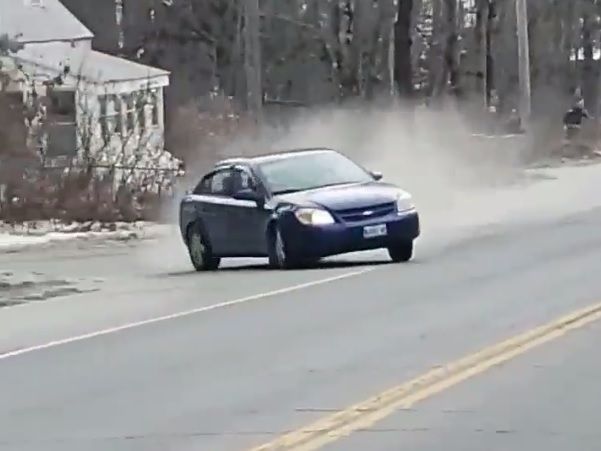 Dramatic footage has emerged showing the conclusion of a high-speed chase, in which a suspect crashes into another vehicle while attempting to avoid a spike mat.
Dale Tucker has been arrested after colliding into vehicles while attempting to flee from police in Cumberland County, Maine, on December 16. He left at least three people seriously injured.
Tucker was wanted by police in connection with a previous domestic situation in Casco, Maine, where he was accused making threats to a residence in Windham and causing harm, according to the Cumberland County Sheriff's Office.
Tucker was later spotted by an officer at the intersection of Roosevelt Trail and Route 35 in Windham, and was asked to pull over. Instead, Tucker drove off at high speed, prompting the officer to begin pursuit.
The chase ended when two other Cumberland County deputies placed a spike mat across the road on Route 302 at the Raymond/Windham line.
Tyler Bisson, who was on the opposite side of the road as the spike was being deployed, was able to capture on his cell phone the moment Tucker came speeding around the corner and attempted to swerve around the device.
The clip, which has been viewed more than two million times since it was uploaded to Facebook, shows the suspect's car losing control and skidding directly into Bisson's truck.
Tucker is also accused of crashing into a 2000 Buick Park Avenue, driven by 82-year-old Barbara Young. Passengers Elmer Young, 91, and Douglas Young, 60, were also inside the vehicle. All three were taken to Maine Medical Center with serious but non-life-threatening injuries.
Tucker was arrested and taken to MMC with non-life threatening injuries. He faces charges of aggravated driving to endanger, aggravated eluding of a law enforcement officer, criminal speed and failure to maintain control of a vehicle.
After the shocking crash footage was posted online, users on social media questioned why police risked deploying the spike mat used to stop Tucker on a street full of other cars.
"Usually, when spike mats are deployed, it is rapidly unfolding," Lieutenant David Hall told the Press Herald.
"We try to make it as safe as possible. If the suspect just drives over the strips, it is not a problem; if he tries to go around it or take other action, it becomes a problem.
"The spike strips does not cause someone to lose control of their vehicle; they deflate the tires very gradually so they can keep control over the vehicle," Hall added.
"Him crashing was not caused by the spike strips, but was caused by him overcorrecting."
Warning: Video contains strong language: