Maine Independent Senate Candidate Max Linn Cuts Up Face Masks During Debate
During a Monday debate in Maine between the four candidates for U.S. Senate, Independent Max Linn cut a number of face masks into pieces with a pair of scissors.
Maine has been under a statewide mask mandate after an executive order was issued in July by Democratic Governor Janet Mills. Linn, who has previously expressed his support for President Donald Trump, declared his disdain for the mandate.
"I want to cut these masks right in front of our viewers," Linn said. "I want to be the first Senate candidate and your first senator in the United States to say I protest government telling us what we have to wear and telling us what our businesses are necessary and what are unnecessary."
Linn has used the debate stage to garner attention before. During a Senate debate in September, Linn side-stepped a question about health care in order to talk about environmental issues. When asked by a debate moderator to stay focused on the original question, Linn said, "Request denied."
Linn's presence in the Maine Senate race was endangered in July after a lawsuit was filed challenging the validity of the signatures on his candidacy petition. After the challenge was withdrawn, Linn became the second Independent in the race along with school teacher Lisa Savage.
"Unfortunately, there's probably a couple schools here in Maine that could use those masks," said Savage in a statement sent to Newsweek on Tuesday. "Max is a millionaire who can afford to cut up PPE. The rest of us need Medicare for All so we can get masks in the first place."
"Mask-wearing and public health shouldn't be political issues and it's sad that Max knows his theatrics will reliably be rewarded with attention," Savage added. "Having dealt with more than a few middle schoolers of his ilk, I can safely say the best way to respond is not at all."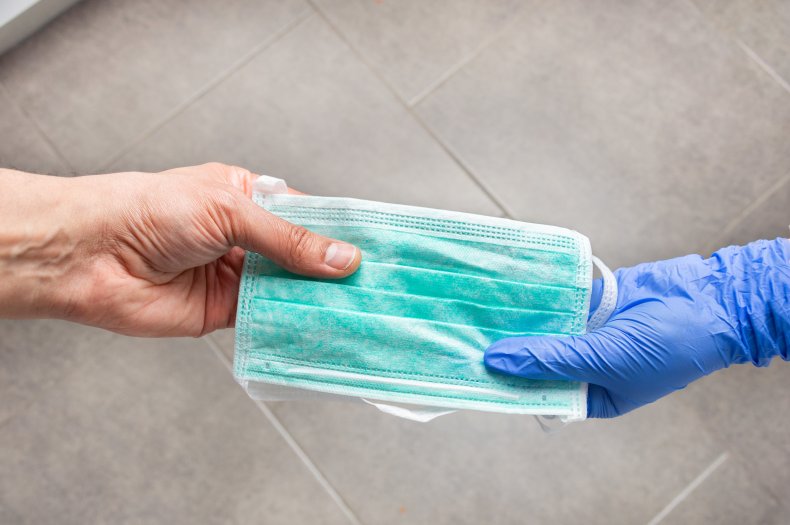 Many observers are keeping a keen eye on the Maine Senate race between the candidates from the two major parties. Incumbent Republican Susan Collins lost support among some women's groups after her support for the confirmation of Justice Brett Kavanaugh in the U.S. Supreme Court, despite allegations of sexual misconduct against Kavanaugh. Democrat Sara Gideon, who has been a strong proponent of women's rights, held a slight lead over Collins in a September Siena College/New York Times Upshot poll. Gideon had 49 percent of voter support while Collins held 44 percent.
Collins broke ranks with the GOP in September when she declared she would oppose the nomination of a new U.S. Supreme Court Justice to fill the seat left behind by the late Justice Ruth Bader Ginsburg. Most Republicans have said they would rally behind the movement to place a new conservative justice on the bench as quickly as possible.
While Collins agreed the idea that House Judiciary Committee should begin to review the nominee's qualifications, she said in a statement that the confirmation of an appointee should wait until after the November election.
"In fairness to the American people, who will either be re-electing the president or selecting a new one, the decision on a lifetime appointment to the Supreme Court should be made by the President who is elected on November 3rd," Collins said.
On Saturday, President Donald Trump nominated Judge Amy Coney Barrett to take a place on the U.S. Supreme Court. If Barrett is approved, she would be the third justice appointed to the nation's highest court by Trump. Barrett's seat would give conservatives a decided edge on the Supreme Court, pushing the balance of power to 6 conservative justices to 3 liberal justices.
At a ceremony marking her nomination at the White House last Saturday, Barrett said she had "no illusions that the road ahead of me will be easy, either for the short term or the long haul."
Updated 11:34 p.m. EST 9/29/2020: This story has been updated with a statement from Maine Independent Senate candidate Lisa Savage.