Maine Becomes First State to Ban 'Costly and Deadly' Single-Use Polystyrene Foam Containers for Food, Drinks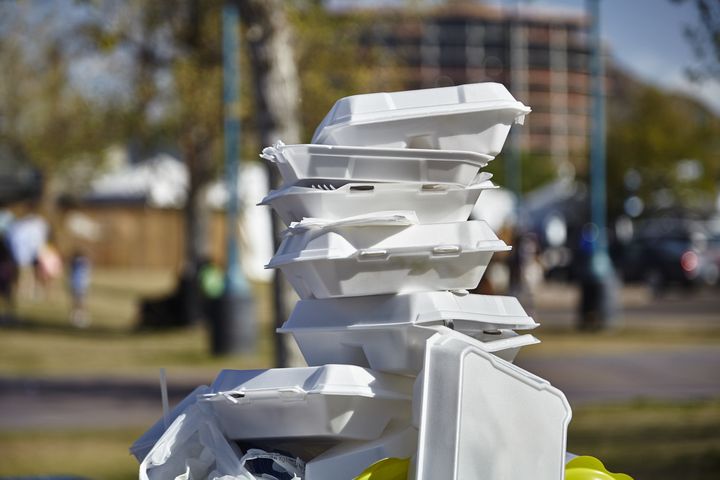 In an effort to combat pollution and environmental destruction, Maine has become the first U.S. state to ban disposable food service containers made of polystyrene.
The office of Maine Governor Janet Mills said yesterday the politician had signed a new law that would stop the sale and distribution of the containers from January 1, 2020. Polystyrene, which is often known under the brand name Styrofoam, was described as a "significant contributor" to plastics pollution.
Across the U.S., a growing number of cities and counties are outlawing the use of disposables made from polystyrene foam. While the majority are in California, bans have recently taken hold in New York City and Washington, D.C. In March, speculation mounted due to ongoing legislative efforts that Maryland was on the cusp of becoming the first state to prohibit its use in law.
The Pacific Standard reported in March that recent attempts to ban single-use polystyrene in California and Hawaii had failed. Those products include cups, cartons and food containers. Television station WMTW reported yesterday there were no facilities that can recycle polystyrene in Maine.
As such, Mills said the incoming ban was building on the foundation laid by 14 towns and cities across Maine that had already, or were planning to, take action at a local level.
The changes will mean vendors, restaurants and schools will have to find alternatives. In Maine, hospitals and shops selling prepackaged meat are exempt, the Associated Press reported.
Governor Mills said polystyrene containers spread easily because they are often lightweight. But they break down into microplastics carrying toxins and are ingested by wildlife. Eventually, those toxins can enter the general food supply. In recent years, a number of huge brands operating in the U.S have pledged to stop using foam containers—including Dunkin' Donuts and McDonald's.
"Polystyrene cannot be recycled like a lot of other products, so while that cup of coffee may be finished, the Styrofoam cup it was in is not," the Democrat governor said yesterday.
"It will be around for decades to come, and eventually it will break down into particles, polluting our environment, hurting our wildlife and even detrimentally impacting our economy.
"That is why several municipalities across the state have already taken steps to ban polystyrene. This legislation will create consistency for businesses that operate in multiple municipalities, provide ample time to adjust to the change, promote sustainable Maine-made alternative containers, and take an important step forward in protecting our environment."
The bill was sponsored by Representative Stanley Paige Zeigler, who noted that polystyrene can be harmful if it enters the sea—endangering the health of marine life that ingests it.
"Polystyrene is harmful to humans, it puts a strain on our fish stocks and it can't be recycled," Zeigler said, adding, "Thankfully, there are Maine-made alternatives ready to be used."
Sarah Lakeman, a director at the Natural Resources Council of Maine, said the law proved the state is an "environmental leader." She called polystyrene "common, costly and deadly."
"With the threats posed by plastic pollution becoming more apparent…we need to be doing everything possible to limit our use and better manage our single-use plastics—starting with eliminating the use of unnecessary forms of plastic-like foam," Lakeman said in a release after the signing.
In a tweet yesterday, Maine's Natural Resources Council celebrated for being the first "in the nation" to ban polystyrene foam food containers. As reported by the Associated Press, Maryland passed similar legislation back in April, but it was not yet clear if it would be signed into law. The news agency said politicians from Oregon, Vermont and Connecticut were now considering similar bans.