Maine Republican Senator Susan Collins is lagging behind House Speaker Sara Gideon by five percentage points, according to poll data released Tuesday by the Bangor Daily News.
If Gideon wins the November election against Collins, then Democrats would be one seat closer to gaining the majority in the U.S. Senate. Democrats only need to win a maximum of four seats to wrest control of the Senate away from the Republican Party. Collins has courted controversy in Maine with her 2018 vote to approve Brett Kavanaugh to the U.S. Supreme Court and her vote to acquit President Donald Trump during his impeachment trial.
Gideon garnered 43 percent of those surveyed for their first choice in the upcoming Senate election, according to the poll. Collins received 35 percentage points for an 8-point difference between the two. Only 82 percent of those surveyed said they would vote in the election.
Over the past four years, 34 percent of Maine voters have come to hold a much more negative view of Collins' performance as senator while 49 percent of those surveyed disapprove of how Collins is handling the job.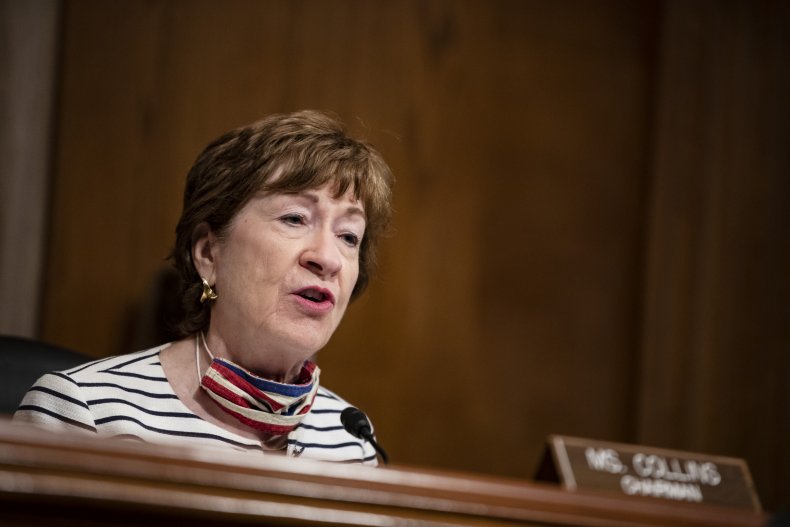 Collins had been endorsed by the Human Rights Campaign (HRC), an LGBT rights advocacy group. In July, the HRC pulled their endorsement from the Republican and gave it to Gideon, citing Collins' approval of Justice Kavanaugh.
"Despite Susan Collins' record of support on certain key LGBTQ issues, her support of Mitch McConnell and Donald Trump's agenda, endorsement of Brett M. Kavanaugh's appointment to the Supreme Court and failure to hold Donald Trump accountable, is simply untenable," wrote HRC President Alphonso David in a July statement.
Conservative Republican Kavanaugh was accused of sexual misconduct in 2018, although the allegations were found to be baseless by the Senate Judiciary Committee. Kavanaugh has also voiced pro-life beliefs, leading some to believe he would work to undermine the Supreme Court's 1973 Roe v. Wade decision that made abortion legal. Despite the controversy surrounding Kavanaugh's nomination, Collins cast a deciding vote in his favor which helped place Kavanaugh on the Supreme Court bench.
In June, Kavanaugh dissented with a Supreme Court decision requiring abortion clinic doctors in Louisiana to have admitting privileges at local hospitals. Many abortion doctors in the state were not able to gain those privileges. While a majority of Supreme Court justices thought the law would have placed undue restrictions on access to abortions, Kavanaugh voted that the law should stand.
Collins has espoused pro-choice political opinions, but some pro-choice groups said her confirmation vote for Kavanaugh made her less than an ally. NARAL Pro-Choice America endorsed Gideon's senate run in June 2019.
"While Senator Collins infamously voted to confirm Brett Kavanaugh to the Supreme Court," wrote NARAL Pro-Choice America President Ilyse Hogue in June 2019, "the truth is she has supported many more of the president's anti-choice nominees at every level of the federal judiciary."
Gideon and Collins are expected to face each other in Maine's November election.