The Major African American Endorsements Biden, Sanders and Bloomberg Have Received Going into Super Tuesday
A dwindled field of Democratic candidates are today going into one of the biggest battles of the primary season: Super Tuesday.
Five contenders will be vying for a third of all pledged delegates on offer across one territory and 14 states, including two of the primary's largest—California and Texas.
Going into the key series of nominating contests, where 1,350 of the 1,991 delegates needed to win the primary are up for grabs, Sen. Bernie Sanders (I-Vt.) has the most delegates under his belt having won in both New Hampshire and Nevada, as this graphic by Statista shows.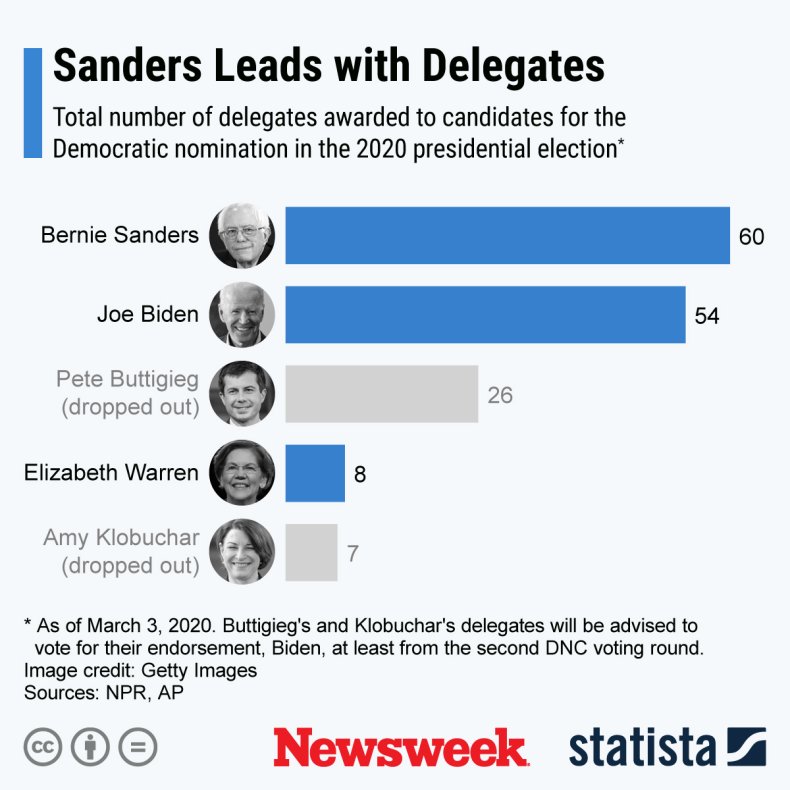 He is closely followed by former Vice President Joe Biden, who is rivaling the senator in a number of key state polls following his crucial victory in the South Carolina primary on Saturday.
Biden won the state by a landslide with 48 percent of the South Carolina primary electorate backing him, and boosting his momentum ahead of Tuesday's contests.
The ex-vice president's victory came thanks in large part to his support among South Carolina's black community, which makes up more than half of the state's Democratic primary electorate. He reportedly won almost two-thirds of votes cast by South Carolina's black primary voters.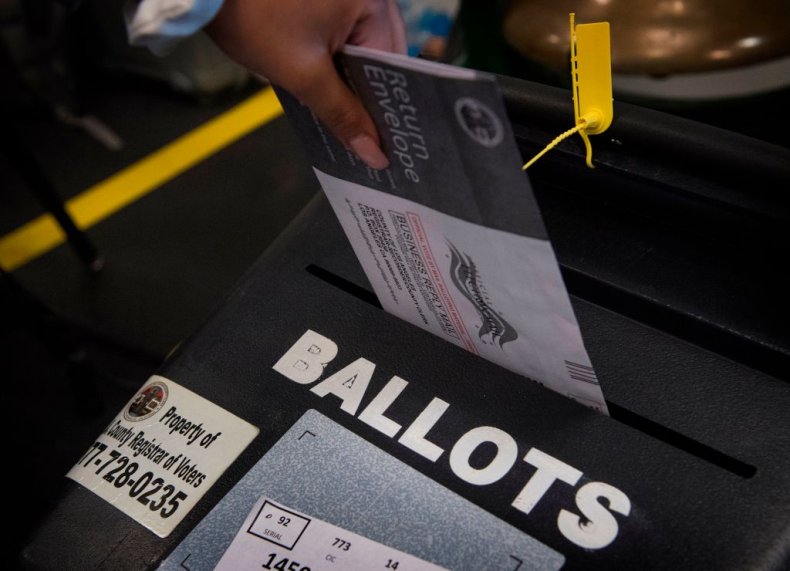 As they look to strengthen their campaigns, or secure their survival, the five candidates competing in today's Super Tuesday contests will be hoping to secure support from minority voters in the 14 nominating states, which are more diverse than the United States at large, according to The Washington Post.
Endorsements from community leaders and other major figures are believed to go some way toward helping those efforts—and no less so in Super Tuesday states, where roughly a quarter of their combined populations are Hispanic, and 11 percent are black.
At the time of writing, Biden appears to have significant backing from key black community leaders in Super Tuesday states while Sens. Sanders and Warren (D-Mass.) have also picked up a couple of notable endorsements.
Here is a list of major candidate endorsements from African American community leaders in Super Tuesday states collated by Newsweek using the FiveThirtyEight endorsement primary tracker and other sources:
Joe Biden
Rep. Bobby Scott of Virginia.
Rep. Alma Adams of North Carolina.
Rep. Terri Sewell of Alabama
Rep. Marc Veasey of Texas
Rep. Eddie Bernice Johnson of Texas
Rep. Donald McEachin of Virginia
Virginia Legislative Black Caucus Chair Delegate Lamont Bagby
Denver Mayor Michael Hancock
Bernie Sanders
Minnesota AG and Former DNC Deputy Chair Keith Ellison
Elizabeth Warren
Massachusetts Rep. Ayanna Pressley
Mike Bloomberg
Mayor of Houston Sylvester Turner
San Francisco Mayor London Breed
Mayor of Stockton Michael Tubbs
Charlotte Mayor Vi Lyles
Here is a list of key candidate endorsements from African American leaders on a national level:
Joe Biden
House Majority Whip Jim Clyburn
Former National Security Adviser Susan Rice
Bernie Sanders
Black Workers for Justice
Elizabeth Warren
Black Lives Matter Co-Founder Alicia Garza
Mike Bloomberg
Washington D.C. Mayor Muriel Bowser
The Major African American Endorsements Biden, Sanders and Bloomberg Have Received Going into Super Tuesday | U.S.