Anti-Putin Activist Sentenced to House Arrest as Muscovites Take to the Streets in Protest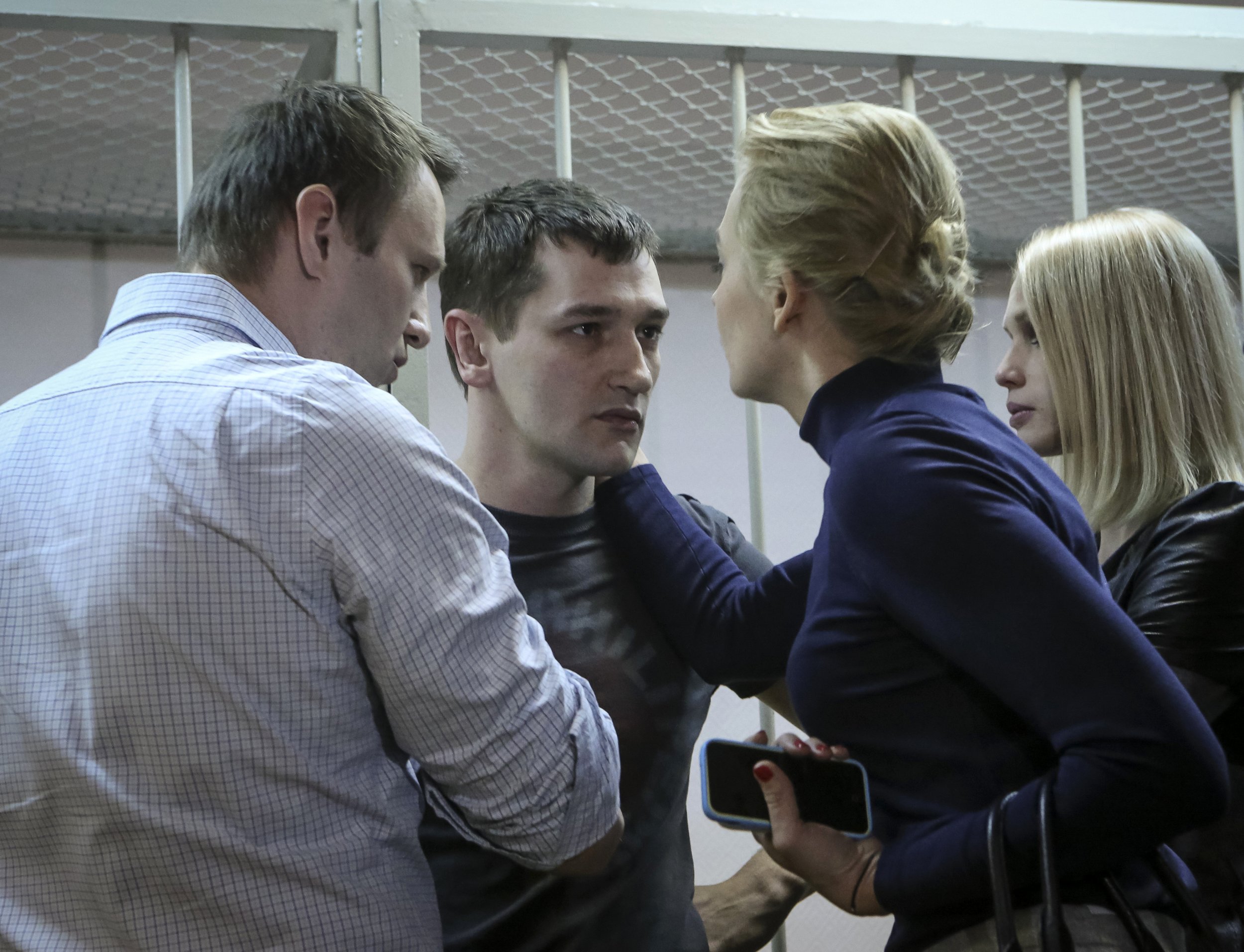 Authorities in Moscow anticipate major unrest after a city court abruptly sentenced former Russian opposition party leader and outspoken Putin critic Alexei Navalny to three and a half years house arrest after he was found guilty of embezzlement on Tuesday.
More surprisingly, Navalny's brother Oleg who is a postal worker by trade, was handed a three-and-a-half year sentence in prison and rushed to Buterskiy detention centre, as riot guards assembled in front of the Zamoskverskiy district court in Moscow, where the brothers were being sentenced.
The official charge against the Navalny brothers is that of embezzlement of funds from French cosmetics company Yves Rocher to the amount of around 30 million roubles (£340,000). However, Alexei Navalny has been persecuted by Russian authorities on other charges before and his anti-Putin activism is seen by many independent commentators as the reason behind Tuesday's court proceedings.
"Of all the possible sentences, this is the meanest," said Alexei Navalny outside court after he said his farewells with his brother and was escorted away by police.
"The government isn't just trying to imprison its political opponents, which we are used to, but this time they're destroying and torturing the families of the people who oppose them," Alexei Navalny added.
The court had originally been adjourned until the 15th January but in a snap decision the verdict was delivered on Tuesday instead.
A crowd of protesters began gathering outside the court as Alexei was photographed also being driven away by police minutes later.
Interviewed by Russia's biggest non-state funded television channel Dozhd, liberal activist Ilya Yashin said that "Oleg Navalny has practically been taken hostage" for Alexei's anti-Putin activism.
"The most difficult part is when they begin targeting your family. Any opposition leader does what they do conscious of their personal choice but when they begin to go after members of your family, it is the harshest psychological attack," he told press in front of the Moscow court, where police had set up iron bars to keep protestors against the persecution of the Navalny brothers at bay.
Olga Romanova, a Russian journalist and opposition activist from the NGO Jailed Russia told reporters from Dozhd the decision to sentence Oleg was "evil" and "disgusting".
Meanwhile Edward Limonov, a writer for Russia's liberal publication Snob called Alexei's conviction a "perfect example of gallows humour" on behalf of the Kremlin, arguing Navalny was probably guilty of embezzlement but the scale of his crime had been so commonplace in the country it was merely a guise for the authorities to jail an opponent.
"Navalny, like all small time crooks in the 90s, did not think he would go into politics and that is why he acted as tens of thousands of Russian businessmen did - illegally. However the other ten thousand did not pursue a political career and he did, and that is why he is being sued," Limonov writes.
"However I can honestly say I did not expect they would jail his brother," Limonov added.
Prior to the verdict Russia's online watchdog Roskomnadzor shut down Alexei Navalny's Facebook page after accusing him of "extremism" and "inciting violence". Navalny has spoken out in favour of Ukraine's Kiev government, which Russian Kremlin and Duma officials frequently refer to as a 'junta' and he was planning an anti-Putin protest in the new year.
Shortly after Alexei's final statement in court, anti-censorship media reported footage of it had been blocked from Russian sites, however it was still available on YouTube. In his statement, Alexei urged Russians to stage a protest as soon as Tuesday evening.
Security around the court also reportedly denied accredited journalists access to watch the proceedings, with independent reporter Masha Borzunova tweeting photos of a guard obstructing her way after reportedly telling her "do your work outside the fencing".
After Alexei Navalny was photographed being dropped off at home by authorities he took to his blog, vowing that his brother's incarceration would not deter him from continuing his active opposition to the Kremlin and the "thieves, scumbags and traitors" in charge.
"I will not surrender my position or go back on my words," Navalny wrote, posting photos of his brother Oleg and his brother's two young toddlers. "I will do everything I can, together with all of you."
According to eyewitness reports Moscow authorities have already closed parts of Tverskaya street and Ohotniy Ryad metro stations - both within walking distance from the Red Square, anticipating a protest. Activists and journalists have already begun to gather in the vicinity, with armed guard fencing off large parts of central Moscow.
The hashtag, #Манежка (Manezhka) for the protest has already started trending on social media, alongside images of Alexey Navalny on the Moscow metro, making his way to the Red Square. The man himself tweeted one image, captioning it "House arrest is one thing, but today I want to be with you all. I am coming."
Shortly after Kremlin sources announced Navalny had been arrested for breaking house arrest.
Mikhail Khodorkovsky, the man believed to be Putin's main opposition rival in the next presidential election in 2018, also weighed in on the Navalny verdict, saying: "The western community needs to take active measures in response. This is what I will do in the coming says too."
He also added that overturning the sentence for the Navalny brothers may yet serve as a positive for Moscow as it could restore confidence in investors and boost the plummeting rouble.
Khodorkovsky is currently residing in Switzerland after serving eight years in jail in Russia for similar charges to Navalny. Amnesty International named him a 'prisoner of conscience' and it is widely believe that, as with Alexei Navalny, Khodorkovsky's persecution was politically charged because of his opposition to Vladimir Putin.