A Major 'Bachelorette' Plot Twist Could See an Unexpected Man Make Tayshia's Final 2
The Bachelorette is about to get more dramatic than ever on Monday night, if one of Tayshia Adams' lost loves comes back with the words that he couldn't say before. Ben Smith is expected to return to the set on Monday night after Adams sent him home last week, when he couldn't tell her he loved her.
Now down to just three men, Adams is about to enter her fantasy-suite dates. The overnight time, with no cameras, provides Adams a chance to get to know the men better without the pressure of filming the television show. But will Smith, somehow, get a rose?
A press release for Monday night's episode teases that one man is "anxious" about his future with Adams, but the main drama appears to be Smith's return.
"Nothing could prepare her for the bombshell surprise that rocks her world and may put her happily ever after in jeopardy when one man she can't forget returns," the ABC press website reads. And no advanced notice might be able to adequately prepare Bachelor Nation for Smith's return, either. While on the show, the frontrunner opened up about past suicide attempts and an eating disorder he's overcome, and he quickly won over the hearts of viewers everywhere.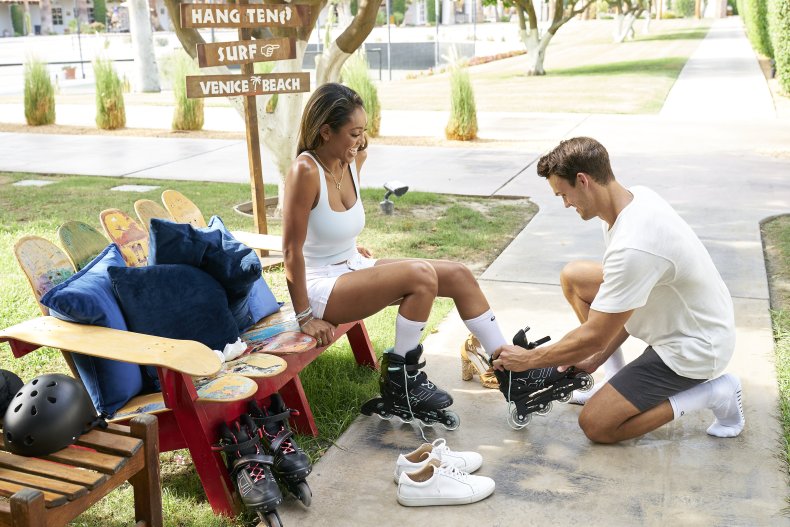 A teaser from ABC shows someone returning, too. And while Smith hasn't been officially named as the returning man, Bachelor fans seemed to prove that he shows up again when it was noted that a recent teaser features a still-unaired clip of Smith opening up to Adams.
It's not necessarily uncommon for a Bachelor franchise cast-off to return, but it's very rare that they're welcomed back into the group. If Smith gets a rose and is allowed to return, it seems he'll make Adams' final two, which would likely be mind-boggling for the other men. But a surprising rose ceremony is also hinted at in ABC's press release for Tuesday's finale episode.
"After a shocking rose ceremony, Tayshia is excited to introduce the remaining bachelors to her family. Will the men win over her family? Her father voices concerns that she might make a big mistake," Tuesday's teaser explains.
So, it's possible that the shocking moment is Adams inviting Smith to stay. Or, it could just be that Adams will let go of one of her widely beloved suitors, all of whom have been described by fans as the "best final four" in Bachelorette history.
Who Adams will end up with at the end of The Bachelorette has yet to be revealed, but you can read the expectations, and every spoiler available, here.