'Major' Crash in Imperial County, California, Between SUV and Gravel Truck Kills 13
A multiple vehicle crash in Imperial County, California, has left 13 people dead, according to California Highway Patrol officials.
The collision between an SUV, carrying 25 occupants, and a semitrailer full of gravel took place on Tuesday morning, according to the California Highway Patrol's (CHP) collision report. Imperial is 100 miles east of San Diego and 15 miles from the Mexico border.
CHP said that while the reasons for the accident are still under investigation, the SUV entered the intersection directly in front of the truck, causing the vehicles to collide. The driver of the SUV died on the scene, and the truck driver is being treated at Desert Regional Center after suffering major injuries.
Multiple survivors were transported to hospitals in the area, including the El Centro Regional Medical Center, where seven of the passengers were taken. One of the seven died upon arrival at the hospital, and another four were later transported to the UC San Diego Hospital Medical Center via air ambulance.
Judy Cruz, the emergency room managing director at El Centro Regional Medical Center, called it a "major accident" in a Facebook Live video.
Three patients were taken to Pioneers Memorial Hospital in Brawley. Two of these patients were later flown to Scripps Mercy Hospital in San Diego.
Todd Burke, spokesman for the Desert Regional Medical Center in Palm Springs, confirmed to Newsweek that four patients were directly airlifted from the scene to the level two trauma center and that three of them are in intensive care.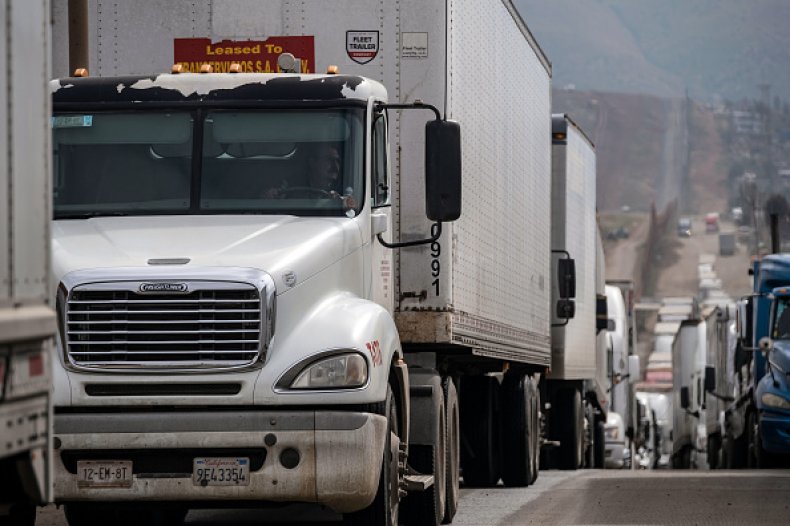 "Patients are going through a difficult time, as you can imagine," El Centro Regional Medical Center CEO Adolphe Edward said. "This was a major accident, and we are taking care of them in the emergency room department."
Imperial County Fire has said that 25 additional personnel were sent to the scene, including four to five additional ambulances and four air helicopters. Multiple agencies are responding as well.
CHP officials said it is not known if alcohol and drugs were a factor in the collision and if seat belts were worn by the individuals involved.
This story was updated on March 3 at 11:49 a.m. with further details about the accident. An earlier version of this story said that 15 people died at the scene, according to health officials, but the final death toll was 13.