It Must Be Summer: Major Lazer Kicks Off the Season by Surprising Fans With New EP, 'Know No Better'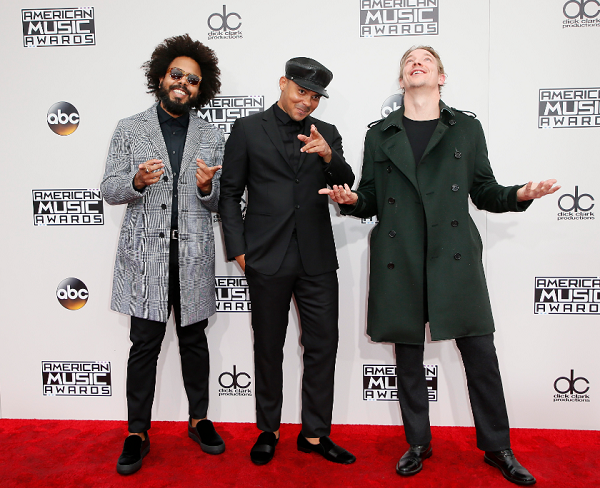 Picture this: It's a hot and sticky summer day in June. It feels humid, but not necessarily because of the moisture that's locked and sealed in the 80-plus degree air—it's because you're surrounded by dozens of people, all flailing their hands high up in the air, jumping together, gyrating and grinding happily with one another, all the while releasing a warm and welcoming wave of energy with their bodies through constant and steady movement. You're not in a trance, but the rhythm of the beat is enchanting. And before you know it, you feel compelled to join along, pumping your own fists proudly into the air and shaking your hips from left to right.
It's almost as if you and everyone else basking in the glorious summer sun have been caught up in a spell. Surely you have, and it was probably cast by Major Lazer.
For years, the sounds of Major Lazer have brought an energetic and undeniable surge of heat to the summer season that has left party goers and music lovers captivated. Since their 2009 album, Guns Don't Kill People…Lazers Do, the group—initially comprised of DJ's Diplo and Switch—has produced a style of electronica that's of all their own, often infusing their hard-core synths with the vivacious tropical melodies that embody Caribbean genres like Soca and Dancehall music.
So it's not all that surprising that now, on the brink of summer, the trio—now including DJ's Jillionaire and Walshy Fire after Switch left in 2011—are releasing new music. And they're not just unveiling a new song, as they've previously hinted on social media, but a whole new EP titled Know no Better on Thursday.
The six-track EP, which features collaborations with artists including rappers Travis Scott and Quavo, both of whom appear with singer Camila Cabello on the hot summer single titled after the EP, plays up the techno infused Afro-Caribbean vibes that Major Lazer is known for. But this time, they've mixed in inspirations from their world travels to Pakistan, Cuba, South America and Africa, too.
"I feel like we just really wanted to work on some club music. Summer time's all about that. It's always hot outside. We've got like three months where that's our basic impact time for Major Lazer. Getting people to dance in the summer time, stuff like that," Diplo told Newsweek Wednesday via phone call.
Just as Major Lazer has set previous summers ablaze with chart topping songs like "Cold Water" featuring Justin Bieber, "Lean On" with DJ Snake and MØ and "Light it Up" featuring Nyla, Know No Better is intended to be a summer time anthem complied with songs that are just perfect for sweaty day-time partying or hard-core clubbing at night.
Although the group has been tapping into sounds of the islands since they first hit the scene, with collaborations featuring Jamaican staples like Sean Paul and Busy Signal, as well as Reggaeton master J. Balvin, the EP feels even more global thanks to tracks including Nigerian artists Ice Prince and Patoranking and South African rapper Nasty C. There's even some samba vibes incorporated in the music, with vocal appearances by Brazilian superstars Anitta and Pabllo Vittar.
With musical influences across various worldly genres, the EP (just like every other Major Lazer production) does exactly what the group's mission intends to do: "Making the world smaller by making the party bigger."
"If you're going to be at a club or a bar or whatever, if you just get to the point where you're like, 'I gotta get to the dance floor now,' you're not thinking about anything else but yourself…. Right there, enjoying yourself, being with people next to you and the energy you give to people. I feel like when you create that atmosphere with no concerns of what's going to happen tomorrow, you don't think about those pressures that you have as a person, you kind of like lose yourself. When you do that, you can have these moments of feeling euphoria. So I feel like we've always been a group that tries to put that together," Diplo said.
If you find yourself wanting to fist pump, twerk and hold hands with the person standing next to you all at the same time while listening to Know No Better, that's totally fine. Diplo says, "It's supposed to make you do all that."
It Must Be Summer: Major Lazer Kicks Off the Season by Surprising Fans With New EP, 'Know No Better' | U.S.