Major Universities Look at Slashing Athletic Budgets With Continuing Coronavirus Pandemic
Major college athletics are big business, and football usually drives that economic engine. Now, in a time when college sports have indefinitely shut down, athletic departments all across the country are beginning to feel the crunch. It could get way worse if football is not played this fall because of the COVID-19 pandemic, which indefinitely shut down sports the last two months, from pee wees to pros.
Three big-time universities that are deep-rooted in college sports announced this week they are asking coaches to take pay hikes—but still keep those hours that won't get reduced. In addition, there might be some big-time furloughs.
Football has not been canceled, but there's talk that some schools could play in 2020, whereas others might not. The NCAA canceled its men's basketball tournament that brings in nearly $1 billion in revenue. Coupled with conference basketball tournaments getting canceled at the last minute, there was a huge shortfall in revenue this spring.
West Virginia stated last week it plans to furlough at least a third of its employees, in addition to pay cuts across the board.
"News like this is not easy," West Virginia athletic director Shane Lyons said in a statement. "I appreciate the understanding of our staff in these uncertain times. The COVID-19 pandemic has dealt us a financial situation that requires action, and our entire department will be affected as we work to minimize the effects and maintain a fiscally responsible operation."
The Big 12 basketball tournament was canceled on March 12 as the first game was set to begin that day.
Lyons, who said his department is facing a $5 million shortfall because of lost basketball revenue, will try to save $3 million. That includes Lyons himself taking a 10 percent cut in salary. Others who face big hits by taking voluntary 10 percent cuts (beginning July 1) at the school are:
WVU football coach Neal Brown
WVU men's basketball coach Bob Huggins
WVU women's basketball coach Mike Carey
WVU baseball coach Randy Mazey
Lyons said coaches and athletic staff who make more than $100,000 a year will take a 5 percent cut, and other employees making less than $100,000 will take a 2.5 percent cut.
Furloughs for one-third of the school's 65 athletic employees would happen on May 24.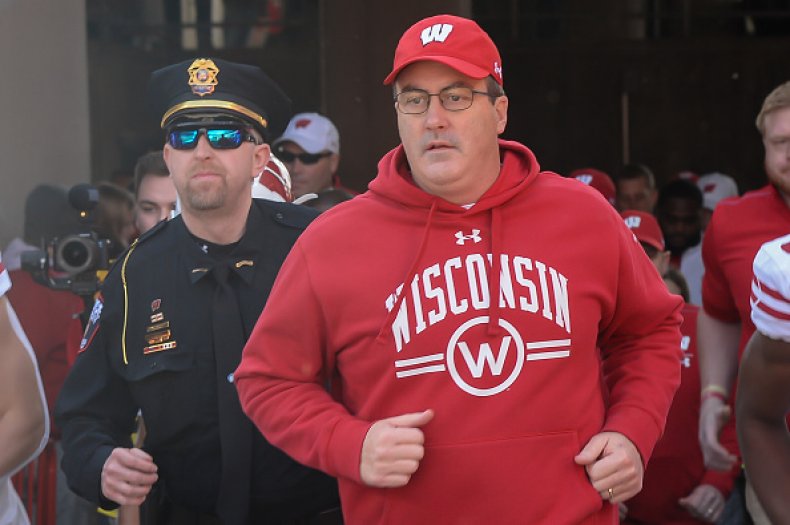 Meanwhile in the Big Ten, the universities of Minnesota and Wisconsin announced similar shortfalls in revenue, and similar pay cuts to highly-paid staff.
Minnesota athletic director Mark Coyle said his department faces a $4 million shortfall by the end of its fiscal year on June 30, and Wisconsin is asking 25 of its highest-paid personnel in athletics to take pay reductions, according to an ESPN report.
Wisconsin is asking its top earners to take a 15 percent pay reduction, including athletic director Barry Alvaraez, football coach Paul Chryst and men's basketball coach Greg Gard.
The plan for the Badgers begins May 18 and goes through near the end of July.
Meanwhile in Minnesota, the Gophers saw a huge surge in football ticket sales last fall, which led them to forecast a $1 million bottom line in the black. But with the abrupt cancellation of the Big Ten and NCAA basketball tournaments, black turned to red for the Gophers.
"We're trying to be incredibly nimble with our response," Coyle said.
"I would argue we have maximized our revenue better than most across the country," Coyle continued.
"We're not alone in this situation," Minnesota's deputy athletic director and chief financial officer Rhonda McFarland said. "There are only a handful of athletic departments that could manage a $30 million loss and likely very few that would survive $75 million reduction in revenue. That is the nature of the national landscape at this time."
Should football not be played this fall, then it would devastate all of college athletics, as most sports depend upon the lucrative revenue to support them.