Major U.S. Cities See COVID Cases Jump Over 500 Percent as Biden Meets With Pandemic Team
President Joe Biden will meet with his coronavirus response team Tuesday as cities across the U.S. see enormous spikes in infections.
Biden and Vice President Kamala Harris will meet with members of the virus response team at 2 p.m. ET to receive an update on the pandemic as it relates to the new, highly transmissible Omicron variant, according to the White House.
The new strain has spread to all 50 states since first being reported in California on December 2. Omicron has driven cases in the U.S. to record highs, with more than 1 million people in the nation diagnosed with the virus on Monday.
Many of the nation's largest cities are experiencing case increases of 500 percent or more as the virus continues to spread.
In Washington, D.C., the soaring test positivity rate has made it a new epicenter of the nation's Omicron surge. The New York Times, which tracks coronavirus data, reports of new infections in the nation's capital were up roughly 800 percent as of December 30.
In New York City, new cases of the virus jumped 600 percent at the end of the year, the Times reported. Governor Kathy Hochul warned Monday that cases in the Empire State will likely continue to rise
"We're not in a good place, I'm going to be really honest with you," Hochul said at a news conference.
In Miami-Dade County, cases have risen 766 percent over the past two weeks.
On the West Coast, Los Angeles has seen new infections soar 607 percent over the past 14 days. The city's public health department has recently advised parents and children to take extra precautions, with pediatric cases and hospitalizations on the rise.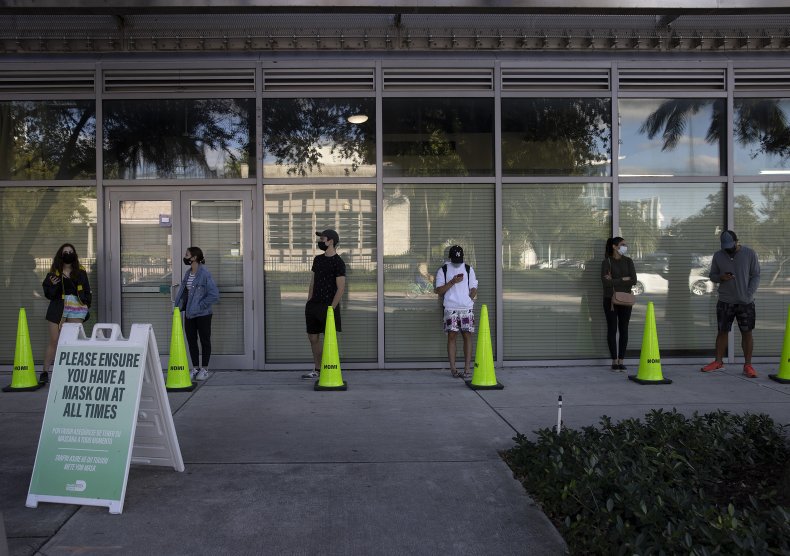 The last major address Biden gave on Omicron was ahead of the Christmas and New Year's holidays, on December 21. The president laid out his steps for combating the variant, which included sending 500 million free tests to Americans and deploying troops and other support staff to overwhelmed hospital systems.
At the time, Biden said shutdowns were not an option and advocated for schools to remain open. He also advised the roughly 40 million Americans who remain unvaccinated to get their shots.
"I know you're tired, I really mean this, and I know you're frustrated," Biden said in his remarks. "We all want this to be over, but we're still in it. This is a critical moment."
Dr. Anthony Fauci, the nation's top infectious disease expert and a chief adviser to the president, warned Sunday that a surge in hospitalizations could still be coming, even though early evidence suggests Omicron leads to less severe illness than that from the Delta variant.
"We can't be complacent in these reports, which are likely accurate, that it is ultimately in the big picture less severe," Fauci told CNN. We're still going to get a lot of hospitalizations.
Newsweek reached out to Fauci and the White House for additional information but did not hear back before publication.