Major Winter Storm Update: These States Are Expected to Get Hit Hardest
A massive winter storm impacting more than 40 million people is expected to hit in earnest Tuesday night, subjecting some states to up to 2 feet of snow.
Roughly one-third of the United States will experience effects from the storm as it moves across the country. The storm has already hit some states and is expected to land in Minnesota on Tuesday night before moving through Michigan and exiting New York by the end of the week. Some states are expecting up to 2 feet of snow with others anticipating a quarter-inch or more of freezing rain and ice.
National Weather Service (NWS) meteorologist Frank Pereira told Newsweek that the highest snow totals will be in southern Minnesota and west and central Wisconsin. Snow is expected to start falling in Minnesota on Tuesday night, with a second round of snow hitting Wednesday night into Thursday.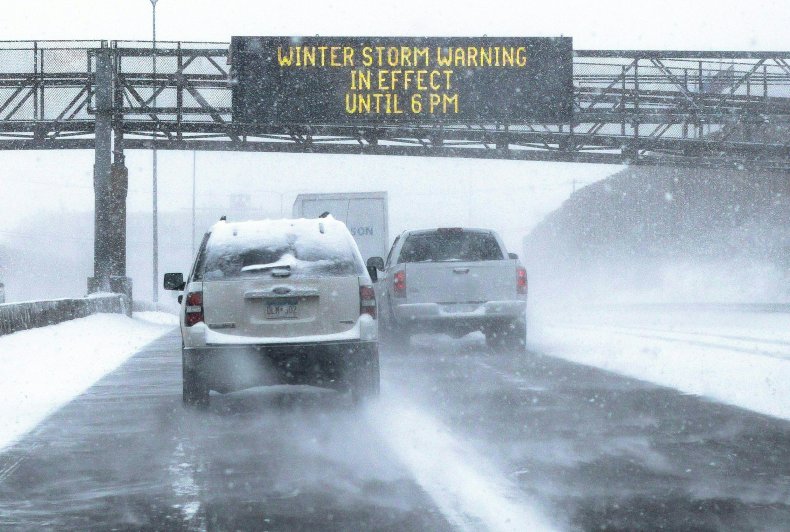 "If the amounts we are expecting do come to fruition, this could potentially be historic or a near historic event for Minnesota and the St. Paul area with amounts up to 2 feet," Pereira said. "Which anytime of the year is really significant for them. It may not be the greatest snowfall they've ever received, but it will certainly be noteworthy."
NWS Twin Cities warned of gusty winds in addition to the heavy snow, which could impede travel. AccuWeather Director of Forecast Operations Dan DePodwin told Newsweek that wind speeds could reach 40 mph.
Other states will see 6 to 12 inches of snow.
"We are looking at widespread snow coverage over the next few days all the way from the western U.S. Pacific Northwest—so Washington, Oregon and California—all the way across the higher elevations into the northern Plains and upper Midwest into portions of northeast New York and northern New England," Pereira said, adding that all states in the area will be impacted by either snow or ice.
Lighter snow in the 6- to 12-inch range will hit elevations North and South Dakota, northern Nebraska, northern New York, Vermont, New Hampshire and Maine. The worst of the freezing rain—accumulating to a quarter-inch or more—will pass just south of the heavier snow.
Freezing rain will hit Iowa, southern Wisconsin, northern Illinois, southern Michigan the hardest. Pereira said lighter ice will hit upstate New York, portions of Pennsylvania, Massachusetts and Connecticut.
"Over 43 million folks are under some kind of winter weather watch, warning or advisory," Pereira told Newsweek. "This certainly is an impressive storm for the amount of people and geography it's impacting here."